Restaurant: Beard Papa
Address: B2, A8 Shin Kong Mitsukoshi Xinyi Department Store (新光三越百貨信義店A8館地下二樓)
Telephone: (02) 2345-6190
Open: 11am to 9:30pm
Average meal: NT$100
Details: Chinese and Japanese menu; credit cards not accepted
Beard Papa's cream puffs are dopamine in a flaky pastry crust.
These tawny, handful-sized confections start life as an empty baked shell. Into this is injected a mixture of custard and cream that, when tasted, seems to communicate directly with the brain's pleasure center. The puff is dusted with powdered sugar, wrapped in wax paper and served in a paper bag bearing the company's logo — a winking, pipe-smoking man who looks like a cross between Santa Claus and Popeye.
Osaka-based Beard Papa operates a worldwide chain of more than 270 stores. There are now three take-out locations in Taipei, in food courts at the Mitsukoshi department store's A8 building in the Xinyi District (新光三越百貨信義店A8館地下二樓), the second basement floor in the Sogo department store on Zhongxiao East Road (太平洋百貨忠孝本館地下二樓) and the first basement floor of the New World Shopping Center (台北新世界購物中心地下1樓) near Taipei Main Station.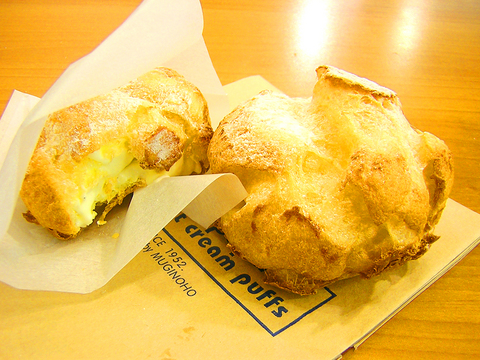 Beard Papa: Puff the magic pastry.
PHOTO: RON BROWNLOW, TAIPEI TIMES
Although some locations offer more flavors, only the original vanilla filling is currently available at the Beard Papa in the Mitsukoshi complex. Staff say they will start offering a special daily flavor, such as cocoa or green tea, next month. There are also plans to serve coffee in the near future and the chain's signature mango deserts next summer.
A visit goes something like this: Following the aroma of freshly baked puffs to its source, you find a shiny tile counter staffed by two women in neat white uniforms. You order a cream puff (NT$40) and quickly scope out a seat.
Leaning over your stash, take a moment to consider the object before you. Notice how its semi-spherical shell is golden and crackled, the little flakes of crust dappled with shades of cream and gold and topped with delicate drifts of powdered sugar.
You're faced with a predicament: The buttery goldenness of the crust says "eat me," but its plump cuteness says "please don't kill me."
Ignoring the latter thought, you dig in, first encountering a kick of pie crust followed by a hint of choux pastry. Suddenly, the light flakiness gives way to a creamy custard goodness that's at the same time rich but airy, soothing and unexpectedly cool, flavored with vanilla beans imported directly from Madagascar.
There's a generous amount of custard, but somehow it's never enough. You find yourself cradling your half-eaten puff like a spoon so as not to lose anything. But still the end comes to soon, and it's as bitter as the custard was sweet. The more you enjoy it, the faster it seems to slip away.
The only thing you can do is order another one.
Comments will be moderated. Keep comments relevant to the article. Remarks containing abusive and obscene language, personal attacks of any kind or promotion will be removed and the user banned. Final decision will be at the discretion of the Taipei Times.