Restaurant: Apres Midi
Address: 2, Alley 5, Ln 107, Fuxing S Rd Sec 1, Taipei (台北市復興南路一段107巷5弄2號)
Telephone: (02) 8773-7993
Open: Daily from 11am to 9pm
Average meal: NT$150
Details: Chinese menu; credit cards accepted
While many Taipei cafes try to look European, the city's American- and Japanese-influenced bakeries tend to be places where chocolate eclairs and creme brulee go to be butchered. At Apres Midi, however, you can have your tiramisu and eat it too.
The owner, Cho Chun-hung (卓俊宏), studied to be a pastry chef in Paris and has done his best to bring home the aesthetic, albeit in a somewhat idealized fashion. Nearly everything, from the whimsical blue paint on the cafe's exterior to the neat little stickers printed with the Apres Midi logo used to seal the wrappers for desserts, speaks of the kind of meticulous intelligence and attention to detail that one would hope to find in a person who makes delicate little desserts.
Take, for example, Cho's ganache (甘娜舒) cake, which consists of precisely alternating layers of chocolate cake separated by ganache, a mixture of chocolate and heavy cream. The initial taste is luxuriant but neither too sweet nor too rich. The flavor does not linger unwontedly on the palette, even if you're drinking coffee while eating it, which you probably shouldn't.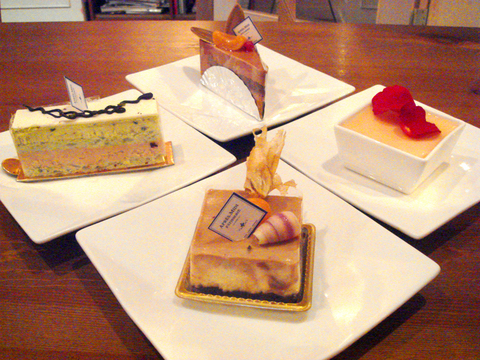 Apres midi for afternoon tea.
PHOTO: RON BROWNLOW, TAIPEI TIMES
"Ganache means imbecile in French," explained Cho, 32, who studied the language in Lyon before enrolling in Paris' Cordon Bleu culinary school. "The story is that the recipe was discovered when an apprentice chef inadvertently spilled scalding milk onto a bowl of chocolate. The master called him a ganache, but then he realized that the result of the accident tasted pretty good."
For NT$150 you can enjoy a drink and treat like a ganache cake, mille-feuille or a strawberry tart, which will be available when the fruit comes into season this winter. The beverages are of the standard common in Taiwan for places specializing in afternoon tea. Apres Midi serves coffee, but this is in the style of a certain US caffeine emporium, not the kind you find in a cafe in France. It also offers a wide selection of imported German fruit teas. Cho said cool mint (冷薄荷花茶) and Earl Grey tea with creme fraiche (奶油伯爵調味茶) are popular.
Taking a brief hiatus from the menu but returning at the end of the month are three kinds of quiches (NT$80), chicken, ham and sausage. Another specialty is Cho's take on cheesecake, which he calls cheese bon bons (NT$40).
In addition to the branch just off Fuxing South Road near the Breeze Center department store (微風廣場), Apres Midi has a second branch in the basement of the Mitsukoshi department store in Tianmu (新光三越天母店A棟B1, 02-2872-7249).
Comments will be moderated. Keep comments relevant to the article. Remarks containing abusive and obscene language, personal attacks of any kind or promotion will be removed and the user banned. Final decision will be at the discretion of the Taipei Times.