The Vinyle Word
Six months ago Luxy launched a fresh club night with the aim of injecting some much-needed impetus into a dance music scene that had, by many people's reckoning, become staid. The small underground dance venues were long gone. Clubbing had gone corporate and the vibe had dissipated, though few mourned the demise of glow sticks and whistles. First trance, then house, seemed to be beating a retreat at the behest of an emerging hip-hop, or hip-pop, juggernaut.
Enter Alan Hsia (夏天倫), who as head of Luxy brought a whole crop of top international DJs to Taiwan over the past few years. But instead of jetting in, spinning the night away and picking up a fat check before moving on to the next gig, leaving just memories, the monthly Sabbatical residency brings those DJs, the first was Johnny Fiasco, to these shores for a month, during which time they produce tracks inspired by Taiwan. Collaboration between resident and local DJs, Sabbatical organizers hope, will nurture future talent and raise the profile of Taiwan's dance scene.
This month the residency has been given to two local DJs, Saucey and SL, who follow in the footsteps of Astro and Glyde, Hipp-E, Sneak and Justin Michaels.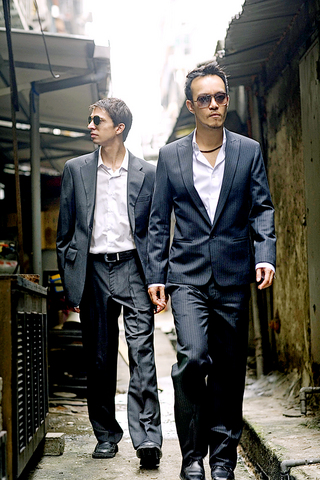 Saucey, left, and SL have some tough acts to follow, but are confident they are up to the job.
PHOTO COURTEY OF SL AND SAUCEY
The Vinyl Word caught up with the pair, who are working on their contribution to the Sabbatical compilation, at SL's studio on Wednesday night.
VW: It's been six months, what's the state of play?
SL: We're working on the first track and will do as many as possible. There's no deadline for the production. But some of the artists haven't handed their tracks in yet. Justin Michaels has great ambitions for his track, bringing in vocalists and all that.
VW: What have Sabbatical resident DJs taken as inspiration from Taiwan?
SL: I worked on a bunch of them already. Starting with Fiasco I jumped in as keyboardist. ... A deep track. I thought of all the Chinese songs that had a hook [in the same key as Fiasco's samples] and played that as my solo. I used a portion of lyrics from a Wang Fei song popular at KTV, sung by my girlfriend. I didn't want it to be a remix. He also used some samples recorded in a Starbucks.
Saucey: In his other Luxy track, Fiasco has some Chinese vocals ... . I think it's more their experience of DJing at Luxy. That's my interpretation of the Sabbatical, not necessarily that they have to take sounds from Taiwan.
VW: What do you aim to do with your contribution?
Saucey: If [the residency night] was a full on head shaking crowd and we had to play really hard and edgy then, in turn, the song would be hard and edgy. But the crowd we have had was like the old Citrus parties. They like the more funky music and the deeper grooves.
SL: We did a little bit of homework. We talked it through. I gave Saucey an interpretation of his sounds and he gave me an interpretation of my sounds. And the solution was somewhere in the middle. The danger is not to have it pulling between East Coast and West Coast sounds and confuse people.
VW: Is the Sabbatical residency delivering the goods?
SL: It will be a great brand-building thing. Not necessarily a money-making thing, but it will be great for the scene once the CD comes out and the DJs go home and start talking about it saying, 'I spent a month in Taiwan. No not Thailand, Taiwan. And that place is off the hook.' People don't know about it. It's not on the map.
Tonight Saucey and SL step up to the decks at 12:30am. Last Friday night's bash was still being discussed midweek, surely a sign of a kicking party. More information on the Sabbatical night and biographies on SL and Saucey and past residents can be found at www.onsabbatical.com.
Comments will be moderated. Keep comments relevant to the article. Remarks containing abusive and obscene language, personal attacks of any kind or promotion will be removed and the user banned. Final decision will be at the discretion of the Taipei Times.