Some dance to remember, others to forget
Sasha Waltz is one of the standard bearers of the dance world's avant-garde. Just one look at the poster for her company's performance this weekend at the National Theater in Korper and you will know that she's not your average modern choreographer.
Half-nude bodies of men and women, trapped and pressed under what looks like a large sheet of glass — it's clear that audiences should not expect to be seeing something light and airy. But that's not to say you won't have fun; it's just that the sillier, lighter moments are mixed in with the disturbing, if not downright grotesque.
The Karlsruhe-born, Berlin-based Waltz founded her company, Sasha Waltz and Guests, in 1993, with Jochen Sandig, who is her partner out of the theater as well. It's an unusual dance company; while there is a small core of dancers and associates who have been with her for years, there have been more than 150 guest artists around the world who have danced for her. Hence the name.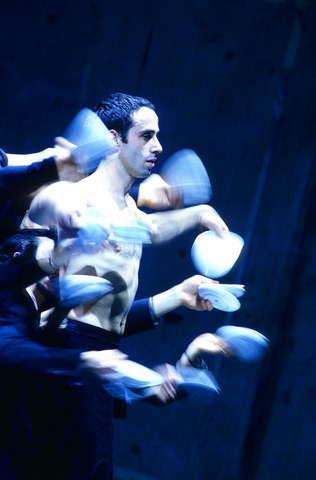 Korper examines the 'historical pain' of the Holocaust.
PHOTO COURTESY OF NTCH
Waltz began dancing as a child, studying with a teacher of the German expressionist school and then later at the School for New Dance Development in Amsterdam. A one-year stay in New York exposed her to some of the big names in American modernism. She disavows the oft-made comparisons of her work with that of countrywoman Pina Bausch, citing Americans Merce Cunningham and Trisha Brown as her main sources of inspiration, especially Brown, whom she labels "one of her heroes."
But her works can also be seen in the linage with other contemporary Europe-based choreographers such as Vim Vandekeybus of Ultima Vez in Belgium, or Lloyd Newson of DV8 in London, who have incorporated theatrical traditions, scripts and sometimes film clips into their productions as they seek to challenge and inform audiences about the human condition and modern life. Those who saw Jerome Bel's company at Novel Hall in June in the Frenchman's self-titled work will probably also see some similar images in Waltz's work — the selling of body parts, the emphasis on the skin and its movements.
Korper was the first in a trilogy (it was followed by S and noBody) that examine the human body, its architecture, its various bits and pieces, and its mortality. But Korper is also Waltz's attempt to come to grips as a young German with the legacy of the Holocaust, both for Germany and mankind in general.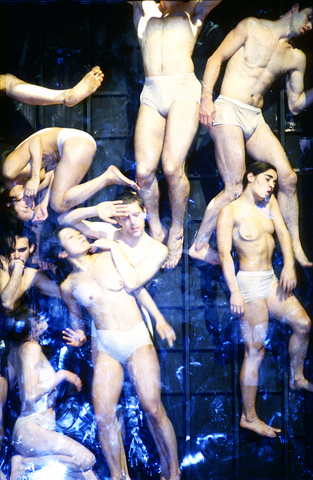 Korper examines the 'historical pain' of the Holocaust.
She has said that she was very influenced by Daniel Liebeskind's Jewish Museum in Berlin, where she did a series of choreographic sketches while working on Korper, especially the void he created in memory of all the people who died.
"As a German, this is our historical pain [the Holocaust], but there are still other such pains today," Waltz said at a press conference yesterday.
"It is something about being human beings ... something that dance can talk about in a very deep sense, almost a subconscious sense."
The 13 dancers are clad almost exclusively in flesh-colored briefs. The occasional black-garbed figure becomes an almost disturbing exception. Though sexuality is certainly a key element of the human body, Waltz said that this was not the reason for the near nudity. She wanted to strip away the outer layers that humans use to conceal themselves, to distance themselves from one another.
"I didn't want to distract people with costumes, with clothes of a certain period," she said. "I wanted just the body itself but without a sexual view, almost like a doctor's [perspective] I hoped."
The skin is also the largest organ of the body, she said, and its elasticity, its movement, was what intrigues her.
Waltz has frequently been cited for her use of space and the architecture of her pieces, which perhaps can be traced back to her architect father. The set for Korper centers around a 10m-plus black wall, which doubles as a blackboard, but whose main feature is a huge window with a Lucite pane that becomes a display case for the dancers' bodies. First one woman alone, then a flood of others, who wiggle, spill, overlap, moving about on an almost invisible latticework of thin wood strips. This wall later crashes to the floor to become a sloped platform.
Sasha Waltz and Guests is a fitting finale for the National Theater's Made in Germany festival, which has succeeded over the past four weeks in giving Taipei audiences a taste of the best that modern Germany has to offer.
Publication Notes
Performance notes:
What: Sasha Waltz and Guests, Korper
Where: The National Theater, Taipei
When: Tonight and tomorrow at 7:30pm; Sunday matinee at 2:30pm
Tickets: NT$400, NT$600, NT$900, NT$1,200, NT$1,600, NT$2,000, NT$2,500 through NTCH ticketing
Comments will be moderated. Keep comments relevant to the article. Remarks containing abusive and obscene language, personal attacks of any kind or promotion will be removed and the user banned. Final decision will be at the discretion of the Taipei Times.