Made inTaiwan
Four local directors, young and veteran, show off the diversity of Taiwanese cinema
From Leste Chen's (陳正道) teenager-oriented, idol-filled Eternal Summer (盛夏光年), Cheng Yu-chieh's (鄭有傑) tradition-breaking Do Over (一年之初) to Su Chao-pin's (蘇照彬) big-budget, genre-driven Silk (詭絲), Taiwan's film industry has this year witnessed an emerging diversity of forms and content in the works of a new generation of filmmakers. To reflect this trend toward a multi-faceted cinema, Taipei Golden Horse Film Festival (TGHFF) is screening four new local films in the Made in Taiwan program, each of which has its own distinctive style that caters to audiences of different tastes.
One of the festival's closing films, Amour-Legende (松鼠自殺事件) by Wu Mi-sen (吳米森), has generated attention from film critics and audiences alike as the flick is a highly stylish and somewhat personal work from a young auteur and appeals to Japanese pop culture enthusiasts by starring pop idol Yowusuke Kubozuka.
Set on a South American island, the film begins as a Japanese man named Oshima wakes up in a middle of a desert. He can't remember anything and a young woman who calls herself Coco fills in his memories by telling him what has happened, according to her version of the events.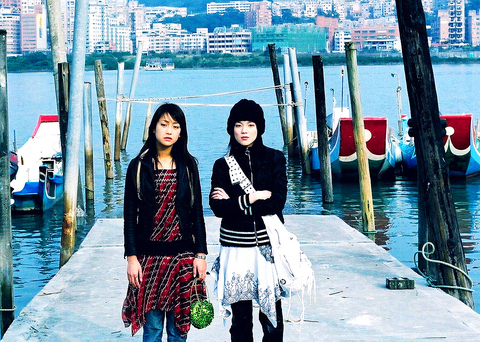 Wu Mi-sen's Amour-Legende, Exit No. 6 by promising young filmmaker Lin Yu-hsien and Yao Hung-i's award-winning film on contemporary life in Taiwan titled Reflections.
PHOTOS COURTESY OF TGHFF
It seems that Oshima came to visit the island with his girlfriend May and the couple planned to cross the desert to reach their destination, Snow Mountain. An accident occurs, and May goes, alone, for help but never returns. Coco decides to help Oshima find May, but as he grows increasingly lost in the girl's story, Oshima starts to question his own existence and destiny.
Like the director's two features Fluffy Rhapsody (起毛球了, 2000) and Drop Me a Cat, 2002 (給我一隻貓), the film is colored with his signature dream-like magic realism that draws the audience into a state of near hypnosis. Reality is fragmented. The identities of places and people are blurred as the lovers murmur their delirium of deception in Spanish, English, Japanese and Mandarin in a tableau shot entirely in Taiwan but without any recognizable signs or landscapes.
It just so happens that Wu was a mentor to Lin Yu-hsien (林育賢), director of Exit No. 6 (六號出口). Having worked as a production team member for Fluffy Rhapsody and Drop Me a Cat, 2002, Lin quickly established a name for himself with the plot-driven documentary Jump! Boys (翻滾吧!男孩). With training in fictional cinema, Lin made the natural progression after Jump! Boys to creating his first feature film Exit No. 6, which fuses elements from martial arts, detective and thriller movies.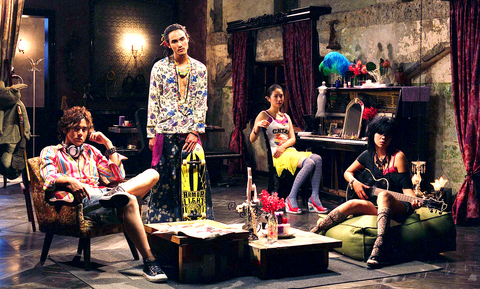 Focusing on teenage subcultures in Xinmending in his previous documentaries Pray for Graffiti (鴉之王道) and His-men Street (街頭風雲), Lin aims to paint a fresh portrait of contemporary youth in his feature production about the adventures of a group of Xinmending teens who uncover a series of mysterious disappearances of highschoolers involved in a new blog called Autumn Leaves.
The film is an ambitious project following the now popular model of transnational cooperation with imported movie stars and investment and professional support from South Korea. Along with its appealing subject matter and high production values, Exit No. 6 seems to position itself as an international project aimed at markets both home and abroad.
Also attempting to place its finger on the nub of youth, Hou Hsiao-hsien's (侯孝賢) long-term cinematographer, Yao Hung-I (姚宏易), did with his first feature film Reflections (愛麗絲的鏡子) what Hou has failed to deliver: the anomic life and spirit of contemporary Taipei. Reflections can be seen as another version of the third story of Hou's Three Times (最好的時光): a tale of the love triangle between young lesbian couple and a man and the love, betrayal and revenge that ensue.
Island Etude (練習曲) is En Chen's (陳懷恩) feature debut. En is a veteran cinematographer who has worked with acclaimed directors such as Hou, Chang Tso-chi (張作驥) and Cheng Wen-tang (鄭文堂) since the 1980s and is a child of Taiwan's New Wave cinema.
A road movie about a hearing-impaired college student who encounters various people and their stories during his seven-day, round-the-island bike trip, Island Etude preserves some of the New Wave look and spirit, focusing on the island and its people and presenting a miniature Taiwan on which people from different cultural and ethnic backgrounds all have their own stories to tell in the multicultural society.
The emergence of this new generation of filmmakers signals a break from the past. While the 1980s saw the rise of leading figures Hou Hsiao-hsien and Edward Yang (楊德昌) and Tsai Ming-liang (蔡明亮) in 1990s, local filmmakers in the new Millennium now choose to embrace the audience, planning ahead their marketing strategies which are now seen as important as the works themselves.
In the view of film scholar, critic and curator Wen Tien-hsiang (聞天祥), these young directors are in their nascent phase and are learning how to tell a good story that can move audiences.
"I think we must understand that it is not the art-house cinema that ruins Taiwan's film industry, but rather outdated commercial films that failed to update themselves to meet new demands. Today's young directors are just beginning to fill in the gap and we should give them more time to do what they have been doing," Wen said.
For director Wu, the problems the local film industry face cannot be solved within the industry itself since to talk about the issue, one needs to take into consideration the wider cultural context.
"The issue at stake here is not as simple as solving the film industry's problems by bringing out several young directors for example. It concerns our cultural identity and quality. Western countries spent a long time completing their modernization projects, while Taiwan was forced to compress the whole process within decades and there are certainly lots of stuff being skipped and missed along the way," Wu said.
So when the restless press, film companies and government agents anxiously look for the next Ang Lee (李安), maybe we should take it easy on the emerging young directors and let them pick up what has been left and bypassed at their own pace.
Comments will be moderated. Keep comments relevant to the article. Remarks containing abusive and obscene language, personal attacks of any kind or promotion will be removed and the user banned. Final decision will be at the discretion of the Taipei Times.