Musica country?
Looking for ways to broaden its audience, the Country Music Association has created a task force to see how many Hispanics like the genre
When country music acts started noticing more Hispanic fans at their concerts, it did not take long for Music Row to start dreaming of its next big audience.
After all, many Hispanics in the US, especially Mexicans, already love norteno, a traditional Mexican sound based in the rural experience of cowboy boots and pickup trucks.
But could these norteno fans also be interested in the fiddles and steel guitars of country music? Right now no one knows the answer.
Maria Pena, owner of Las Americas Musica, organizes music titles in her Spanish-exclusive music store in Nashville last month. Pena doubts her customers are familiar with country music, but that hasn't stopped Music Row from reaching out to Hispanics.
PHOTOS: AP
The Country Music Association in Nashville says there are no good studies to show how many Hispanics listen to country already, so the industry group recently formed a task force to investigate.
Anecdotal evidence suggests Spanish speakers are not a large part of the country music audience. The phrase "country music'' does not even have a translation in Spanish.
"If they know it at all, they'll call it 'musica country,'" said Eddie Wright-Rios, a Vanderbilt University professor who specializes in the cultural history of modern Mexico.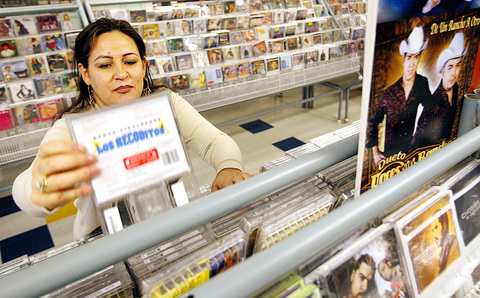 Maria Pena owns Las Americas Music in Nashville and carries music in Spanish almost exclusively. No one ever comes into her store looking for country music, said the Chihuahua, Mexico native, adding that she doubted her customers were familiar with the genre.
But Pena's employee, Camelia Wissar, also of Chihuahua, said she listens to country and her friends do as well. Asked who she likes, she listed Alan Jackson and Garth Brooks.
"I listened to it in Mexico, too,'' she said in Spanish.
The CMA task force was created shortly after the only country music station in Los Angeles, the nation's second-largest city with a Hispanic population of 49 percent, abruptly changed formats to urban contemporary in August.
But Jeff Walker, a CMA board member who chairs the Hispanic task force, said it is not an automatic reaction to that development. He said the country music industry simply sees potential in the Hispanic market.
"I'm sure every marketer in America — GM, Ford, Budweiser — is looking at their audience and how it is shifting right now,'' Walker said.
Country music enjoyed a 17.7 percent increase in album sales in the first half of this year — the largest percentage jump of any genre — but overall US album sales are down, and music executives are always interested in an untapped market.
Hispanics are the youngest, fastest-growing segment of the US population. They were 14 percent of the population in 2004, but made up nearly half the nation's growth so far this decade.
Country music has tried in recent years to broaden its audience beyond white people in rural, more traditionally conservative US states — an effort symbolized by the CMA holding its annual awards ceremony in New York, instead of Nashville, last year.
Eva Melo, of Tennessee-based Latin Market Communications, said the CMA has requested a Hispanic market study, but she is skeptical her fellow Hispanics will take to the genre.
"A lot of people confuse regional Mexican music with country because it comes from the ranches and farms, but if you translate a country song into Spanish, it wouldn't sound like regional Mexican music,'' she said.
"I don't know if Hispanics will relate to country music because it doesn't come out of Mexico. It comes out of Nashville.'' Also, the Hispanic audience is not monolithic. Nearly two-thirds of all US Hispanics are Mexican, but Spanish-speakers from other countries have diverse musical tastes.
"In different areas of the country, they listen to different music,'' she said. "In Miami it's more salsa, merengue and cumbia. California is more Spanglish, hybrid, fusion.''
Rick Rodriguez, who manages the Latin division of Nashville-based Songs for the Planet and works as a song plugger for the same, has been trying to encourage Music Row to mix with Hispanic artists and music.
"I'm a Mexican from South Texas,'' he said. "I grew up listening to people like Freddy Fender and Johnny Rodriguez. If we can get old-school country music, like back in the day what was coming from Hispanic cats, I think it would be big.'' Texas-based singer-songwriter John Arthur Martinez, who was the runner-up on the inaugural season of Nashville Star (a country music talent competition like American Idol), said Hispanic listeners are already there.
"Nashville has not made a conscious effort to court the Hispanic audience on a major scale, but without realizing it they've already attracted people like my sister,'' he said. "Her CD collection is 90 percent country and 10 percent tejano.'' Maritza Baca, a marketer who recently formed the US Hispanic Country Music Association in California, is convinced Hispanics are gravitating toward country. She has met with the CMA twice about it.
"I think there's definitely a trend,'' she said, noting that in a Mexican airport she has heard country music in English played over the intercom system. She said Spain has a Country Music Association, and Argentina just put on a country music festival with artists from South America.
Rick Murray, the Nashville CMA's vice president of strategic marketing, says he wants to see more research before he is convinced. That research should answer questions like whether Spanish-language singers are necessary to lure listeners.
"Is it a Hispanic artist, or is it bringing existing music into the Hispanic market?'' he asked. "Those are two very different things that might complement each other."
Comments will be moderated. Keep comments relevant to the article. Remarks containing abusive and obscene language, personal attacks of any kind or promotion will be removed and the user banned. Final decision will be at the discretion of the Taipei Times.