Old masters rise from the dead
From its Basement Open performances to festivals, Eslite Bookstore has honed a reputation as a venue for local alternative theater. This year, its annual festival features crossover productions inspired by three Western masters: Vincent van Gogh, Leonardo da Vinci and Rene Magritte.
The works are a collaboration between three leading theater directors and three visual artists.
Director Wang Jia-ming (王嘉明) from Shakespeare's Wild Sisters (莎士比亞的妹妹們的劇團) opened the series with Vincent van Gogh and Seven Performers (文生梵谷).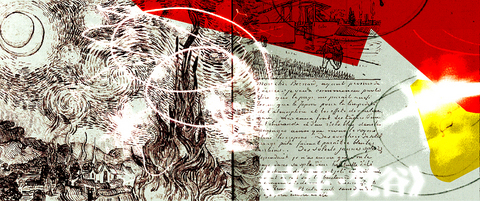 Vincent van Gogh and Seven Performers probes the artist's irrationality.
PHOTO COURTESY OF ESLITE BOOKSTORE
Staged in a realistic motorbike shop, the play loosely follows the artist's life chronologically. Occasionally reciting words from Van Gogh's letters to his brother and friends, the seven performers and dancers gradually venture into their own insights on the artist's mind and reveal their take on his instability, violent nature and salvation.
Wang also presents a humorous perspective on the commercialization of Van Gogh's art in one of the five acts when a group of acquaintances form friendships through their shared love for the prints of the artist's paintings and together they take a bike trip to see his works.
"It's a mockery on the fake cultural taste that is omnipresent in society," Wang explained. It's also part of the reason why the director chose the artist's lesser-known sketches over his oil paintings as a starting point to gain an understanding of his mental landscape.
"Van Gogh's insanity serves as a reminder to our numbness, to our silence on detail… . He has his own understanding of madness. To him, being alive is to cultivate the chance to lose sanity," said Wand, in an explanatory note for the play.
In the intriguing combination of Western painting and Eastern theater, Tai Chun-fang (戴君芳) examines the life of Italian master Leonardo da Vinci and his sexual ambiguity in the third production of her experimental kunqu (崑曲) theater.
Reflecting on the drama's subject, the Mona Lisa, which some critics believe to be the artist's self-portrait, the play presents an innovative adaptation of the kunqu short piece Chiao Ying (喬影) written by Wu Tsao (吳藻), an obscure female artist from the Ching Dynasty.
Against a backdrop of four projections showing deconstructed images and animations of Da Vinci's paintings, the female protagonist is seen on a boat in the middle of a lake, disguised as the incarnation of the ideal Chinese literati. Here the Western painter and Eastern artist merge into one actor who transgresses socially constructed gender barriers.
Visual artist Shy Gong (施工忠昊) has created a De Vincian stage background for the play by overlaying the Vitruvian Man with his own creation Miss Mona on the ground. "After each performances, audiences are invited to paint on Shy Gong's Miss Mona to create Taiwan's own Mona Lisa," producer Chiang Hsing-chun (姜幸君) said.
In The Man Turning into Clouds, director Craig Quintero of Riverbed Theatre (河床劇團) takes the audience on a poetic journey into the visionary world of Belgium surrealistic painter Rene Magritte. Unlike the usually wild, fantastic paintings of other surrealists, Magritte's visions of everyday objects are tinged with a dark, disturbingly quiet sensibility that challenge viewers' perceptions of reality.
Fascinated by the impeding sense of danger in the artist's work, Quintero has taken a similar surrealistic approach to theater.
Publication Notes
For Your Information
What: 3x3 Concerto -- 2006 Eslite Theater Festival (3x3協奏曲-2006誠品戲劇節)
Where: Eslite Bookstore -- Dunnan B2 Art Space (誠品敦南B2藝文空間), B2, 245, Dunhua S Rd, Sec 1, Taipei (台北市敦化南路一段245號B2).When: For Vincent van Gogh and Seven Performers, tonight at 7:30pm; tomorrow at 2:30pm and 7:30pm; Sunday at 2:30pm. For Boat Fantasy for Mona Lisa, Sept. 28 and Sept. 29 at 7:30pm; Sept. 30 at 2:30pm and 7:30pm; Oct. 1 at 2:30pm. For The Man Turnign into Clouds: Oct. 10 and Oct. 6 at 7:30pm; Oct. 7 at 2:30pm and 7:30pm; Oct. 8 at 2:30pm.
Tickets: NT$400, through NTCH ticketing outlets or at www.artsticket.com.tw
Comments will be moderated. Keep comments relevant to the article. Remarks containing abusive and obscene language, personal attacks of any kind or promotion will be removed and the user banned. Final decision will be at the discretion of the Taipei Times.