A living folk legend remains true to his grassroots spirit
Over the past 30 years, Cheng Ming-chang has conveyed the beauty and the sorrow of this land through his unigqe sound
On a recent Saturday night, a long queue outside the small live music venue Witch House (女巫店) caught the attention of passers-by. People in the line were worrying about not getting a seat for a live performance by iconic folk singer Chen Ming-chang (陳明章), who has established a solid fan base with his folk-rock mixed with local ballads and a uniquely Taiwanese sound.
Chen's 37-year music career began in Beitou (北投), Taipei City, which he still calls home. He taught himself to play guitar in junior high school with a cheap guitar borrowed from his older brother. In his early 20s, Chen got involved in the then popular minge (民歌) Mandarin folk music scene and wrote around 30 songs in this genre, but failed to make a splash.
At the age of 24, Chen began writing music in his native language, Taiwanese, and found his true calling. The life-changing awakening to the beauty of Taiwanese folk music was caused by his introduction to the music of the late folk legend Chen Ta (陳達), an exceptional yueqin (月琴) musician famed for his Hengchun folk music sound (恆春調). Chen lived most of his life in poverty and died in a car accident in 1981.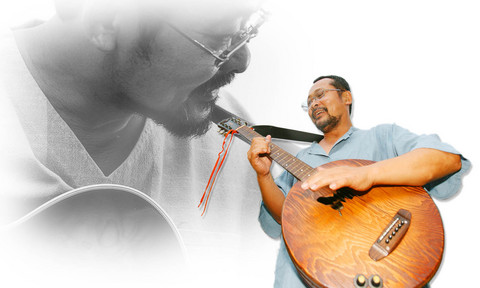 Chen Ming-chang is an innovative musician who can blend the sounds of traditional Taiwanese instruments with those of the guitar.
PHOTO COURTESY OF CHEN MING-CHANG MUSIC STUDIO
"After military service, I was given a tape of Chen Ta's music. I listened to the tape everyday, drinking and in tears," said Chen, who got misty-eyed talking about this even after so many years.
So began Chen's long journey through the amazing diversity of Taiwanese folk music, which is still preserved in grassroots music. "I never felt deep emotions writing songs in Mandarin. But in the grassroots folk tunes, I recovered a strong connection with the place I live. So it was just a natural for me to wave goodbye to minge and Western influences," Chen said.
Chen spent years collecting music from around the island, and has turned himself into an ethnomusicologist with a proficiency in nanguan (南管), beiguan (北管), yueqin and a myriad folk genres and instruments.
In the late 1980s and early 1990s, Chen emerged as one of the pioneers in the underground music scene with the release of the first anti-government-themed Taiwanese album Blacklist: Songs of Madness (黑名單工作室-抓狂歌) in 1989. A collaboration between Chen, Joe Wang (王明輝), Chen Chu-hui (陳主惠), Lin Wei-tseh (林瑋哲) and others, the record marries political-rhetoric and sarcasm to hard-hitting rock sounds and became a landmark in the Taiwanese music scene, shifting the genre away from the sentimental ballads that had previously dominated.
Never positioning himself as a protest/rebel singer, Chen's heart lies with the traditional music that he tries to keep alive by including modern sounds. With his mind-boggling guitar prowess, Chen single-handedly invented a style of playing the guitar that allowed him to imitate the sounds of nanguan, beiguan and yueqin, and enabled him to play gezai opera (歌仔戲), Taiwanese puppet theater music, and Hengchun tunes on his guitar. Another important musical influence for Chen has been drawn from years of visiting and hanging out in Aboriginal villages in Taidung (台東) and Hulien (花蓮).
"I often tell my students that if you want to go international, you have to start with the land you live on," said Chen, who has been giving music lessons to anyone who is interested in the hope that he can pass down what he has learned about the traditional tunes.
It's a piece of heartfelt advice taken from his own experience. Chen's compositions for Ho Hsiao-hsien's (侯孝賢) Dust in the Wind (戀戀風塵) and The Puppetmaster (戲夢人生) as well as Lin Cheng-sheng's (林正盛) March of Happiness (天馬茶房) have won him several awards at international film festivals and an avalanche of invitations to perform abroad.
A spinal injury in 1993 has kept the invitations unanswered. Backache and a crippled left leg have tormented Chen for the past 13 years, making him unable to stand or sit for too long. "For 15 years till I was 39, I would stay up all night from 11pm to the dawn working on the music with a bottle of Kaoliang liquor (高梁酒) at my side … . And that's probably why my body got so messed up," Chen said.
But Chen is not the kind of guy who feels sorry for himself. He has taken up the role of record producer and songwriter for TV commercials, which Chen said is a good way to support his musical career and the folksy Tamsui River Band (淡水走唱團), who support him in concert.
"I used to borrow musicians from Wu Bai's (伍佰) China Blue for performances, but sometimes they were too busying doing their own things. So one day Wu Bai just said to me 'go get yourself a band,'" Chen said with a laugh.
So Chen did and the Tamsui River Band (淡水走唱團) was formed in 1996. A couple of changes of line-up later, the band now consists of Chen and four visually impaired musicians. It's a group that lives up to Chen's life motto: go wherever your heart leads you and have fun.
"I remember one time we had a touring performance in Kaohsiung. When we got there, our bassist said to us 'you know what, I forgot to bring my bass.' With these guys, you just have to go with the flow," Chen's wife and assistant Wang Si-ying (王思穎) said with a chuckle.
The never-on-schedule, going-with-the-flow attitude of Chen may explain why the musician issues his solo albums at such infrequent intervals. "Many of my songs take years to complete. Sometimes the lyrics are done, but the music comes a decade later. I won't publish the song until I feel the right moment has arrived, and it usually means a few years have gone by," said Chen.
For Chen, music is made with his feet. Each year, the genial musician travels around the island several times to pay visits to friends and musical teachers, immersing himself in the pulsing beat of the land, and singing the sometimes long-forgotten stories of the island. "You can't write music in the studio. You have to go out there, to feel and get inspired by people and the land," Chen said.
Back home in Beitou, the 50-year-old musician can often be spotted scribbling on pieces of paper when the creative stream hits during his daily six-hour stroll around the neighborhood. These strolls are a form of therapy for his leg.
Hopefully, Chen's perseverance will pay off soon since the guitar virtuoso's only wish is to cure his backache so that he can embark on a world tour, taking Taiwanese folk tunes onto the international stage. "Imagine Kimbo Hu (胡德夫), Samingad (紀曉君) and I drifting from town to town like street musicians playing our island's music. Oh, won't that be great! We would have such fun," said Chen, excited as a little boy who has just been granted his greatest wish.
It may or may not be a premature dream, but one thing can be sure: the living folk legend will continue his odyssey deep into the musical realm until the curtain of life falls.
Comments will be moderated. Keep comments relevant to the article. Remarks containing abusive and obscene language, personal attacks of any kind or promotion will be removed and the user banned. Final decision will be at the discretion of the Taipei Times.