Twilight looms over A-bian's hometown
Once a tourist mecca for supporters of President Chen Shui-bian, the town of Hsichuang has lost much of its luster in the wake of political scandals
Nestled in caltrop paddies at the foot of Mount Wushan, Hsichuang Village (西庄村) looks like any other farming town in Tainan County. It lies on dusty Township Road 62 amid palm trees and the occasional betel nut stand lit up in flickering neon.
This isn't just any farming town, though; it's President Chen Shui-bian's (陳水扁) hometown — a mecca for anybody whose espousal of Taiwanese independence is more a religious faith than a mere political stance.
But as Chen's star fades, Hsichuang, it seems, wants to take itself off the map. Road signs proclaiming Hsichuang as Chen's hometown have all but disappeared. The posters and fanfare that do remain are old and sun-bleached, making better satirical statements than promotional signs. And this mecca's "pilgrims" — for lack of road signs or conviction, or both — come in fewer numbers these days.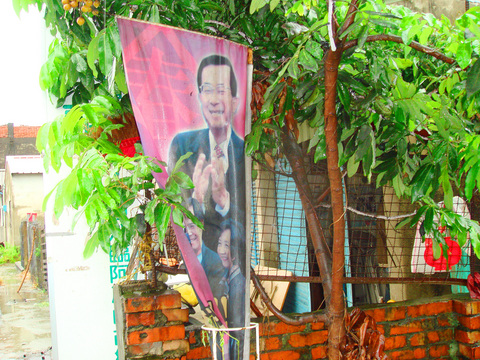 A weather-beaten campaign banner in Chen's hometown.
PHOTOS: MAX HIRSCH, TAIPEI TIMES
"Two road signs [pointing the way to Hsichuang] were taken down recently," a local shop owner said, insisting that the signs were removed due to roadwork.
"We didn't take them down because we're embarrassed of A-bian [Chen's nickname]," he added.
The missing signs threw a busload of foreign reporters and diplomats for a loop last month. Taipei Foreign Correspondents' Club members were on the last leg of a Tainan County Government-organized trip to give the foreign press and VIPs a peak at politics in the heartland of the Democratic Progressive Party (DPP). The trip naturally included a quick stop at Hsichuang.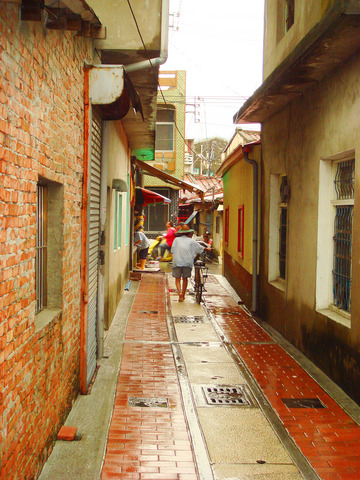 One of the small alleys that characterize Hsichuang.
It was almost dusk when the bus halted after a long drive through jungles and cropland. Telephone poles cast long shadows across paddies and shrimp ponds. Tainan County Government representative Liao Chen-hua (廖振華), the chaperone for the trip, announced over the bus's crackling PA system that we had arrived at Hsichuang. We filed off the bus, only to be corralled back on by Liao moments later.
"This isn't it — we came to the wrong spot," Liao conceded.
The bus grumbled back to life as we returned to our seats, confused. The shirtless, betel nut-chewing man whose home we had just stopped at, spit and waved goodbye.
Luckily, the driver was a quick study in locating towns for which no signs exist. A few minutes' drive and passengers once again descended from the bus. This time, it was the real deal: Hsichuang, in all its twilight glory.
A light rain was falling, but the sun still shone from the west. Liao led us through a ghost town to the Chen family's courtyard house. Soggy, dog-eared posters of A-bian lined the way — A-bian's faded, two-dimensional face wasn't so much smiling behind the soot and rain as it was grimacing.
"We still support A-bian!" a group of locals said, brushing off recent allegations against Chen. They were huddled in a teashop on Hsichuang's main street on route to the Chen family's home, chomping betel nuts and sipping tea. A larger-than-life poster of A-bian was tacked to their wall.
"When the KMT was in power, if you said one thing against the government, they'd snatch you off the street," one man said, adding that he'd support Chen no matter what.
A bit farther down, Chen's childhood home lies just off the main street. With its red bricks and a fresh coat of paint, the courtyard-style house is unique among Hsichuang's grey buildings. The town's 2005 Lunar New Year celebrations saw 30,000 tourists descend on the house, hoping to catch a glimpse of A-bian in the flesh.
"A-bian rarely comes back anymore," one shop owner said. A-bian hadn't returned in "a long time," another resident chimed in.
As for tourists, their numbers are dwindling in the wake of scandals surrounding Chen, said a police officer at the guard post facing the Chen family home.
"The decline in tourism here has been very noticeable," the officer told the Taipei Times. Two tourists from Taipei milled about in the rain, snapping photos of the storied house.
Although tourism hasn't totally dropped off and many Hsichuang residents still back Chen, clues that his popularity is not what it used to be are everywhere. The town's young adults, for instance, were much slower to speak up on behalf of their president — if at all — than older residents.
"I have nothing to say," one younger resident said when asked if he still supported Chen.
Female residents also tended to be circumspect, saying that regardless of what they thought of Chen personally, the fact remained that one of their own had made it into the Presidential Office. "And that has been good for business here for the rest of us," one female resident said.
Not far from Chen's house, a grand, lustrous temple marks the center of town. A nearby apartment building was decked with yellow banners advertising Falun Gong.
The temple boasts an "A-bian's Hometown Service Center" (阿扁故鄉服務處) as an annex, presumably to offer help and directions to visitors. Its doors were wide open, but the inside was dark, empty. Cardboard boxes and exercise equipment cluttered its floor. Once again, a blown-up poster of Chen was tacked up, but his big smile rang hollow in the darkness.
Comments will be moderated. Keep comments relevant to the article. Remarks containing abusive and obscene language, personal attacks of any kind or promotion will be removed and the user banned. Final decision will be at the discretion of the Taipei Times.