Reel News
Oscar organizers said they had invited 83 countries to submit movies for foreign language film nominations for the movie industry's top honors including first timers, Azerbaijan and Kyrgyzstan.
For moviemakers outside the US, an Oscar from the Academy of Motion Picture Arts and Sciences can give their films global recognition and help boost ticket sales, making Oscar nominations of major importance.
The Beverly Hills-based Academy established a foreign language film category in 1956, and since then 102 different countries have participated in the nomination process.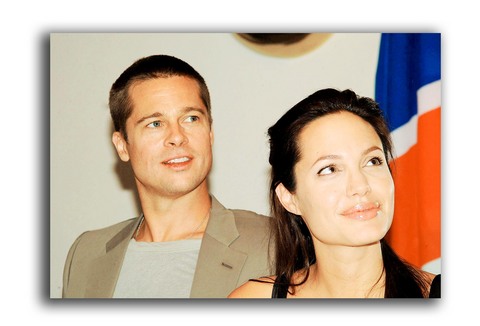 Angelina Jolie, right, and Brad Pitt are Hollywood? hottest; even their castoffs are worth big bucks.
PHOTO: AP
The first Oscar for a foreign film went to Italian movie La Strada, and the winner at this year's Oscars was South Africa's Tsotsi, about a young gang member in a tough Johannesburg township.
Memorabilia from Hollywood star Angelina Jolie is catching fire on the Internet with the planned auction of boots she used to strut to her Oscar in Girl, Interrupted and her skin-tight outfit from Mr. and Mrs. Smith.
Both items — a pair of tan, suede boots from the 2000 film and a beige ensemble number from her 2005 thriller where she starred opposite her beau Brad Pitt — are to go on sale on eBay for US$1,500 a piece, according to the online auction Web site on Wednesday.
It is unclear who owns the items, but the boots may be purchased immediately with a certificate of authenticity for US$2,000. They do not come with a size mention — and neither does the outfit.
Jolie, whose career slowed in the past year during her pregnancy, will lend her voice to a tigress in a new Dreamworks animated film Kung-Fu Panda, the studio said.
Jolie will join Jack Black, Jackie Chan, Lucy Liu and Dustin Hoffman in the story of a panda who dreams of becoming a martial arts fighter, due for release in May 2008, Dreamworks said.
Dreamworks was behind blockbuster animation hits like Shrek and Shark Tale.
Winner of an Oscar for best supporting role in 200 for Girl, Interrupted, Jolie, 31, had a baby girl in May with her superstar partner Pitt.
US entertainment giant Walt Disney Co plans to reduce its workforce and slash by more than half the number of films it releases yearly, Variety reported Wednesday.
Disney, whose Pirates of the Caribbean: Dead Man's Chest smashed opening weekend records in the North American box office last weekend, had no immediate comment on the report in Variety, which covers Hollywood and the entertainment industry.
It reported that Disney "will announce within the next 10 days that it's cutting back on the number of films it makes to around eight per year — it currently releases around 18 — and will substantially reduce its workforce."
Moreover, Variety said, all the new movies will be Disney-branded, which could impact Disney subsidiaries like Touchstone Pictures, which has made more mature, adult-oriented films for traditionally family-focused Disney.
Variety linked the cutbacks to the strategic vision of Walt Disney Studios chairman Dick Cook and an effort to improve the studio's return on investment and to get infrastructure back into line.
June Allyson, the stage, film and television actress best known for her girl-next-door charm and winsomely husky voice in such 1940s MGM classics as Good News and Little Women, has died at age 88, her husband said on Monday.
Allyson, who had been in declining health since undergoing hip-replacement surgery a few years ago, died on Saturday at her home in Ojai, California, northwest of Los Angeles, from respiratory failure and acute bronchitis, said her spouse of 30 years, David Ashrow.
A Chinese actress who played Hollywood movie star Zhang Ziyi's (章子怡) naked body double in The Banquet wants her name in the movie's credits, state media reported on Friday.
The Banquet, a film directed by Feng Xiaogang (馮小剛) is set for release in China in the autumn, stars Memoirs of a Geisha actress Zhang and features several body doubles to play her in nude and fight scenes, the Nanfang Daily newspaper said.
Shao Xiaoshan said she was paid US$2,500 for shooting several nude scenes in comments carried by the paper.
"Feng Xiaogang was very satisfied with my body, and asked me to play the 'naked double,'" the paper quoted Shao as saying.
But the actress feared a lack of exposure, hearing that her name would not appear in the credits and having her calls ignored by the director, the paper said.
Comments will be moderated. Keep comments relevant to the article. Remarks containing abusive and obscene language, personal attacks of any kind or promotion will be removed and the user banned. Final decision will be at the discretion of the Taipei Times.