Eat, drink, make movies
In the coming year a wave of ambitious studio films will try to capitalize on Americans' growing appreciation for all things epicurean
Cinema's relationship with food and drink has always been a complicated affair. Sometimes it's abusive, as Mae Clark, with her face full of grapefruit, learned from James Cagney in The Public Enemy. Sometimes it's unrequited, as Tony Shalhoub learned from ungrateful customers in Big Night. Now and then it amounts to a glorious epiphany, as in Sideways, when Paul Giamatti rhapsodized to Virginia Madsen about the delicate, even haunting properties of pinot noir.
A little bit of food can go a long way in the movies: think of Sue Lyons's lollipop in Lolita, the chicken salad sandwich in Five Easy Pieces or Diane Keaton's pastrami on white with mayo in Annie Hall.
And occasionally food threatens to steal the show, as in Babette's Feast and Like Water for Chocolate.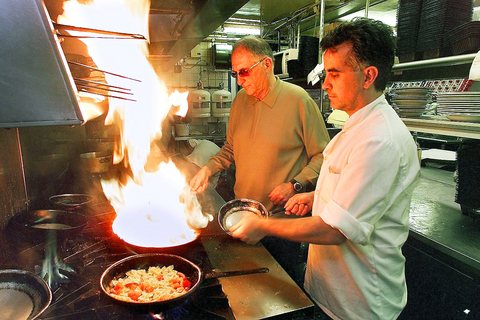 Dinner Rush is a dark comedy about a real TriBeCa restaurant, Gigino Trattoria.
PHOTO: NY TIMES NEWS SERVICE
The eating and drinking in these films are as much a reflection of character as the clothes the actors wear or the manner in which they speak. Such culinary verisimilitude has usually delighted critics but has not always translated into popularity among filmgoers: the roughly US$71 million in domestic ticket sales for Alexander Payne's Sideways (2004), which matched that of the Lasse Hallstrom film Chocolat, represents the high-water mark for movies that dwell on food and fine wine.
In the coming year, however, a wave of ambitious studio films will try to capitalize on Americans' growing appreciation for all things epicurean. In the winter, 20th Century Fox is scheduled to release A Good Year, in which a London investment banker, played by Russell Crowe, inherits a vineyard in Provence. And Warner Brothers just finished filming a remake of the German film Mostly Martha in New York, starring Catherine Zeta-Jones as a controlling chef and Aaron Eckhart as her culinary opposite, an earthy Italian-American named Nick. Also on the horizon is The Food of Love, based on the novel by Anthony Capella, which reimagines the Cyrano de Bergerac story as a contem-porary romance set in Rome with gastro-nomy as the poetry of seduction. The project, scheduled to shoot in September, will combine two of the director Peter Chelsom's greatest passions: romance and Italian food.
What's more, Nora Ephron, a food enthusiast who helped make the joy of cooking and eating so palpable in Heartburn, which she adapted from her own book, will write and direct Columbia Pictures' planned adaptation of the Julie Powell book Julie & Julia: 365 Days, 524 Recipes, 1 Tiny Apartment Kitchen, inspired by Julia Child's Mastering the Art of French Cooking.
And for every reverie on the restorative qualities of food and drink there is a dysfunctional cousin: Fox Searchlight's fall release Fast Food Nation is the writer-director Richard Linklater's dramatized version of Eric Schlosser's nonfiction book about the truth and consequences of the fast food industry, while the producer Craig Perry (American Pie) is looking at a fall start date for All You Can Eat, set in the bizarre world of competitive eating, for New Line Cinema.
With more and more twentysomethings trading in beer mugs for stemware, farmers markets bursting at the seams and Wal-Marts stocking organic produce, America clearly is in the midst of a feeding frenzy, particularly among the growing legions of foodies. The Food Network holds 65 million monthly viewers in its thrall, and sales of "gourmet" foods and beverages are expected to top US$53 billion next year.
To some extent these developments may reflect a search for refuge. "Food is that thing that people retreat to for comfort and safety," said Lisa Shotland, an agent in the Creative Artists Agency's lifestyle group, "and in these uncertain times that just becomes more and more the norm."
Or it may be that the chef has become "the new rock star," as Denise Di Novi, the producer of The Food of Love, maintains.
"The qualities that make a man sexy have expanded beyond traditional male roles," she said. "Great chefs embody the things that make all great artists appealing, in that they're creative, committed and passionate."
Whatever the source of the impulse, American studios are clearly out to challenge the notion that great food films have to be imported, though it usually worked that way in the past.
If the sudden confluence of food-oriented movies begins to sound like a glut, that shouldn't be too surprising, given the subject matter.
"The gorging of food is very American," Perry, the producer of All You Can Eat, said in reference to his own film. "What we've done is tap into that weird relationship we all have with food and yet make it both funny and heartfelt."
And when it comes to food as entertainment, the saturation point is likely still in the future, said Shotland of Creative Artists: "Every time I think it can't get hotter, it gets hotter."
Comments will be moderated. Keep comments relevant to the article. Remarks containing abusive and obscene language, personal attacks of any kind or promotion will be removed and the user banned. Final decision will be at the discretion of the Taipei Times.