Thrills beyond reason
International Thriller Writers Inc, an organization founded in 2004, has more than over 400 members whose combined sales figures add up to more than 1.6 billion books. Now this group has issued an anthology -- with its title in raised letters and blood on its cover, of course -- to illustrate what thriller writers do.
On the evidence of Thriller, one thing they do is dust the cobwebs off fragments and outtakes and package them as short stories. Another is direct those stories toward grisly, unmotivated violence, the ghastlier the better. A third is cook up tough-guy names for characters (Major Frost Jorgenson) or for strings of books (Recoil, Recon, Return). Many also lay claim to attributes as interesting as those of their characters. Thriller illustrates that too.
One contributor, Raelynn Hillhouse, is a former Fulbright fellow who lives on the slopes of the Mauna Loa volcano. She "has not only faced the barrels of Kalashnikovs" but has also "run Cuban rum between East and West Berlin, smuggled jewels from the Soviet Union and forged Eastern bloc visas." Hillhouse's story, Diplomatic Constraints, is comparably daring. It features a shotgun-packing Stella in the midst of real turmoil: a fierce attack on the US Embassy in Pakistan in 1979, two weeks after a similar, better-publicized event in Iran.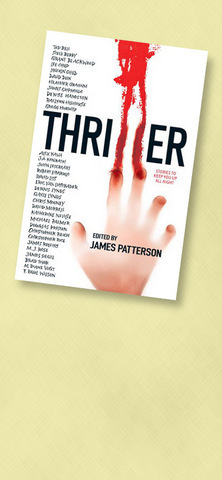 THRILLER: Stories to Keep YouUp All Night By James Patterson 568 pages MIRA
Although Thriller has been edited by James Patterson and blurbed by some of the genre's luminaries, its emphasis is not on well-known practitioners. Prolific as he is, Patterson hasn't supplied a story.
One of the few high-profile contributors is Lee Child, the best thriller writer of the moment, whose contribution comes from an early draft of an early novel and offers a brief but revealing glimpse of the author's character Jack Reacher. Child is also a contributor to the dueling anthology Death Do Us Part, the Mystery Writers of America's book edited by Harlan Coben and due later this summer.
So thriller writing and mystery writing overlap. But how? The best answer Thriller offers is that if mysteries depend on deductive processes, thrillers care more about "bloated intestines strung across the ground like festive streamers," as James Rollins so enthusiastically puts it. Each of this book's stories is a build-up to deadly mayhem, which is often committed at the expense of reason. These tales would rather kill off the wrong man than not kill anybody at all.
For instance, one of the better entries here is Gregg Hurwitz's Dirty Weather, which is set in a truck-stop restaurant in the dead of a Michigan winter and develops its characters well, at least for a few pages. The place is near a prison and is popular with guards; when a new guy shows up, he catches the eye of the proprietor's daughter. Then, trouble: "The door smashed open and a man with a gun charged them, screaming so loud flecks of saliva dotted the bar." Although this uproar ought to be sufficient, the story gratuitously leaves somebody to die in the snow.
Law enforcement figures are a major presence here. For instance, there is Alex Kava's Special Agent Maggie O'Dell, who thinks of apple pie as gory because she once saw "a perfect piece of apple pie with the victim's bloody spleen neatly arranged on top." Instead of treating this as a revelation about Maggie, Kava puts it on her story's second page and makes it a way of saying hello.
The book's more effective writers are at least able to do this with economy. (From J.A. Konrath: "Bang bang and he was a paycheck for the coroner.") But there is plenty of overwriting here, too. (From Heather Graham: "The wind railed with the sharpness of a banshee's shriek.") And some of it wouldn't get past a high school English teacher. (From M. Diane Vogt: "The night-light illuminated him enough that the camera would record perfectly.")
Thriller slows down for a couple of incongruous period pieces, like The Double Dealer by David Liss, with its 18th-century setting and emphasis on flatulence, or The Tuesday Club, by Katherine Neville, featuring Thomas Jefferson, Benjamin Franklin and other well-known Americans in Paris. ("One might be lonely in Paris, thought Abigail Adams with chagrin -- but one could surely never be alone!")
The only dated stories of real interest are those that trace the thriller's evolution. Success of a Mission, by Dennis Lynds, offers a glimpse of Arab-American relations circa 1968 and expertly deploys old-school espionage tricks like microfilm hidden in a piece of halvah.
The best of this book's contributors illustrate why quick
thinking is more interesting than a thumb in the eye ("going all the way through the cornea, the meniscus, and into the brain," in the words of David Dun).
The most welcome discovery, for readers new to the thriller
universe, is F. Paul Wilson's Repairman Jack. The character is enjoyably well drawn, and he's no James Bond: Interlude at Duane's centers on a robbery at a Duane Reade drugstore in New York and calls on Jack to outsmart the thieves with whatever he can find amid the merchandise. It's the rare story here that has a beginning, middle and ending, as well as some neat tricks in between.
Though many of its authors write books that move quickly, Thriller itself is surprisingly slow going. That's because each story's contrivances take getting used to. And the more far-fetched they are, the harder that is.
One moment the hook is drug-smuggling in Albania; at another it's the blackmailing of a plastic surgeon in Beverly Hills. Even the switch from Christopher Rice (secret homosexuality) to Chris-topher Reich (fine dining) is more difficult than it sounds.
Comments will be moderated. Keep comments relevant to the article. Remarks containing abusive and obscene language, personal attacks of any kind or promotion will be removed and the user banned. Final decision will be at the discretion of the Taipei Times.