Taipei Film Festival spreads its wings
A fairly new arrival on the film festival scene is making its mark with a focus on internationalism and young talent
Compared to the almost 30 year-old Golden Horse Film Festival (金馬影展), the Taipei Film Festival (TFF, 台北電影節), which this month celebrates its eighth year, seems little more than a whippersnapper.
The TFF has, however, found its own distinct path over the past few years. Each year it features works from two cities from around the world, and has also focused on fostering and promoting the work of Taiwan's young filmmakers.
"The Golden Horse is orientated to showcasing international film festival works by celebrated filmmakers. It has built up a strong audience base for art-house movies, and we have seen many local independent film distributors rise to fill that niche over the past years. Now it's time to move on to the next stage," program director Wen Tien-hsiang (聞天祥) told the Taipei Times.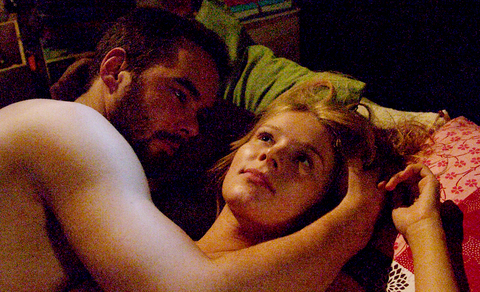 This year Taipei Film Festival lineup has an impressive array of top-quality movies including works by veteran local director Cheng Wen-tang, the up-and-coming Cheng Yu-chieh, Denys Arcand, Finnish director Aku Louhimie, Iranian director Maziar Miri and Belgian director Dominique Abei, to name just a few.
PHOTO COURTESY OF TFF
GOING INTERNATIONAL
Since last year, it has been the mission of TFF to establish itself as Taiwan's first truly international film competition, distinguishing itself from the Golden Horse, which restricts itself to Chinese-language cinema. With a top prize of NT$1 million for its New Talent Award and NT$350,000 for a special jury prize, the competition attracted a total of 118 films from around the world; twelve made it through to the competition. The competition is open to filmmakers' first or second 35mm works, and last year attracted many strong contenders in their 20s. Their works proved to be an instant success among local audiences last year. "We saw surprisingly enthusiastic reactions from audiences, and all the participating film-
makers were amazed by the dynamic interactions between artists and viewers and said they would spread the news in their own countries about TFF," Wen said. This year's inter-national competition sees the emergence of up-and-coming local director Cheng Yu-chieh (鄭有傑) with his first feature-length project, the highly anticipated Do Over (一年之初). South Korean melodramatic flick My Wedding
Campaign has been chosen to serve as a model for the young generation of local filmmakers making a shift to genre-driven mainstream movies, a move away from the long, studied examinations of island life of Taiwan's 1980s that characterized New Wave cinema. In terms of content and form, the movie is not startling but does nevertheless present a well-narrated story that audiences can empathize with. "When it comes to melodrama, local directors are still learning, and often they have to work with flawed scripts that fail to move viewers. Telling a good story is a basic element. There is no need to push a specific agenda," Wen said.
LOCAL TALENT
TFF further opens up the road to cinematic democratization in the local competition section, called the Taipei Awards, that accept entries made in all types of formats. The Golden Horse competition is limited to works shot on film. As Wen pointed out, the commonly held view on the decline of local film industry is likely to be rejected if one takes into account the booming productions using the digital video (DV) format by filmmakers with limited resource and financial backing.
With top prize money of NT$1 million in each of the four categories of narrative, documentary, experimental and animation, the festival not only provides funds for the award-winning directors' next projects, but helps to facilitate exchange within Taiwan's film production community and producers' search for new talent. The competition also provides a forum to show the diversity of local filmmaking to an international audience. Festival curators from neighboring Asian countries have become regular participants in the event and this year festival programmers from the Czech Republic and journalists from the Golden Globes in the US will join the expedition to see the new face in Taiwan cinema.
For Wen, the key role of the festival is to help local productions go international. Every year after the festival ends, the organizer volunteers to select a group of films from the Taipei Awards competition for export to foreign film festivals. Last year, 25 films out of the selected 30 were screened outside Taiwan.
To build up its world-class status, since 2004, TFF has also included Global Chinese Films and Videos in its lineup and aims to become the international center of global Chinese cinema. This year sees the surge of gay-themed works such as Cut Sleeve Boys from UK and Innocent from Hong Kong. The award-winning Chinese film Dam Street (紅顏) presents a poignant view on women's struggles in a conservative society while local veteran documentary filmmaker Huang Ting-fu (黃庭輔) murmurs out the story of betel nut beauties in meditative black-and-white imagery.
CITY VISIONS
As for this year's City Vision sections, it features films from Montreal and Toronto, and fans of the Canadian master Atom Egoyan will surely be delighted by the mini-retrospective show that includes Family Viewing (1987), Speaking Parts (1989) and The Adjuster (1991) and his latest work Where the Truth Lies, which is the festival's closing film.
Another welcome surprise is idiosyncratic David Cronenberg whose 1988 classical Dead Ringers starring Jeremy Irons and early experimental sci-fi will satisfy the cult movie crowd. Other must-sees among the 166 films screened during the festival include the collaboration between Canadian Guy Maddin and Isabella Rossellini in the short My Dad 100 Years Old where the actress plays the roles of Hitchcock, Fellini and Chaplin to pay tribute to her father Roberto Rossellini in the celebration of the centennial anniversary of his birth. The Sun is the last piece of the trilogy by the Russian master Alexander Sokurov, which reexamines the life of Japanese emperor Hirohito.
As for the program director's personal favorite, the film school textbook classics Warrendale, A Married Couple and Memory for Max, Claire, Ida and Company by the legendary figure in non-fictional cinema Allan King will also be shown. They are a revelation in how documentary films can stir up the deepest emotional resonance through the exceptional intimacy shared by the observer and his subjects.
Publication Notes
Film Festival Notes
What: 8th Taipei Film Festival (第八屆台北電影節)
When: Tomorrow through July 9
Where: Zhongshan Hall (中山堂), Metropolitan Hall (城市舞台), Shin Kong Cineplex (新光影城) and in89 Digital Cinema (in89豪華數位影院)
Ticket: NT$180 per screening and NT$120 for weekday matinees, available at the door or through www.artsticket.com.tw. For more information on the films, screening schedules and venues, visit the festival's official Web site at www.tiff.org.tw
Comments will be moderated. Keep comments relevant to the article. Remarks containing abusive and obscene language, personal attacks of any kind or promotion will be removed and the user banned. Final decision will be at the discretion of the Taipei Times.