Restaurant: Hangout Hoops 很好混運動餐廳
Address: 2F, 42 Kangding Rd, Taipei (台北市康定路42號 2樓)
Telephone: (02) 2331-0875
Open: Every day from 10am to 3am. Open later for big games
Average meal: NT$150
Details:Credit cards accepted; Chinese menu only; reservations recommended but not required
The World Cup has demonstrated just how important it is to find a place where you can watch big games on a big screen. It is to meet this need that Hangout Hoops Cafe was created. The restaurant subscribes to three satellite channels that broadcast every major sporting event, from the World Cup and Major League Baseball to the NBA and the French Open tennis tournament.
The main room, which sports a 150-inch big screen TV, has the ambience of a small stadium, getting everyone involved in the game. Many of the sporting events broadcast here can't be seen on local cable TV, and with live broadcasts coming over Japan's J-Sport, Sky Perfect and Philippine's Solar Sport, patrons will never miss a moment of play. Hangout Hoops Cafe shows 15 NBA games per week. Taiwan's cable networks, by comparison, show around five.
Last weekend, Hangout Hoops Cafe played host to more than a hundred fans who were on hand to watch Swiss tennis star Roger Federer battle Spaniard Rafael Nadal in the French Open men's final. As for the World Cup, "We will be showing every game," said Hangout Hoop's 36-year-old owner Steve Chen (陳勝鴻).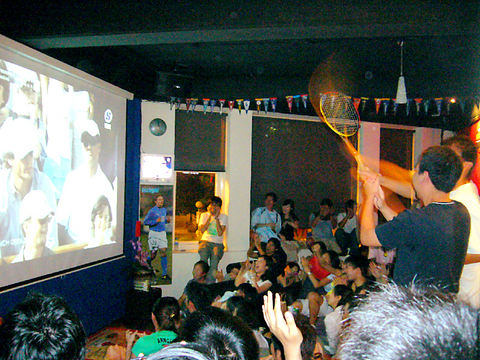 Sports fans watch the French Open last Sunday night at Hangout Hoops Cafe.
PHOTO: COURTESY OF HANGOUT HOOPS CAFE
Smaller screens show a variety of other sports programs, including sumo wrestling. "We have six small TV sets, where customers can watch different programs. It's a customized service that you can turn to any channel you like," Chen said.
For smaller groups, Hangout Hoops offers a VIP suite with a 100-inch screen. Reservations are required and it costs a minimum of NT$3,000 to rent the room.
At Hangout Hoops, food is secondary to sports. In other words, it's nothing special. The restaurant offers an uninspiring range of dishes that includes beef noodles (牛肉麵), beef stew on steamed rice (牛腩燴飯), kungpao chicken with rice (宮保雞丁) and dumplings.
"We only opened on May 31," said Chen, "which is why there isn't much choice right now. We'll be adding stuff to the menu according to the requests of our customers."
A schedule of upcoming sports programming is posted on Hangout Hoop's blog. The information is currently only available in Chinese.
Comments will be moderated. Keep comments relevant to the article. Remarks containing abusive and obscene language, personal attacks of any kind or promotion will be removed and the user banned. Final decision will be at the discretion of the Taipei Times.