The Vinyl Word
And the prize for most informative and stylish party Web site so far this year goes to Gaydays Taipei.
This weekend Taiwan will bump to the beat of a gay music marathon. Previous events have attracted revelers from Hong Kong, Singapore and Malaysia. The fun begins tonight with the LoveBall at Champagne 3 from 10pm until 5am featuring Jimmy Chen, M@rio and Bambina. Wear red and get a NT$100 discount on the entry fee.
Part of the profits from the party will go to local gay activist groups and an AIDS awareness program.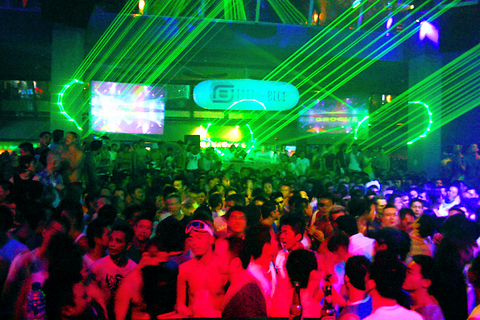 The local gay party scene is coming out; outside that is.
PHOTO COURTESY OF DJ ARGO
That's just the warm up.
Bronzed bodies, six packs (of both varieties), skimpy trunks, neatly coiffured tresses: the BeachBall at Green Bay, Wanli Township tomorrow from 4pm until 4am is touted as the nation's first outdoor gay party and features a sunset poolside party, and a sunrise ballroom party. DJs in the mix include Victor Cheng, Jimmy Chen, Michael Hsu, Coolfunk and Daniel.
Tickets are NT$1,000 in advance and NT$1,200 on the door. "Be wild with thousands of sweaty boys from all over Asia with great music from top gay DJs from Taiwan," the Web site says.
There are free shuttle bus services that leave Taipei from Sun Yat-sen Memorial Hall and the intersection of Nanjing East Road and Keeling Road.
To polish off a weekend of utter debauchery and fine tunes the ChillBall (men only) will be held at The Face in Taipei on Sunday from 10pm until 5am with David S, Tiger, Stone and Blueman.
Tickets are NT$400 in advance or NT$600 on the door. The publicity bumf says that the ChillBall is the official recovery party for the BeachBall, but the Vinyl Word suspects that there won't be much chillin' going on. For more information on all three parties, in English and Chinese, visit www.gaydays-taipei.com. There are discounts for multiple ticket purchases, which can be made online.
At Luxy tonight Johnny Fiasco is finishing off his monthlong Sabbatical residency, before jetting off on Monday: Read next week's Vinyl Word to find out what the American DJ has spent the last four weeks doing and his impressions of this gorgeous green isle.
Tomorrow at Luxy Darren Emerson will man the decks, accompanied by Michaelphonic, J-Six, Tiger, Teddy Dong, Blueman and Victor Cheng, who are calling the night ZERO: "ZERO is isolated individuality. ZERO is the initiation of infinity. ZERO is the summation of emptiness. ZERO is the translation of loneliness," the e-flyer says. Very philosophical.
J.A.M. sessions is breaking out a new venue on the dance-music circuit with a night of bumpin' house at Hub 20 tomorrow night. Junior, Megan, Gareth Jones and Declan will spin from 10pm until 6am at Hub 20 which is located at B1, 15, Minsheng E Rd Sec 5. Entry is NT$300 with a drink.
The venue "opened four weeks ago after renovations," Megan, one half of J.A.M, said. "It's got a nice ambiance, perfect for an intimate house [music] party."
If you're not going gay, or don't like house, there's always Drunk & Bass at The Wall tomorrow night. JungleMania will bring A-Bomb, Da, Zeon, Chin, FunkStar, Amber and MC Beemer to the stage beginning at 11:30pm.
The drinks are advertised as free, which as far as the Vinyl Word can tell is another way of saying its a drink-all-you-can party. Door damage will set the lads back NT$500 and the ladies NT$400.
Rounding off this week's column is Cor, which tomorrow marks its one-year anniversary.
Comments will be moderated. Keep comments relevant to the article. Remarks containing abusive and obscene language, personal attacks of any kind or promotion will be removed and the user banned. Final decision will be at the discretion of the Taipei Times.