Picasso's belated homecoming
A trio of anniversaries has prompted a large exhibition of the artist's work, and the return of his paintings to Spain
Museums find anniversaries hard to resist. And this time Picasso is offering Spain a feast: 125 years since he was born here; 70 years since, in absentia, he was named director of the Prado Museum here during the Spanish Civil War; and 25 years since Guernica, his famous anti-war painting, arrived here after its long exile in New York.
In today's art world this more than justifies a major retrospective. Picasso: Tradition and Avant-Garde, which runs through Sept. 3, is installed at both the Prado and the Reina Sofia Museum, Madrid's principal gallery for modern and contemporary art.
But there is more to this than lighting candles.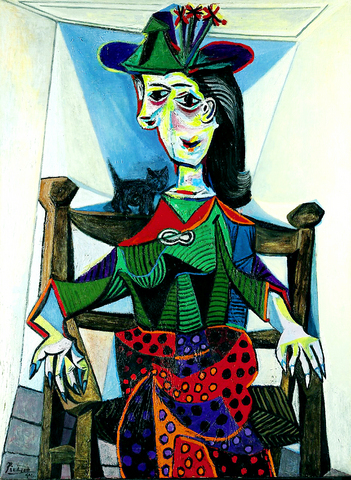 Picasso's portrait of his mistress, Dora Maar With Cat, sold for US$95 million at Sotheby's on May 4, becoming the second most expensive painting in auction history.
PHOTOS: AGENCIES
Since Picasso died in France in 1973, and above all since his nemesis, the long-ruling dictator General Francisco Franco, died in 1975, Spain has yearned to reclaim its most famous 20th-century artist. The problem is that Picasso never set foot in this country after 1934, and while his paintings are in museums and collections around the world, there are still relatively few in Spain.
Yet Spain holds one strong card: It alone can claim to be the primary source of Picasso's inspiration. From his first recorded visit to the Prado in 1895 at 14, young Picasso engaged in a dialogue with Spain's greatest painters, notably El Greco, Velazquez and Goya.
A decade later he seemingly went his own way, creating Cubism with Braque in Paris, yet his Spanish roots never ceased to nourish his art.
A turned ceramic pitcher, Face with Points, by Picasso.
This connection, then, is perhaps the best excuse for this exceptional exhibition, which demonstrates convincingly that an artist who spent most of his life outside Spain remained profoundly Spanish.
Picasso has now also taken his place, at least symbolically, among Spain's greats in the Prado. In practice, his work will eventually return to the Reina Sofia, but this show resembles a state visit.
"We want Picasso to feel at home here," said Carmen Gimenez, the Spanish-born curator of 20th-century art at the Solomon R. Guggenheim Museum in New York, who organized this two-part exhibition with Francisco Calvo Serraller, a Spanish art historian and himself a former director of the Prado.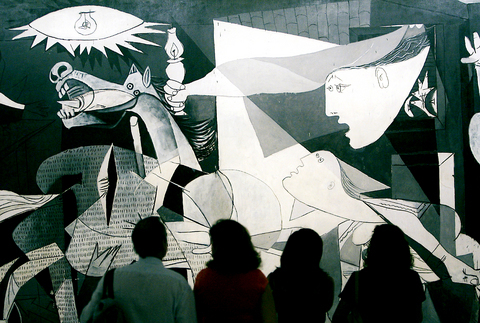 Visitors view Picasso's Guernica at Madrid's Reina Sofia museum in Madrid.
So why two sites for a show that, by blockbuster standards, is not immense?
The simple answer is that Velazquez's masterpiece Las Meninas cannot leave the Prado, while Picasso's Guernica cannot leave the Reina Sofia. But these hurdles spawned creative responses: At the Prado Picasso now rubs shoulders with Spain's old masters as well as with Titian, Veronese, Rubens and Poussin; and at the Reina Sofia, Guernica confronts famous execution scenes by Goya and Manet.
The Prado, which has cleared its long central gallery for the occasion, is presenting an overview of Picasso's lifetime work, but the oils have been chosen for their relevance to the past. The display is also not accidental: Paintings by his historical mentors hang on temporary partitions, while those of Picasso line the gallery.
"I wanted Picasso to be on the walls of the Prado," Gimenez said, evidently pleased with the results.
The show's premise is quickly validated. Arriving visitors face El Greco's magnificent Holy Trinity. Then, almost immediately, the elongated and angular figure of the crucified Jesus can be seen echoed in paintings from Picasso's Blue Period, notably La Vie, Woman Ironing and Woman in a Chemise. Interestingly, when Picasso was painting these oils, from 1903 to 1905, El Greco had yet not returned to vogue.
At the same time, there is no reason to believe that Picasso viewed art in nationalist terms. He evidently worshipped Velazquez and Goya, but it becomes clear here that he also responded to Titian, Veronese, Poussin and, with some reluctance, Rubens, as well as to Ingres, Delacroix, Manet and Degas.
From them he borrowed both themes and compositions, sometimes with indirect acknowledgment, other times as an undisguised homage. Hung near each other, for instance, Picasso's Self-Portrait With Palette seems to respond to Ribera's Demotricus, just as his Carafe and Three Bowls speaks to Zurbaran's own Still Life. In contrast, Picasso's Coiffure instantly evokes Degas.
Still, connections are not always obvious.
"At times we were inventing history," Gimenez said. "It can be very arbitrary. But we've had great fun."
Later in life Picasso often announced what he was doing: Dejeuner sur l'Herbe, Apres Monet, Women of Algiers, After Delacroix and Reclining Nude, which is modeled after Goya's Naked Maja. But with Las Meninas, After Velazquez, painted when he was 76 and perhaps contemplating his place in history, Picasso seemed overwhelmed by the original and resorted to a form of parody.
Daringly, this show places the two oils across from each other, with Picasso's version in the central gallery and Velazquez's oil visible through the open doors of the museum's Gallery 12, which remains open to the public as part of the Prado's permanent collection. From the central gallery, people can be seen surrounding Velazquez and peering at Picasso, and vice versa.
In the Reina Sofia, which recently added a modern annex designed by Jean Nouvel to its 18th-century quarters in a former hospital, it is Guernica that holds court. This vast oil was painted in Paris in May and June 1937, immediately after the April 27 bombing of the Spanish Basque city of Guernica by the German Luftwaffe caused widespread destruction and death.
A fierce denunciation of Nazi Germany's support for Franco's forces in the Spanish Civil War, the painting was displayed in the Spanish Republic's pavilion at the 1937 World's Fair in Paris and was sent on tour to raise funds for the Republican cause.
When Germany occupied France in 1940, Guernica was in the US. Because Picasso decreed that it could go to Spain only after Franco's death, it remained -- except for some trips to Europe -- at the Museum of Modern Art in New York until 1981.
Accompanying the Reina Sofia's show are some 50 preparatory drawings for Guernica, many of them depicting Picasso's famous weeping women (although no weeping woman actually appears in Guernica). But at the heart of this display, in what almost resembles a shrine, are four major works: Guernica faces Goya's Third of May 1808 in Madrid: The Executions on Principe Pio, and Manet's Execution of Emperor Maximilian looks out at Picasso's Massacre in Korea.
Picasso's protest against American killings of civilians in the Korean War borrows its composition from Manet's large painting, while the central figure in Goya's work -- a man in a white shirt throwing his arms in the air in despair -- also appears in a stylized form in Guernica. Yet these considerations seems less important than the emotional impact of bringing these paintings together.
They are art, but they speak about humanity.
Comments will be moderated. Keep comments relevant to the article. Remarks containing abusive and obscene language, personal attacks of any kind or promotion will be removed and the user banned. Final decision will be at the discretion of the Taipei Times.