Smaller than the smallest swimsuit
The bikini is 60 next month. Where better to find out what the latest styles are than St. Tropez, its spiritual home
When Brigitte Bardot cavorted on the sand in a gingham bikini in St Tropez in 1955, while her husband Roger Vadim trained his camera on her for the film And God Created Woman, she established not only the popularity of the two-piece but the reputation of St. Tropez as the beachwear capital of the western world. More than 50 years have passed since then, but swimwear industry trendspotters still trek to the sandy bays of Le Pampelonne, 5km southeast of the town, and copy artists continue to plunder St. Tropez's prestige boutiques for ideas.
Other swimwear centers may have grown -- Miami, for one -- but as France gears up to celebrate the 60th anniversary of the bikini next month, St. Tropez remains very much its spiritual home.
A tall screen of whispering bamboo envelops Club 55, the beach club created in the year of its name to provide refreshments to Vadim's cast and crew. In the car park, BMWs and Porsches stretch out their sinewy curves in shades from bronze through gunmetal to black, their steely surfaces turning into mirrors in the sun. The season will not hit full swing until next month, but while lines of sunloungers recede along the sand largely uninhabited, the restaurant is already filling up -- and there is a dress code. A woman in her 60s has unlocked the buttons of her white shirt to show a treasure chest full of heavy silver chains rattling over a turquoise and pink bikini top.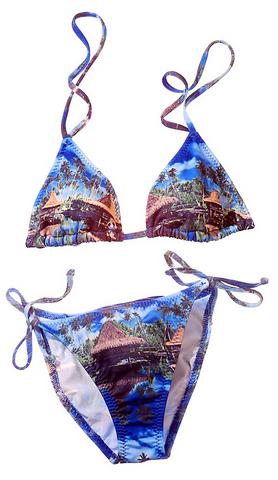 ''Overall, the bikini has absolutely shrunk in size: it's lower on the back, lower in the front and skimpier on the sides,'' said Maria Barnes, the US sales manager for Roxy, the surf-inspired swimwear company.
PHOTOS: NY TIMES NEWS SERVICE
"You don't go to the beach to relax -- you go to eat, to drink, to meet people," says Sanja Jandric, who for two years worked at Club 55, and is now a sales assistant at Zoe, a swimwear boutique in the centre of St. Tropez.
"The people who come here come to look. They know each other from one year to another. It's very important to look good because they will say otherwise, `What's happened to her this year?' This is the place to show what you have, who you are. Your bikini -- well, it goes together with your Porsche."
It was not always this way. The bikini began life 885km away, in Paris, and was initially reviled. Louis Reard was a car engineer by training, but by 1946 he was running his mother's lingerie shop.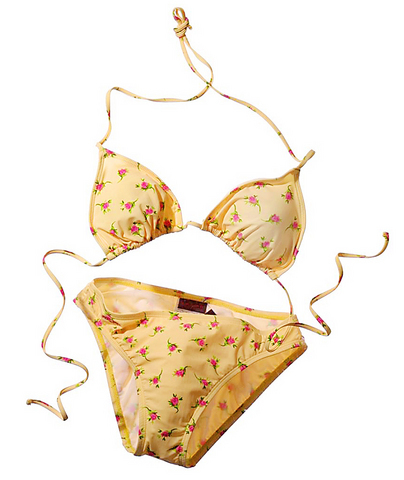 This was clearly a time of experimentation in the world of swimwear design, because not so far from Madame Reard's shop the designer Jacques Heim was working on a prototype for a new kind of beach costume. It comprised two pieces but, crucially, the bottom, was sufficiently generous to cover its wearer's bellybutton.
Heim's deference to prudence, however, was to be his downfall. Scarcely had he christened it "the world's smallest bathing suit" than Reard was slicing the top off the bottoms and offering up his new elaboration as "smaller than the smallest swimsuit." When the US army conducted its atomic bomb tests on the Bikini atoll in the Pacific on July 1, 1946, out of the mushroom of the explosion Reard plucked a name for his creation that would stand the test of time.
Four days later, his "bikini" was modelled by Micheline Bernardini. The only woman willing whom Reard could find; ordinarily she made her living by dancing while wearing even less. Italy and Spain issued immediate bans. Early sales were not encouraging. But then, of course, came Bardot, whose "mobile contours" (as a reviewer for the New York Times put it) would finally sell the bikini to the US.
To modern eyes, though, the most striking thing about Reard's prototype is not how small it is, but how large. The briefs trace a triangle that extends to 2.5cm below the navel. At celebrity hangouts Club 55 and Nikki Beach, and nearby Key West, nothing comes close to these proportions. One woman has accessorized her white tanga briefs with nothing more than an orange towel and a determined set of nipples pointing sunward. There is little black here: "I don't like black bikinis," says Eva Sjoquist, who is wearing pink and turquoise and owns a further four. "Not at all. I don't like black in the summer. I want light colors."
Those who seek the safety of a slab of dark color should veer instead to chocolate brown, the best seller at Kiwi on rue Gambetta -- as long as, while in St Tropez, its plainness is ameliorated with huge buckles or, better still, rhinestones. And for those who already have a strong tan, of course, there is white, as ventured by Claudia Bragliani. A student at Nice university, she owns 10 bikinis, always buys triangle tops with a tie-neck, and always in a solid color, because "I think it suits my body."
So does any of this amount to a St. Tropez look? "Yes," says Sanja Jandric. "The people here have courage to be what they are not at work. Here they can use their imagination. St Tropez wakes up something in people, an exuberance."
She points to a jungle-print bikini in mock suede as a classic example of the St. Tropez look. A tiger pounces from the left bosom, the gorilla has crystals for eyes, and the zebra prancing across the front triangle owes his stripes to rows of black and white beads.
"People look to St. Tropez for something special," she says. "They all have maybe 10 bathing suits from last year, so it always has to be something new."
Of course, beachwear is not just a matter for the beach but the pool, too. At Hotel Byblos, up a steep hill from the port, the sunbathers wishing to be seen are provided with concrete platforms that elevate them above lounger-level. Isabelle Gainche, Byblos's director of sales, marketing and communications, has bad news for women, who spend twice as much on one-piece costumes than two pieces. What would one need to look in place by the pool come July when the fashion crowd arrives? "Bikini. Two pieces. Yes, yes, definitely," she says. "A cowboy hat. Sunglasses, of course. Very large. Bigger than yours. The shoe is a flip-flop. And the mobile also has to be very spicy. And a pareo to match your bikini; if it doesn't match it's no good."
She pauses to admit one last thought. "It's very interesting. The people who come here are all nice-looking people. Nice," she explains, "physically."
So one last accessory for the right kind of bikini: the right kind of body.
Comments will be moderated. Keep comments relevant to the article. Remarks containing abusive and obscene language, personal attacks of any kind or promotion will be removed and the user banned. Final decision will be at the discretion of the Taipei Times.