Restaurant: Bongos
Address: 3, Alley 5, Ln 74, Wenzhou St, Taipei (台北市溫州街74巷5弄3號)
Telephone: (02) 2365-6059
Open: Every day from 11:30am to 10pm
Average meal: NT$180 to NT$250
Details: Credit cards not accepted; Chinese and English menus; reservations recommended but not required
Andrew Lunman has seen the world as a chef in top-notch restaurants. He cut his teeth in the culinary arts in Club Med in Australia, and in the posh restaurants of British Columbia's ski resorts.
"I was having a hard time making ends meet," Lunman said, "and a friend told me about Taiwan, so I came."
Lunman gets a lot of mileage out of his many skills in Taipei, and the locals are better off with Lunman around, too. Whether teaching youngsters English or in-line hockey, or serving up tasty burgers in his own fine eatery, this jolly, laid-back Canadian keeps himself busy serving his community.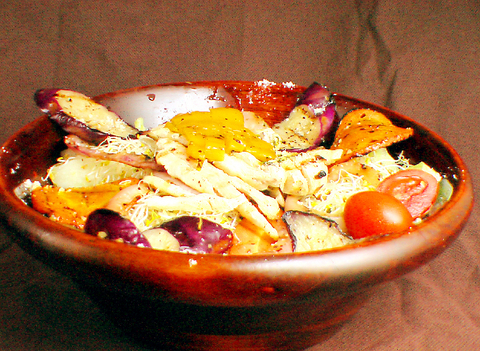 Vegetarians will feel right at home at Bongos.
PHOTO COURTESY OF BONGOS
His crowning achievement is Bongos, Gongguan's best-kept secret. The tucked-away burger joint doesn't advertise much, but National Taiwan University students and many westerners know where it is.
Bongos is definitely its owner's restaurant. The bistro is low-key, comfortable, and sophisticated. Lunman himself is rarely absent on busy days, bantering with the lunch and dinner crowds, and ensuring the quality of the food. In terms of ambiance, Bongos' terracotta tile flooring, track lighting, hardwood deck, superb geomancy and cleanliness will put you right at ease. Diners have the option of sitting outside on the deck as well.
The back parlor's walls are laden with all kinds of books -- the largest collection of used English titles in Taipei, according to Lunman. His restaurant doubles as a bazaar, with customers bartering and buying books and artwork.
Bongos gets its cuisine right, too. From zesty pasta dishes, Mexican food and German sausages to superb hamburgers, the restaurant boasts an eclectic assortment of tasty western dishes. Beer and wine drinkers and vegetarians will also feel at home.
"Bongos is vegetarian-friendly. We make an effort to offer quality veggie fare," Lunman told the Taipei Times. Drinks include plenty of Belgian and English beers, as well as other imported beers, with red and wine white wines sold by the bottle.
Although Bongos' burgers and chicken quesadillas are among the best in Taipei, Lunman says that his fresh-cut fries are the real draw. As if this hip fusion restaurant didn't offer enough variety, Lunman says that pizza will be added to the menus soon.
Comments will be moderated. Keep comments relevant to the article. Remarks containing abusive and obscene language, personal attacks of any kind or promotion will be removed and the user banned. Final decision will be at the discretion of the Taipei Times.