Will men give up the rough for the smooth?
Men's moisturizing is coming out of the closet with its first famous face. Clive Owen, steely hero of films such as Closer, is to star in an advertising campaign for Lancome Homme. And a very different kind of face it is, too.
While women's skincare ranges commonly promise the smoothest surface possible, Owen's face positively bristles at this idea. Hair sprouts from the top of his shirt; a pair of forthright eyebrows overhang a rugged jaw. His face both hints at an impending shave -- he always looks as if he needs one -- and threatens defiance of that very routine. A rough terrain of grooves and shadows charts one inescapable truth about male grooming.
"Everything is centred on the shave," says David Waters, style editor of Men's Health magazine. "For most men it is the route into skincare. All the successful brands have hooked into key shaving areas first -- and then taken their customer into more traditionally feminine areas. Choosing Clive Owen is basically saying that you can be vain and still be a real man."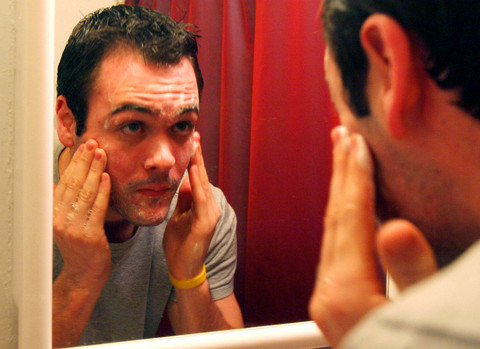 From Boston's Gillette Co to Britain's King of Shaves, companies are pushing cleansers, moisturizers and anti-aging lotions made just for men.
PHOTO: NY TIMES NEW SERVICE
Men's skin care was not meant to be this way. Ever since David Beckham appeared in a sarong, heralding a trend we came to know as metrosexual man, this has been billed as a rapidly growing sector.
Last year the men's toiletries market (in the UK) was worth £751 million, according to Mintel, and by 2010 it will leap again to £916 million. Men can shop through every level from the Body Shop to Terracotta Pour Homme, a bronzer made by Guerlain and reportedly favored by Bill Clinton.
On the surface, the market is booming, slick and healthy. But look closer at the figures and a different story emerges. While traditionally female skincare products, such as cleansers, exfoliators and moisturizers, represent the fastest growing area of men's grooming, the sales remain determinedly modest at just 6 percent of all transactions. Of those who are buying, more than a third are sending their mothers, sisters or partners into the hostile territory of the drug store. Even the new, young, leader of the British Conservative Party, David Cameron, who sports so many signs of modernity -- a pair of Converse on his feet and an invitation to the Beckhams' pre-World Cup party in his pocket -- is resistant. Other than water, the only thing to touch his face, he says in reply to our inquiry, is soap.
"There is much less of a taboo than there was," says Waters, who moisturizes morning and night, exfoliates once a week and applies an eye cream daily, "but it's still there. It is a fear of being seen to be vain or effete."
For some, rejection of skin care is a matter of national pride. What, for instance, does the Member of Parliament George Galloway apply to his face to keep it looking so plump and glistening? "Nothing whatsoever," comes the reply. "I'm a Scotsman." The former editor of London's daily Mirror Piers Morgan is another who believes that patriotism is best expressed with bad skin: "I'm resolutely British male about these things," he says. Author and journalist Will Self goes further. "I don't have skin," he says, "only thick hide covered with coarse fur."
Few admit, as the writer Geoffrey Dyer, 47, does, that skin care is "as routine among men of my age as talking about football." Ask those who moisturize why they do so and an anti-ageing strategy rarely figures in the reply. More commonly, it is a matter of medication, a self-prescription for dry skin. Moisturizer belongs not on the dressing table but in the medicine chest.
Will Owen change all that? If he does, it will have taken a man who looks studiedly uninterested in grooming to sell grooming to the British male.
Comments will be moderated. Keep comments relevant to the article. Remarks containing abusive and obscene language, personal attacks of any kind or promotion will be removed and the user banned. Final decision will be at the discretion of the Taipei Times.