How to watch sound?
An ambitious program of films being screened by POPCinema aims to explore the visual treatments of music
Sound is intangible, it leaves no trace but permeates our senses, memories and even ways of thinking, and sometimes moves us to an almost unbearable degree. How then can one capture the elusiveness of sound in a visual form? The most academically ambitious program of the POP Cinema (國民戲院) to date, the Imprint of Sound Conversation of Sound and Image festival (聲音的痕跡-影像 vs. 音樂影展) doesn't answer that question, but does shed light on the related perceptions of images and sound.
"It's impossible to film sound as it has no fixed language and refuses objectification through language. Musical films usually employ emotive elements such as dramas to represent music. But in this program, I want to introduce a new way of seeing and a new form of filming sounds and music," the festival's curator Wang Pai-chang (王派章) said.
Putting aside the festival's philosophical rhetoric, the lineup of 25 fictional, documentary and experimental films presents fascinating works by legendary filmmakers including Satyajit Ray, John Cassavetes, Jean-Luc Godard and Michael Snow. The sheer sound of their names conjures up the incomparable achievement of cinema as an art form. To help audiences navigate these masterpieces and their cinematic representation of sound, the films are broadly grouped into three categories: Music and Memory, Music and Speech, and Music and Self-Destruction.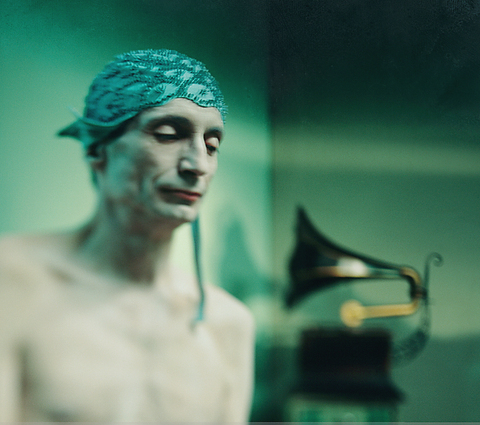 Silence Room, a festival highlight.
PHOTO COURTESY OF SPOT
The relation between memory and music and the art of sound is an art of time, Wang said.
Sound enters our senses, occupies our bodies and dissipates, leaving traces registered in memories that appear more real than reality itself.
Tosca's Kiss by Swiss director Daniel Schmid and Sound of Brazil by Finnish director Mika Kaurismaki illustrate the translation of music from inside to outside through individuals' perceptions and memories.
New York Eye and Ear Control by Michael Snow.
PHOTOS COURTESY OF SPOT
Tosca's Kiss is a touching documentary about a group of elderly musicians who live in the Milan retirement home founded by Giuseppe Verdi in 1896. They are classical music professionals who never made it big and now, long forgotten, live lives full of memories. Sound of Brazil is the director's anthro-pological encounter with the colorful diversity of Brazil's musical culture as both an insider, he lived in the country for more than 12 years, and outsider.
Voted one of the 100 most important films in cinema history by the influential French film magazine Cahiers du Cinema, the award-winning film Step Across the Border opens up a dialogue on music so as to create, rather then represent, music. Improvised music and cinema come into existence at the very moment of their collision in the road movie which follows English composer and musician Fred Frith's journey in search of music around the world.
Godard's dialectic collage of the rock band Rolling Stones One Plus One Sympathy for the Devil is also about the forming, or rather the becoming, of music, which is woven into his poignant cultural and political critique. Silent Room by the Canadian duo of audio and visual artists Dominique Skoltz and Herman Kolgen is a cinematic poem without words, offering a set of nightmare-like tableaux evolving around an idea, a thought and an impulse that defy language.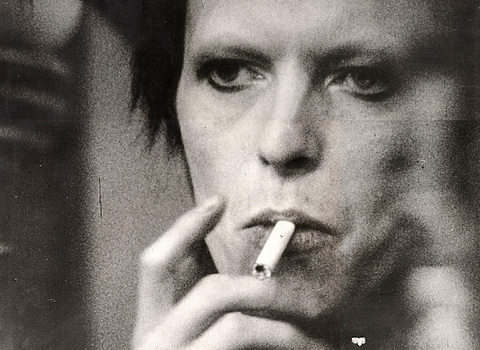 Ziggy Stardust and the Spiders from Mars: the Motion Picture by D.A. Pennebaker captures David Bowie's final performance under the Ziggy Stardust persona in 1973 at London's Hammersmith Odeon Theater.
PHOTO COURTESY OF SPOT
A painter, pianist, composer and sculptor, Canadian experimental master Michael Snow explores the relation between seeing and hearing in New York Eye and Ear Control in which the two forms of artistic expression, which stand independently of one another, co-existence to manifest human consciousness.
Coming down to the destructive power of music, Polish-born director Lech Kowalski's Dead On Arrival: A Right of Passage and Born to Lose: The Last Rock `n' Roll Movie and Benjamin Smoke by Jem Cohen and Peter Sillen from the US demonstrate the affinity between drugs and rock music. "It's interesting to see why drug-using is so closely related to the rock music scene. To me, the two share great similarity: people succumb to the power of music just as they yield to the control of drugs," Wang said.
Through the directors' distant yet loving lens, punk band Sex Pistols, US singer Johnny Thunders and the Atlanta-based underground music legend and speed freak Benjamin are seen slowly disintegrating and self-destructing while their idiosyncrasies forever capture the public's imagination.
One Plus One -- Sympathy for the Devil.
The underground classic The Connection by US experimental pioneer Shirley Clarke makes the drug culture in 1960s into a fictional, or mocumentary, drama where the director is granted permission to film eight drug addicts in a Manhattan loft apartment while they wait for their heroin dealer to arrive. It has been called the psychedelic version of Waiting for Godot because nothing really happens in the film.
Festival Notes:

Dead On Arrival: A Right of Passage by Lech Kowalski.
PHOTO COURTESY OF SPOT
What: The Imprint of Sound Conversation of Sound and Image
(聲音的痕跡-影像vs.音樂影展)
When and Where: May 26 to June 9 at SPOT -- Taipei Film House (台北之家-光點電影院): 18 Zhongshan N Rd, Sec 2, Taipei (台北市中山北路二段18號).
June 6 to June 11 at the Wonderful Cinema (萬代福影城): 38 Kungyuan Rd, Taichung (台中市公園路38號)
June 13 to July 4 at the Performance Hall of Taoyuan County Government, Cultural Bureau (桃園縣政府文化局演藝廳): 21 Hsienfu Rd, Taoyuan
(桃園市縣府路21號).
June 27 to July 9 at Kaohsiung Film Archive (高雄市電影圖書館): 10 Hesi Rd, Yencheng district, Kaohsiung (高雄縣鹽埕區河西路10號).
Tickets: Taipei: NT$150, available through NTCH ticketing outlets nationwide or at www.artsticket.com.tw; NT$1,300 for ten-screening package, purchased at Spot. Screenings in Taichung, Taoyuan and Kaohsiung are free of charge.
Comments will be moderated. Keep comments relevant to the article. Remarks containing abusive and obscene language, personal attacks of any kind or promotion will be removed and the user banned. Final decision will be at the discretion of the Taipei Times.