Building bridges between theater and reality
A mix of eastern and western cultures and a combination of traditional and modern flavors are reflected in creative works of Lin Yuan-shang (林原上), a French-Taiwanese choreographer, dancer and founder of Compagnie Eolipile (法國林原上舞團). Featured as one of the three modern dance companies taking part in the 2006 "New Idea Dance" (新點子舞展) organized by the National CKS Cultural Center at the National Experimental Theater (國家實驗劇場), Compagnie Eolipile will showcase two of Lin's works beginning tonight.
On Which Voyage Are You Taking Me Tonight?, a solo created in November 1996, explores an individual's inner landscape through "a dream of a body and of the dialogue beginning between this body and its mind." A Spark of Eternity, a duo created in 2003, is inspired by the stories of Chinese Zen Buddhism and is full of the humorous and poetic interplay of movements between the two female dancers.
Born in Taipei, Lin entered the Peking Opera school at age 11 and specialized in warrior roles and acrobatics. He found the rigid aesthetic of Beijing opera insufferable, and later decided to study other theatrical languages ? contemporary dance and theater. He first arrived in France for the Festival du Cirque de Demain, and was noticed by Ariane Mnouchkine, founder and director of Theatre du Soleil, and then worked with her from 1986 to 1988. In 1994, he settled in France and worked with Maguy Marin, founder of world-class Compagnie Maguy Marin, before starting personal choreographic research and founding Compagnie Eolipile in 1996.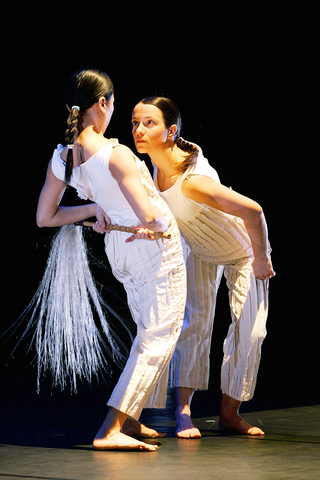 Cheng Li-li and Caroline Grosjean perform in A Spark of Eternity.
PHOTO COURTESY OF NTCH
Lin participated in the 2002 Formosa International Arts Festival organized by Taipei Arts International Association and premiered his first multimedia work Chinese Bastard at Taipei's Huashan Arts District (華山藝文特區), now Huashan Culture Park (華山文化園區), and the visual imagery was created by internationally acclaimed film director Tsai Ming-liang (蔡明亮).
Lin works not just to create a dance, but to be part of the dance. The concept of subject formation to establish a sense of self is used in Lin's works, which concentrates on what is occurring at this very instant. Lin's choreography centers on his quest for spiritual and philosophical growth and bridge the gap between real and theatrical life.
Company Eolipile will perform at the National Experimental Theater, 21-1, Zhongshan S Rd, Taipei (台北市中山南路21-1號), tonight and tomorrow at 7:30pm, and Sunday at 2:30pm .Tickets are NT$450 and are available through NTCH ticketing.
Comments will be moderated. Keep comments relevant to the article. Remarks containing abusive and obscene language, personal attacks of any kind or promotion will be removed and the user banned. Final decision will be at the discretion of the Taipei Times.