Restaurant: Tr Teahouse 靚Tr茶餐廳
Address: 1F, 8, Ln 232, Dunhua S Rd Sec 1, Taipei (台北市敦化南路一段232巷8號1樓)
Telephone: (02) 2752-8902
Open: 24-seven, except Sundays until 11pm
Average meal: NT$350
Details: Credit cards accepted; Chinese menu only
Like just about every other metropolis with pretensions of being an international leader, Taipei has recently been styling itself as "the city that never sleeps."
This hyperbole (Discover Taipei) is based on the existence of a few night clubs and markets, some vendors selling snacks, a handful of all-night eateries on Fuxing South Road offering congee and a couple of Hong Kong-style dim sum joints.
Joining the 24-seven club is Tr, which opened three months ago in the East Side shopping district and takes aim at sleepless twenty-somethings who seek a watering hole with WiFi access.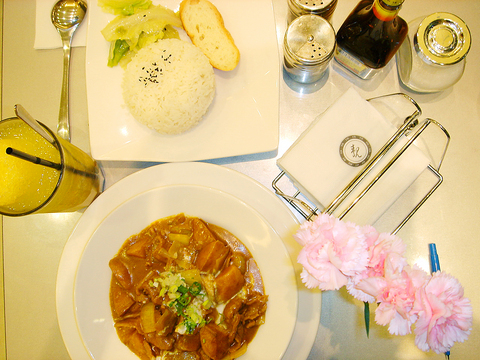 It's not a first-date place, but Tr is conveniently open all day and night.
PHOTO: JULES QUARTLY, TAIPEI TIMES
Locally owned but borrowing heavily from Japan for its look and from Hong Kong with its chef, Tr provides a mix of food and drinks ranging from full-course meals to custard tarts.
Reasonably popular already with the lunchtime and evening meal shopping crowd that packs Zhongxiao East Road, Tr is bright and white with black accents.
The first floor comfortably accommodates around 100 people. There is a diverting widescreen TV and a selection of papers and magazines to while away the time. The mostly bass and treble sound system pours out pop music at a volume low enough not to be irritating.
The food at Tr emphasizes convenience over substance, in that it provides reasonable quality control and cost, but will never make the fine-dining list. It's not a first-date eatery.
The staple dish is curry, which is sweet rather than authentic Indian. From NT$160 for chicken, up to NT$200 for fresh fish, it arrives in a large bowl of mostly potatoes and braised onions. On a separate plate is a scoop of rice, a serving of cabbage and slice of French bread. It all washes down well with a pineapple crushed ice (NT$100).
Wait staff recommendations included the Fujian fried rice and there are a couple of "special dishes" on the menu from 11am to 2pm and 5pm to 10pm, including a whole chicken baked in dongjiang sauce for NT$600. Baked shrimps in cheese, satay and a respectable range of sandwiches around the NT$100 mark are other options.
For the record New York is the original city that never sleeps and was so called by the Fort Wayne (Indiana) News after the world's biggest gas and electric plants were built there in 1912 -- "and as a result is soon to add to its title of the city that never sleeps that of the city that never grows dark."
Comments will be moderated. Keep comments relevant to the article. Remarks containing abusive and obscene language, personal attacks of any kind or promotion will be removed and the user banned. Final decision will be at the discretion of the Taipei Times.