A virtuoso with an inventor's soul
When first watching China-born, Hong Kong-based musician Guo Yazhi (郭雅志) perform, it's hard to imagine the woodwind instrument he plays is the suona, a traditional Chinese instrument closely linked to folklore practices, festivals, weddings and funeral proces-sions. In Guo's hands, the suona soars with its brisk and cheerful tones and wails a soulful vibrato in its melancholy timbre like a saxophone.
In the joint concert with Taiwan's National Chinese Orchestra (NCO) tonight at the National Concert Hall (國家音樂廳), the 40-year-old virtuoso will wow the audience with his masterful transformation of the ancient instrument from folk status to the high art of Western orchestra.
According to historical documents, the name suona comes from the ancient Persian instrument surna, and its use was first documented in wind and percussion ensemble music in Shandong, China, 1,800 years ago. The instrument's distinct, high-pitched sound and loudness renders the suona more suitable for solo pieces rather than harmonic performances with its instrumental peers. Its characteristic timbre, sometime imprecise notes and the restrained playing of semitones holds great musical potential but now has limited practical application in modern music.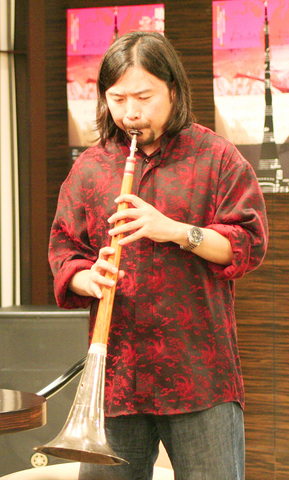 Guo Yazhi plays a large suona which produces soft and subdued tones allowing for more subtle expression than the high-pitched small and medium suonas.
PHOTO COURTESY OF NCO
The modernized version of the suona was developed in the mid-20th century when keys, similar to those of the European oboe, were added to the instrument's sound holes to solve the problems of narrow range and semitonal restraint. The contemporary relatives of the ancient instrument have since been incorporated into woodwind sections of Chinese traditional orchestras.
Guo invented the award-winning removable reed in 1993, which allows for the playing of chromatic notes and complex and rapid tonal shifts without changing the suona's original features. Hailed as a milestone in the instrument's history, the simple piston device fixed to the suona's copper mouthpiece turns the instrument's segre-gative idiosyncrasy into a wide range of expressiveness.
"The irreversible trend is toward more and more frequent encounters and fusion between different musical styles and the traditional suona can barely adapt to the new changes. With the help of removable reeds, the suona can now fit into all types of musical forms, even atonal music," Guo explained.
Guo is the suona principal of the Hong Kong Chinese Orchestra and has honed an international reputation with his sensuous and colorful performances of crossover music.
Since 1991, Guo toured Western Europe, the US, Australia, Japan and other Asian countries. In 1998, Guo participated in the International Pro Musicians Competition held in New York's Carnegie Hall and outplayed two hundred musicians from more than 10 countries, walking away with the gold medal by playing six Chinese woodwind instruments. In the same year, Guo was invited to give solo performances of the suona and saxophone for then US President Bill Clinton during his visit to China. Last year he teamed up with Swiss Orchestral de la Suisse Romande to premiere China-born contemporary composer Wen Deqing's (溫德青) Traces IV concerto for suona.
Guo will tonight perform one of his representative works Invoking Phoenix (喚鳳), a modern suona concerto written in 1996 to take advantage of the suona's complexity and flexibility.
Invoking Phoenix, an original presentation of dramatic intensity, is a breakthrough in terms of suona techniques and musical language, the soft-spoken, gentle musician said of the piece.
Other orchestral pieces on the bill include Song of the Yami Tribe (雅美族之歌) and Playing With Lions (弄獅) by Taiwanese composers. To balance these rather academic tunes, Guo will present the romantic melodies in Second Love Music Suite (第二愛情主題) with six Chinese woodwind instruments. "It's an all-time favorite program among Hong Kong audiences, especially on Valentine's Day," Guo said.
Performance Notes

What: Guo Yazhi, the Great Suona Player and NCO (嗩吶第一吹 -- 郭雅志)

Where: National Concert Hall (國家音樂廳), 21-1 Zhungshan S Rd, Taipei (台北市中山南路21-1號)

When: Tonight at 7:30pm

Tickets: NT$300 to NT$800, through NTCH ticketing outlets
Comments will be moderated. Keep comments relevant to the article. Remarks containing abusive and obscene language, personal attacks of any kind or promotion will be removed and the user banned. Final decision will be at the discretion of the Taipei Times.