Restaurant: Tien Tain 天曇
Address: 5, Ln 14, Siwei Rd., Taipei(台北市四維路14巷5號)
Telephone: (02) 2705 3308
Open: Lunch 11:30am to 2:30pm; Dinner 4:30pm to 9:30pm
Average meal: NT$500/person
Details: No English menu. Credit cards accepted
Tien Tain is a restaurant with a mission. It's aim is to promote a new type of food culture. It has been calling for "healthy, natural and uncontaminated" ways of cooking in Taiwan for the last 8 years ago. The restaurant started out from a small shop on Lishui Street (麗水街) near Aiguo East Road (愛國東路) in Taipei and has now established a branch on Siwei Road (四維路 ) in Taipei's East District.
The basis of its food is the egg-shaped clay stove called the Dinkem Stove (龍窯灶). The stove has a height of around 120cm and a diameter of 70cm at its widest. A similar design is believed to have been used by ancient Chinese royal court during the Warring States period from 475 to 221BC. It is best to be used to bake, roast, braise, simmer and double-boiling foodstuff and to cure tea leaves.
The stove breaks open in the middle, and when sealed, locks in all the flavors of the food. A small charcoal fire is used to braise meat, fish and vegetable dishes on a grill installed at the middle section. The restaurants popular pu-er tea (普洱茶) is cured in this stove as well. The use of this device allows cooking with a minimal amount of oil, salt and absolutely no artificial flavoring.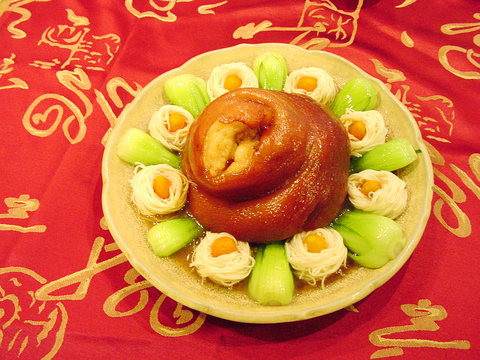 Combining fruit and meat to create rich and exotic flavors.
PHOTO: DEREK LEE, TAIPEI TIMES
The thick clay stove is made in Shuili (水里), Nantou(南投) nowadays. Each of the stoves in the restaurant is painted with bright colors to make them seem more attractive than just ordinary cookware. Taipei's celebrity figures such as Diana Chen (陳敏薰), Liu Tai-ying (劉泰英) and ex-AIT boss Douglas Paal are all said to have been among its regular patrons.
The most highly rated dishes in the restaurant include the Chinese sausage-flavored pumpkin pot (臘味南瓜盅), red apple braised with hog hoof (紅蘋圓蹄) and three cold-cuts platter (紅香三味拼), which are all prepared in the clay stove over three or four hours to bring out the best flavor without compromising their nutrition. The pumpkin and other vegetables are obtained from an organic farm in Ruisui (瑞穗), Hualien County, to guard against contamination from chemical fertilizer and pesticides.
The slightly sweet and sour plum tea, usually served with the meal, tastes superb. The yushi health-preservation soup (玉石養生湯) cooked with several Chinese herbs are also a favorite dish. The lotus seed and white wood-ear soup (雪蓮銀耳湯) makes an ideal choice for dessert after a full meal.
Comments will be moderated. Keep comments relevant to the article. Remarks containing abusive and obscene language, personal attacks of any kind or promotion will be removed and the user banned. Final decision will be at the discretion of the Taipei Times.