Reel News
Former James Bond star Pierce Brosnan has said he has every sympathy for his successor, Daniel Craig, after his first 007 stunt went wrong, according to newspaper reports this week.
Craig had his teeth knocked out during a fight scene for the new Bond movie Casino Royale.
"I got stitched up and sewn up a few times, it just didn't get in the papers," said Brosnan at the UK premiere of his new film The Matador in London on Tuesday evening.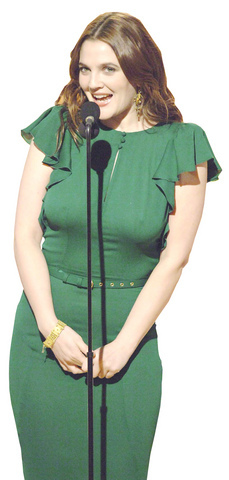 Drew Barrymore is to move into a flea-infested home.
PHOTO: EPA
"I had my face sliced open by a stuntman. I had a knee injury. You get twisted some way or another if you throw yourself into it. There's going to be mishaps."
Some critics have said Craig is a poor choice for Bond.
But Brosnan said: "I think Daniel is a very fine actor. These are rocky waters and they're going to get him one way or another, but I think he will have the last laugh at the end of it."
Jasmila Zbanic, director of the movie Grbavica, holds the Golden Bear trophy of the Berlinale International Film Festival she was awarded Feb. 18 in Berlin.
PHOTO: AFP
However, according to the Times newspaper on Wednesday, there is new trouble in store for Craig.
In Casino Royale, Bond will once again be driving an Aston Martin. However, it will be an automatic, as Craig does not know how to drive a manual car.
A top Hollywood lawyer on Tuesday pleaded innocent to hiring a celebrity sleuth accused of bugging stars' phones to wiretap the ex-wife of billionaire ex-movie mogul Kirk Kerkorian.
Kerkorian's longtime lawyer and business partner Terry Christensen, 65, will remain free on bail pending trial following his indictment last week in connection with his dealings with private eye to the stars Anthony Pellicano, in a case that threatens to implicate some big Tinseltown names.
Christensen is accused of paying Pellicano at least US$100,000 to bug the phone of former tennis pro Lisa Bonder Kerkorian, who was married to MGM Mirage casino boss and former MGM movie studio owner Kerkorian in 2002.
At the time of the wiretapping, she was involved in a fight over child support with her former husband, who had denied fathering her daughter, then four-year-old Kira, prosecutors contend.
But Christensen's criminal lawyer Terree Bowers insisted that his client was simply protecting one of his clients, and that he did nothing wrong.
Hollywood stars Jessica Lange and Drew Barrymore have signed on to play two eccentric relatives of former US first lady Jacqueline Kennedy who lived in a flea-infested home.
King Long and The Postman Always Rings Twice star Lange and Charlie's Angels actress Barrymore will play a mother and daughter team -- Big Edie and Little Edie Bouvier Beale -- in Grey Gardens, Daily Variety said Wednesday.
Cyprus will host its first film festival next month and the winning director will receive US$20,000 along with a golden statue of Aphrodite, the mythical goddess of love said to have emerged from the sea off the island's shores.
The cash prize for the best feature film will be contingent on the directors promising to make their next movie on the picturesque yet divided Mediterranean island, known for its olive groves and long, sandy beaches.
The will include the screening of 130 films from 40 countries competing in feature film, short film and animation categories.
Grbavica by Bosnian director Jasmila Zbanic has won the Berlin Film Festival's coveted Golden Bear for best film.
The film, about the agony of women raped as part of ethnic cleansing in the war in Bosnia-Herzegovina, was chosen by an eight-member international jury headed by internationally renowned British actress Charlotte Rampling.
Grbavica was one of 19 films competing for this year's festival's top honors, with most of the movies exploring the hard edge of life and politically charged issues.
"I am dreaming this," said 31-year-old Zbanic at the Gala award ceremony event in Berlin. It was her debut feature film.
Zbanic went on to say: "I would like to take the opportunity to remind us all of the fact that the war criminals Radovan Karadzic and s still live undisturbed in Europe."
Comments will be moderated. Keep comments relevant to the article. Remarks containing abusive and obscene language, personal attacks of any kind or promotion will be removed and the user banned. Final decision will be at the discretion of the Taipei Times.