Old-school charm works its magic
Italian crooner Patrizio Buanne will wow the ladies tonight with classic melodies and an old-fashioned allure
I magine a tall, handsome man onstage with an orchestra behind him, wearing an impeccably tailored suit and polished shoes, with carefully styled hair and a smile full of passion and romance.
This anachronistic image of American and Italian singers from the 1950s and 1960s seems to scream out "fashion warning" in the digital era, but the fast-rising 27-year-old Italian crooner Patrizio Buanne suggests otherwise. Having released his platinum debut album The Italian early last year, Patrizio has won over crowds in the UK, Australia and many Asian countries.
Coming back for the second time to Taiwan, the young sensation with a rich baritone voice will once again woo tender hearts with his romantic crooning at the Taipei International Convention Center (台北國際會議中心) this weekend.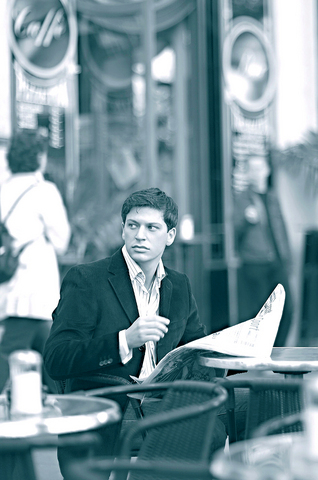 Patrizio Buanne is an incurable romantic, we are led to believe.
PHOTO COURTESY OF KUANG HONG ARTS
His music is a mixture of traditional Neapolitan love songs, jazz, easy-listening and orchestra-backed ballads that are reminiscent of legends such as Dean Martin, Tom Jones and Paul Anka. Patrizio's love of the music of yesteryear stems from his upbringing in an Italian family that runs a pizzeria in Vienna. In his childhood, Patrizio would listen and sing along to the classical Italian songs his father taped for the restaurant.
Patrizio embarked on his singing career at the age of five and soon the child prodigy had proved his talent at a variety of talent contests.
His career break came when he was invited to sing for the Pope, in Poland, at the age of 17. The performance in front of 8,500 people led to a recording contract. In 2003, the schmoozer teamed up with music producer Christian Seitz to record his debut album at London's legendary Abbey Road studios with the Royal Philharmonic Orchestra.
The album was an immediate hit, drawing fans from different continents and also winning the hearts of some high-society types, such as Queen Elizabeth II, who reportedly asked him to perform at her garden party last summer.
Patrizio is a self-taught musician who can play guitar, piano, write music -- and speak six languages.
As the singer repeatedly says, romantic crooning is not just a way of singing, but a way of life. He says his musical style has class and will not be washed away with time.
"I want to give people Italian romance. ... My father was the ambassador of Italian kitchens and pizza and I am the ambassador of Italian romance and dolce vita," Patrizio says on his Web site.
Patrizio represents a dying breed of man, the type who pulls out a chair for female companions and takes a stroll in the woods with his lover under the moonlight. Such trademark images make him popular among female fans.
And Patrizio knows his audience well. When asked whether he was worried about performing on the same day as 50 Cent and Fort Minor, at a press conference held in Taipei last week, Patrizio responded by simply saying various kinds of music appeals to different people.
And he's right. According to the organizer, most of Patrizio's fans in Taiwan are women aged between 30 and 40 and they will be turning out in force to immerse themselves in the South European heartthrob's beautiful melodies, accompanied by a 20-person orchestra.
Performance notes:

What: Patrizio Buanne World Tour Concert

Where: Taipei International Convention Center (台北國際會議中心), 1, Xinyi Rd, Sec 5, Taipei (台北市信義路五段1號)

When: Tonight and tomorrow at 7:30pm

Tickets: NT$800 to NT$3,600, through ERA ticketing outlets or at www.ticket.com.tw
Comments will be moderated. Keep comments relevant to the article. Remarks containing abusive and obscene language, personal attacks of any kind or promotion will be removed and the user banned. Final decision will be at the discretion of the Taipei Times.