Revenge is a bland dish best served cold
Fame has many benefits, and according to `Paparazzi,' one of the benefits is the ability to despatch enemies without comeuppance
Luckily for Mel Gibson, his last vanity project, The Passion of the Christ, has probably made enough money to cover the expense of his new one, Paparazzi. This amazingly arrogant, immoral film is almost certain to suffer a fast, richly deserved death at the box office.
Richly deserved death is, in fact, the theme of Paparazzi, which Gibson produced (with his partners Bruce Davey and Stephen McEveety) and to which he contributes a cameo appearance. The central character is Bo Laramie (Cole Hauser), a distinctly Gibsonesque action movie star whose works include Adrenaline Force and Adrenaline Force 2. Bo has been catapulted to overnight fame but remains a down-to-earth family man who still finds time to take his wife (Robin Tunney) and tow-headed son (Kevin Gage) to their weekly soccer game. He may live in a movie star compound in Malibu, but his beloved SUV still carries license plates from his beloved home state of Montana.
Having risen to fame without any contact with the press (word of Bo's fabulousness seemingly travels without the use of traditional media, perhaps through the ether), he's astonished at the Hollywood premiere of his new film to discover large numbers of people trying to take his photograph. Is he so new in town that he doesn't know what premieres are for?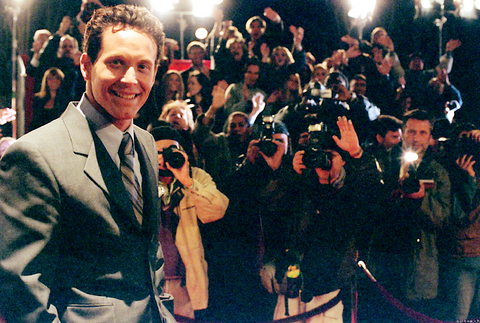 A picture is worth a thousand words and a few murders too.
PHOTO COURTESY OF FOX MOVIES
When one particularly loathsome member of the paparazzi (Tom Sizemore at his sleaziest) tries to take pictures of Bo's son at his soccer game, Bo punches him out. Taking his picture is one thing but endangering his family by publishing their photos is something else. (Sizemore's character works for Paparazzi, a magazine that appears to be aimed at professional kidnappers.) The vengeful photographer promptly vows "to destroy your life and eat your soul," in appropriately satanic language, and pretty much does just that by causing a hideous car wreck -- meant to suggest the death scene of Diana, Princess of Wales -- that lands both Bo's wife and child in the hospital, the latter deep in a coma.
With the tiresome justification business out of the way, the real fun can begin, as the outraged Bo sets out for some good old-fashioned American justice, vigilante-style. He coolly kills three of his antagonists, dropping one man over a mountain ledge, arranging for another to be shot to pieces by the Los Angeles Police Department and beating the third to death with a baseball bat. But for Sizemore's character, Bo has something even more exquisitely sadistic in mind.
As directed by the veteran hairstylist Paul Abascal (he fluffed Gibson's coif on all three Lethal Weapon films), Paparazzi has no time for fine ethical points. Bo never doubts his right to take the law into his own hands (a visit to a psychologist for an anger management session is treated as a joke -- Gibson is the next client waiting in the lobby). Nostrils flaring, Bo sets out on a campaign of murder that the film clearly endorses. After all, being a movie star doesn't just mean fancy houses and nice cars. According to Paparazzi, it also means you can kill with impunity.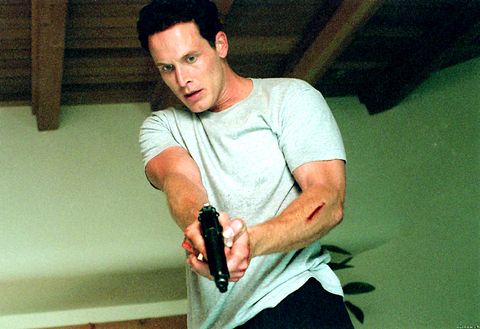 Bo Laramie takes a diversion from the road to stardom.
PHOTO COURTESY OF FOX MOVIES
Publication Notes
Film Notes:
Paparazzi
Directed by: Paul Abascal
Starring: Cole Hauser (Bo Laramie), Robin Tunney (Abby Laramie), Dennis Farina (Detective Burton), Daniel Baldwin (Wendell Stokes), Tom Hollander (Leonard Clark), Kevin Gage (Kevin Rosner), Tom Sizemore (Rex Harper) Andrea Baker (Emily)
Running time: 84 minutes
Taiwan Release: Today
Comments will be moderated. Keep comments relevant to the article. Remarks containing abusive and obscene language, personal attacks of any kind or promotion will be removed and the user banned. Final decision will be at the discretion of the Taipei Times.