Taiwan sends hopefuls to Asian film festival
Locally-produced horror flick, 'The Heirloom,' may put you off babies for life
The Asian Pacific Film Festival is celebrating its 50th anniversary from Sept. 28 to Oct. 1, and has invited member countries to Kuala Lumpur to showcase their best productions in honor of one of Asia's oldest movie festivals.
Four Taiwanese productions, Tsai Ming-liang's (蔡明亮) Berlin Film Festival winner The Wayward Cloud (天邊一朵雲), Lin Cheng-sheng's (林正盛) drama set in the White Terror period, The Moon Also Rises (月光下我記得), Cheng Wen-tang's (鄭文堂) The Passage (經過) and animation Fire Ball -- Journey to the West (紅孩兒) will represent the country at the festival.
Hong Kong has selected box office hit Initial D (頭文字D), Jackie Chan's (成龍) New Police Story (新警察故事) and lesbian romance Butterfly (蝴蝶) for its entries to the festival competition, pitting big-screen first-timer Jay Chou (周杰倫) against veteran actor Jackie Chan both candidates for the title of Best Male Actor.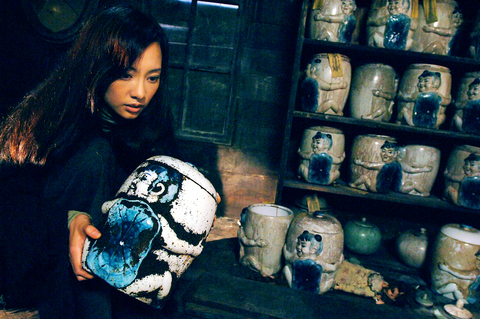 Some little bundles of horror turn out to be big trouble for a couple that inherits a haunted house.
PHOTOS COURTESY OF ARTISTS N
This week local audiences will have the chance to scare the hell out of themselves by watching the Taiwan-made ghost movie The Heirloom (宅變).
Having produced last year's box office hit Formula 17 (十七歲的天空), Three Dots Entertainment (三和娛樂) is a young, energetic local company that aims to boost sagging ticket sales for local films by making high-quality commercial movies that appeal to wider sections of the general public. The Heirloom is its latest project teaming up young talents to make a movie from a popular genre starring fast-rising teen-idols. Terri Kwan (關穎), who starred in Turn Left, Turn Right (向左走 向右走) and Jason Chang (張大鏞), who starred in Formula 17. They will play a couple that inherits a haunted house in this horror flick.
The story develops from a group suicide that took place in the rich Yang household. The whole family was found hanged without any explanation, and the case remains unsolved. Twenty years later, distant relative James (played by Jason Chang) inherits the Yang house, and moves in with his girlfriend Yo (played by Terri Kwan). The couple invites two friends over for a house-warming party and to stay the night. This is when a series of supernatural phenomena begin to disturb the four.
As James and Yo dig deeper into the family's history, they find out that the Yang family's great fortune was made by "child ghosts," dead babies that feed on blood and can bring both great luck and doom to their hosts. The young couple discovers more and more of the mansion's dark secrets, and inevitably has to confront the unwelcome dwellers ready to bury anyone who comes too close to the truth.
The Heirloom is 24-year-old director Leste Chen's (陳正道) first feature film. Despite his youth, Chen already has an impressive portfolio of work. He has directed several music videos and his short films have gained lots of exposure at international film festivals such as the Taipei Film Festival, Tokyo International Film Festival and the Venice International Film Festival. As a young creative talent, Chen has made a perfect match with the innovative production company. And together, they have created a visually stylish and well-narrated film that should appeal local audiences.
Comments will be moderated. Keep comments relevant to the article. Remarks containing abusive and obscene language, personal attacks of any kind or promotion will be removed and the user banned. Final decision will be at the discretion of the Taipei Times.