Love blossoms from neighbor's angry bossom
The Upside of Anger, written and directed by Mike Binder, is a seriously flawed movie wrapped around two nearly perfect performances. Joan Allen and Kevin Costner play a pair of drifting suburban neighbors whose last-resort companionship blossoms into an unlikely love affair, and though the movie's premise is shaky, its story thin and its surprise-twist ending an utter catastrophe, the two stars bring such ease, wit and conviction to their roles that this awkward, underwritten attempt to blend midlife romantic comedy with domestic melodrama almost works in spite of itself.
Part of the pleasure in watching Allen and Costner comes from seeing them slip comfortably into the kinds of charac
ters they have always done best -- as if, in some parallel movie universe, Crash Davis, the semi-washed-up baseball player in Bull Durham, had hooked up with Elena Hood, the stifled and betrayed wife and mother from The Ice Storm. It's not just that Denny Davies, a one-time World Series hero spending his retirement drinking beer, selling autographs and presiding over a radio call-in show, shares a sport (and most of a surname) with Crash. It's more that Costner somehow comes most alive as an actor when he can loosen up enough to mix pride and disappointment, charm and sleaze. Denny, paunchy and slovenly, has gone so far to seed that you expect dandelions to sprout from his head, but he holds onto just enough of his old winner's optimism and grit to keep him from being completely pathetic.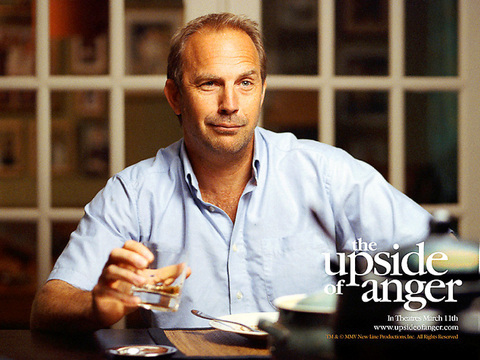 Kevin Costner finds his perfect match in an unlikely setting.
N
Costner's soft, slow, easy demeanor complements Allen's fierce, angular presence. The anger in the movie's title belongs mainly to her character, Terry Wolfmeyer, a Michigan housewife whose husband has abruptly disappeared, leaving her with four nearly grown daughters, a dog and a taste for high-end vodka. She radiates rage, and it has the effect of making her radiant, and also a little intimidating, qualities that attract Denny, whose geniality masks a deep ennui. When he shows up, uninvited, on Terry's back patio (and, later, in her bathroom) nursing a mid-morning tallboy, she tolerates his company. Later she decides to sleep with him out of a combination of boredom, curiosity and spite -- directed at him, herself, her vanished husband and the tapestry of proper appearances and correct behavior that has shrouded and smothered her life to date. Together, the two of them do enough drinking to give credence to Homer Simpson's observation that alcohol is both the cause of and the solution to most of life's problems, but Binder is tolerant of their weaknesses.
For all their difficulties with themselves and each other, Terry and Denny are easy to like, and the film is most satisfying as a chronicle of how they come to like each other. Much of the time, Terry treats Denny like one of those clown balloons half-filled with sand; hard as she pushes and punches, he always comes up smiling, and refuses to go away. He, on the other hand, is looking for a way to relieve the boredom that defines his life, and her volatility provides him with plenty of surprises. But over the course of three years, they slide, without really meaning to, into a prickly, habitual intimacy.
The problem is that they don't exist in a credible dramatic context. Terry's four daughters -- played, in ascending order of age, by Evan Rachel Wood, Erika Christensen, Keri Russell and Alicia Witt, all of them lovely and spirited -- have the minimal individuality required of characters in television pilots.
Comments will be moderated. Keep comments relevant to the article. Remarks containing abusive and obscene language, personal attacks of any kind or promotion will be removed and the user banned. Final decision will be at the discretion of the Taipei Times.