Reel News
A publicist for the Bourne Identity actor Matt Damon told a magazine that after dating for two years, Damon popped the question to Luciana Barroso "shortly before Labor Day." Damon's publicist, Jennifer Allen, didn't immediately return a call from The Associated Press. The couple hasn't set a wedding date. It would be Damon's first marriage. Barroso has a daughter, Alexa, from a previous relationship. Damon's screen credits also include The Brothers Grimm, Ocean's Eleven and The Talented Mr. Ripley. He shared a screenplay Academy Award with his friend Ben Affleck for 1997's Good Will Hunting.
Controversial director Michael Moore is seriously considering making a movie about the government lapses that surrounded Hurricane Katrina according to US media.
A Web site quoted a source close to Moore as saying that the issue "has all the elements that made Fahrenheit 911 such a powerful film ... the political outrage, the human suffering and the incredible footage".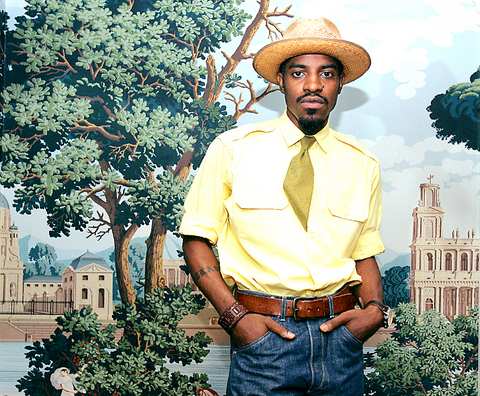 Andre Benjamin of the superstar musical group OutKast, is set to branch out further into film in a movie set during prohibition.
PHOTO: AP
Moore has already lashed out at the way that the administration of US President George W. Bush handled the disaster, posting a scathing critique of the federal response on his own Web site.
"There is much to be said and done about the manmade annihilation of New Orleans, caused NOT by a hurricane but by the very specific decisions made by the Bush administration in the past four-and-a-half-years," he wrote.
"Do not listen to anyone who says we can discuss all this later. No, we can't. Our country is in an immediate state of vulnerability. More hurricanes, wars, and other disasters are on the way, and a lazy bunch of self-satisfied lunatics are still running the show."
Tackling the role of the nation's chief in an altogether different manner, actor Leonardo DiCaprio is to portray former US president Theodore Roosevelt in a biopic of the leader to be directed by Martin Scorsese according to a trade paper.
The movie will be based on Edmund Morris' Pulitzer Prize-winning book The Rise of Theodore Roosevelt and will chronicle the leader's rise from New York politics to a military leader and on to the White House, where he served from 1901 to 1909.
Scorcese and DiCaprio are currently filming the crime drama The Departed about the rise of the New York Irish mafia. They have previously made Gangs of New York and The Aviator.
In 2000, Roosevelt was voted the fourth-best president in US history by 60 American history professors.
"His life reads like a movie that requires a big bag of popcorn," screenwriter Nicholas Meyer said.
Also making it onto the list of favorites in the US is former child star Shirley Temple Black who has been chosen to receive a life time achievement award from the Screen Actors Guild, the organization has announced.
Temple Black will receive the award in January, in recognition of her "inspirational contributions" to the entertainment world, said Screen Actors Guild President Melissa Gilbert.
Born Shirley Jane Temple on April 23, 1928 in Santa Monica, California, she made her screen debut in 1932 in What's to Do and was Hollywood's number-one box office draw from 1935 to 1938, when she headlined such hits as Curly Top, Captain January, Poor Little Rich Girl, Stowaway, Heidi and Little Miss Broadway.
And harking back to another bygone era, an untitled new musical featuring
OutKast duo Andre Benjamin and Antwan Patton will be released by Universal Pictures, according to media reports.
The musical, financed by HBO Films, is set in a speakeasy in the South during prohibition and will feature an ensemble cast that includes Ving Rhames, Jackie Long, Patti LaBelle and Macy Gray.
It stars Benjamin as the house piano player and Patton as the lead performer and speakeasy manager trying to stave off gangsters who want a piece of the club.
The movie will include numerous tracks from OutKast's award-winning album Speakerboxx/The Love Below, but will also feature numerous new songs that will serve as OutKast's next album.
Johnny Depp, the chameleon-like actor who has played so many different roles that he may not have a self, says he's finally found a role he wants to stay in: the buccaneer Captain Jack Sparrow. Sequels frighten Depp, but he said the chance to reprise his role as the suave Sparrow in the next two editions of Pirates of the Caribbean was too delicious to pass up.
Comments will be moderated. Keep comments relevant to the article. Remarks containing abusive and obscene language, personal attacks of any kind or promotion will be removed and the user banned. Final decision will be at the discretion of the Taipei Times.