Try giving something back by taking it away
Humans like a clean coast because it's more fun than a dirty beach. Marine wildlife likes it because it lets them survive. Everyone is invited to help clean up Taiwan's northern coast tomorrow for International Coastal Cleanup day activities organized by the Kuroshio Ocean Education Foundation (黑潮海洋文教基金會) and other sponsors in Taipei and Hualien Counties.
The International Costal Cleanup (ICC), which is held annually on the third Saturday in September, was launched in 1986 in Texas by the Ocean Conservancy, a US nonprofit organization dedicated to protecting the ocean environment and marine life.
During the first beach cleanup 19 years ago, 2,800 volunteers picked up 112 tonnes of trash from 196km of Texas coastline. By 1988, the cleanup had become a national event, and in the following year, it went global. Last year's event saw 300,000 volunteers (including over 6,000 divers) from 88 countries collect 3,500 tonnes of trash from 1,770km of coastline.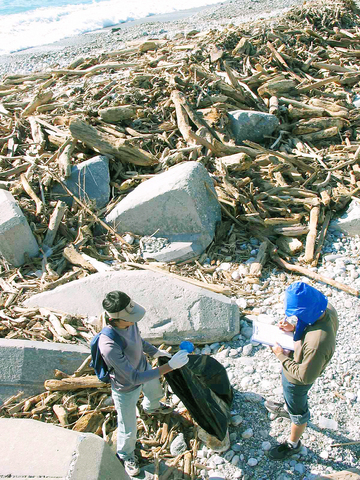 Volunteers pick up trash on Taiwan's coastline.
PHOTOS COURTESY OF KUROSHIO FOUNDATION
Besides simply picking up trash, the goal of ICC is to collect information on the amount and types of debris, to educate people on the issue of marine debris and to advocate against littering, polluting and other behavior that damages the world's coastline and ocean ecology.
"Marine pollution from man-made debris has become a global problem that can no longer be ignored," Kuroshio Foundation representative Chang Tai-di (張泰迪) said. "All man-made products can become debris:
cigarette butts, fishnets, every kind of container, tires -- anything you can find at a consumer market, and there's only one reason for this debris to appear [on the coast], and that is that people deal with it carelessly and litter."
This debris, whether it's litter dropped by beachgoers or equipment discarded from boats, can pollute far out into the ocean and affect not only coastal organisms, but also creatures in open waters such as fish, seabirds, sea turtles, whales and more.
Last year's ICC found that over 60 percent of coastal trash came from ocean-side leisure activities and 76 percent was related to food -- packaging, bags, cans and bottles. Only 21 percent was related to marine industries such as fishing and most of that had been washed up by the waves.
Besides removing trash from local beaches, tomorrow's cleanup activities will accomplish something more: It will produce data on the debris polluting Taiwan's beaches that can be matched against international data and used to direct further anti-littering campaigns here.
The Kuroshio Foundation, founded in 1996, is dedicated to the research and protection of marine wildlife. It is named after the Kuroshio Current, a warm, strong current that flows northeast from the Philippines. The foundation is spearheading Taiwan's first participation in ICC with help from organizations such as the Hualien County Environmental Protection Work Council, the Taiwan Kayak Club and the the Go-Fishing Ocean Sports Center, among others.
The cleanups will take place at Hualien's Beibin Beach (花蓮北濱海灘) Sanzhi Beach (三芝海灘) near Danshui, various northeast coast beaches near Keelung and, for scuba diving cleanup, Longdong in Taipei County's Gongliao Township (台北縣貢寮鄉龍洞). For Hualien cleanup, call Kuroshio at (03) 833 4133, for Sanzhi call Chang Tai-di at 0912 608 777 and divers call Go-Fishing at (02) 2423 9163. All cleanup activities start around 2pm and continue for about two hours.
Cleaning notes:
What: International Coastal Cleanup

Where: Taipei - Sanzhi (三芝) and Longdong (龍洞); Hualien - Beibin (北濱)

When: Tomorrow, 2pm

Information: (03) 833 4133 or 0912 608 777
Comments will be moderated. Keep comments relevant to the article. Remarks containing abusive and obscene language, personal attacks of any kind or promotion will be removed and the user banned. Final decision will be at the discretion of the Taipei Times.