That's my bag!
As one black bag after another tumbled onto the luggage carousel, a scrum of travelers just off a plane from Miami fought for position, trying to spot their own suitcases among the nearly identical pack. But Michelle Abril hung back. She knew her bag would stand out.
That's because Abril, a 26-year-old hotel publicist from New York, recently replaced her old black bags with a new set of hot pink luggage. "I didn't have to search for a name tag or baggage claim ticket. As soon as it popped up, I knew it was mine," she said.
You may have heard this before and never wanted to hear it again, but pink may be the new black -- in luggage, that is. In an effort to breathe some new life into their business, suitcase makers are experimenting with parts of the color palette rarely seen on the baggage carousel. Flamingo pink, lime green, turquoise and tangerine orange bags are now being offered by the formerly conservative Travelers Club brand, as part of its new South Beach collection. Not to be outdone, other luggage makers have engaged designers like Tommy Hilfiger and Ralph Lauren to dress up their bags in Technicolor. Even Samsonite, the largest American luggage company, has teamed up with the Australian designer Marc Newsom to develop a new luggage line that it is rolling out this month in yellow, electric blue and orange.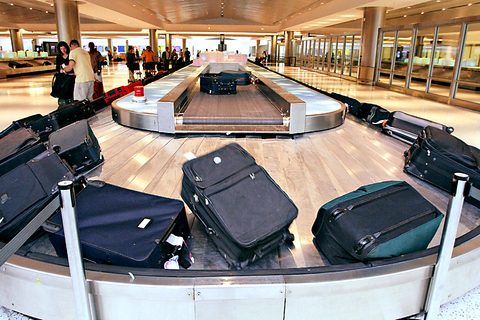 Luggage that stands out makes sense, until everyone else has got multi-colored luggage as well .
PHOTOS: NY TIMES
Part of this is a pure business decision, as luggage makers are trying to jump-start an industry that's been in something of a sales slump since 9/11. But it's also a welcome development for many travelers who had resigned themselves to using one of those boxy black bags on two wheels that have dominated airports for years -- and that caused the inevitable mix-ups among travelers who often couldn't tell their own bags from the dozens of look-alikes coming out on the carousel.
Asked to be the maid of honor in her best friend's wedding near Syracuse, New York, several years ago, Sara Demko flew up from her home in Florida and was giddily anticipating the big day when she got to her room and started unpacking her bag. But what she pulled out wasn't the gold satin dress she was supposed to be wearing the next afternoon, but a clutch of men's shirts she had never seen before.
Then it dawned on her -- the black suitcase in front of her wasn't hers, but one of the dozens of nearly identical bags that had been rotating on the airport carousel. She had obviously grabbed the wrong one. "I was terrified," Demko, 28, recently recalled, adding that her own bag, tracked down by the airline and then delivered to her mother's house in Syracuse, didn't arrive until late the next morning, just hours before the ceremony. (She kept the tale of the missing dress from the bride until after the wedding.)
Debbie Mandel, 54, a stress-management specialist from Lawrence, New York, spent two days in the same clothes after someone mistakenly took her bag -- yes, also black -- from the luggage carousel in Biarritz, France, a few years ago. "I looked like a real hillbilly," said Mandel, who had to go in the clothes she had worn on the plane -- Capri pants, a T-shirt and sneakers -- to a dressy dinner at the hotel restaurant. "I got stares from the patrons, the clients, everybody."
The ubiquity of the black bag has forced many travelers to come up with all kinds of ways to make their suitcases stand out: pieces of yarn tied around the handle, strips of duct tape down the center of the bag. More recently, a small industry has sprung up to create bag identifiers, from tags to handle wraps in bright colors or wild prints.
Tumi puts a metal plate with a unique 20-digit registration number in each of its bags to aid travelers with lost luggage or mix-ups at the airport. Customers can register for the Tumi Tracer program to have their contact information entered into a central database so they can be reunited with their bag if it is found.
For a long time, industry thinking was that travelers wanted their suitcases to be practical -- black hides dirt and goes with nearly everything. Luggage was lumped into the home section in most department stores with the idea that, like a washing machine or other home appliance, it would be purchased as an investment, to be replaced only after it wore out.
But things have changed. "There is a whole generation of people that think: 'This is not the only car I'm going to own. This is not the only house I'm going to own. This is not the only suitcase I'm going to own,"' said Randy MacKenzie, co-owner of Edwards Luggage, a chain of stores in the San Francisco Bay area. "One suitcase would be like having one pair of shoes for every occasion. It just doesn't work," she said.
Comments will be moderated. Keep comments relevant to the article. Remarks containing abusive and obscene language, personal attacks of any kind or promotion will be removed and the user banned. Final decision will be at the discretion of the Taipei Times.