Restaurant: Capone's Restaurant
Address: 312, Zhongxiao E Rd, Sec 4 Taipei (台北市忠孝東路四段312號)
Telephone: (02) 2773 3782
Open: 11:30am to 1am
Average meal: NT$1,000 per person (excluding lunch specials)
Details: English menu and major credit cards accepted
Capone's is hardly the new kid on the block when it comes to fine wining and dining. The joint has, however, been through some rough times over the past six years due to bad management, ill conceived menus and interior designs.
The once popular venue could well be on the verge of making a welcome return to the big league in the coming months, however, as its irrepressible new owner Michel Blanc -- who gave Taipei its first genuine sports bar, The Tavern nearly half a decade ago -- has lofty plans for Capone's.
His first job as the new proprietor may be considered draconian by some, but Blanc's sacking of Capone's tardy ball staff has enabled him to fill the void with a crew of his own choosing, and the kitchen staff have been trained by Blanc's trusty Tavern cooks. Result? Instant improvement.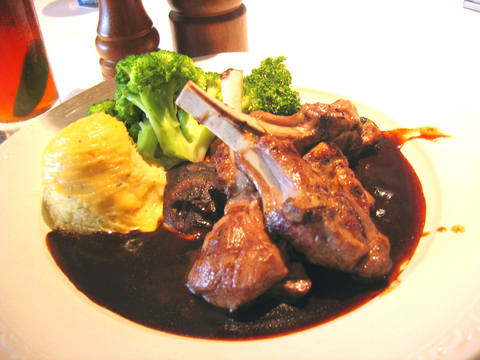 Capone's has a new lease of life now that Michel Blanc from The Tavern has taken over.
PHOTO: GAVIN PHIPPS, TAIPEI TIMES
While Blanc is, as he puts it "still experimenting with menus and so on" Capone's is open for business and is doing well. He hasn't changed the interior design, but he has revamped the daily band schedule and added several popular draft ales, which means the new Capone's caters to both those looking to enjoy a slap up meal as well those who've just left the office and fancy a swift pint or two.
Drop in on any given lunch time and there's hardly an empty table in the house and should you wish to wine and dine on Fridays and Saturdays, then reservations are now a must.
The a la carte menu is not as extensive as many other Western-style eateries, but is solid enough and filled with enough variations to placate the hungry and to keep regular punters coming back for more.
Some of the joint's top dishes include the pan-fried king prawn (NT$680), roasted lamb chops (NT$690) and the Capone's fillet (NT$650). There's also a reasonable range of pasta dishes which are available in both individual and party sizes and range in price from NT$310 to NT$695.
Although Blanc has yet to finalize any change to the interior design he remains adamant that Capone's will not become yet another sports bar.
"Capone's is a restaurant where people can enjoy fine food and fine wine," he said. "And I've got all the bloody TVs I want at the Tavern. I don't want any here!"
Comments will be moderated. Keep comments relevant to the article. Remarks containing abusive and obscene language, personal attacks of any kind or promotion will be removed and the user banned. Final decision will be at the discretion of the Taipei Times.