`La Sylphide' bound to tempt the romantics
Hopeless romantics will definitely fall for Kaohsiung City Ballet's production of one of the most important European Romantic ballets, August Bournonville's La Sylphide. You can catch it this weekend in Kaohsiung or next weekend in Taipei.
The original La Sylphide was choreographed by Italian Filippo Taglioni and was first performed in 1832 at the Paris Opera. The Kaohsiung City Ballet KCB will be reproducing the groundbreaking 1836 version of the ballet by Danish choreographer August Bournonville, for the Royal Danish Ballet.
Bournonville is the one of the most important figures of Danish romanticism and his personality and life were suitably dramatic. He was born in Copenhagen in 1805 (the 200th anniversary of his birth was on Aug. 21) as the illegitimate son of the French dancer Antoine Bournonville and his Swedish-born housekeeper, Lovisa Sundberg (they were married when he was 11).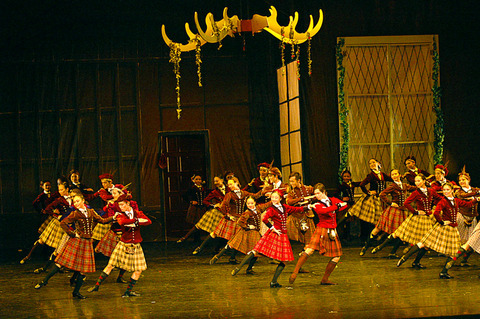 The Kaohsiung City Ballet provides entertainment for the purists.
PHOTOS COURTESY OFKAOHSIUNG CITY BALLET
As a boy, his physical development was slow, thus he was often recruited to dance a child's role in ballets well into his teens. He studied ballet in France, where he had an illegitimate daughter with his lover, after which he returned to Copenhagen, married his Swedish-born wife and accepted an appointment as the principal dancer and artistic director of the Royal Danish Ballet. For obvious reasons, his illegitimate daughter remained a secret.
For the almost 50 years that Bournonville led the Royal Danish Ballet, he ruled with a strict hand and a passionate enthusiasm. His passion was matched by his brilliance, however, and Danish ballet reached a golden age under his rule.
"We've always known that [La Sylphide] was very important in the history of ballet, especially since it was the first time a ballerina wore hard-toes, which are widely used these days. That's why we wanted to perform [the ballet]," KCB founder and artistic director Chang Hsiu-Ru (張秀如) said. Marie Taglioni, Filippo's daughter, is said to have been the first to dance with pointe shoes in La Sylphide's 1832 performance.
La Sylphide tells the story of a Scotsman, James, who is tempted by a sylph -- an immortal yet soulless (elemental) being that inhabits the air ? -- even as he is marry his betrothed. Soon his dignified yet ordinary life turns to tragedy.
Among Taiwan's ballet troupes, the KCB stands out as a champion for the purists. Established in 1992, the troupe started off performing selections of classic ballets and later began to choreograph their own ballets based on traditional Chinese stories such as Na-Cha Causing Disturbance with the Sea (哪吒鬧海), Butterfly Lovers (梁祝), and a Chinese Romeo and Juliet. The troupe performed a ballet based on Eileen Chang's (張愛玲) Love in Cities (傾城之愛) this July for the 2005 World Games in Duisburg, Germany.
KCB's first encounter with La Sylphide was in 2001 when it performed the second act. This time around, Chang has invited French dancer/choreographer Jean Paul Comelin, who has worked with the top ballet groups and dancers in the world, to help with the production. Also helping out are Taiwan's Tseng Chung-lin (曾鐘霖), from Dallas Ballet Company, and Romanian, Ioana Vasilescu, from Universal Ballet in Korea as staging directors.
Next Sunday's Taipei performance will feature Vietnamese ballerina Cao Chi Thanh, who recently won the Fifth Helsinki International Ballet Competition held in Finland in May and June.
Performance notes:

What: Kaohsiung City Ballet's production of La Sylphide

When: Tomorrow at 7:30pm in Kaohsiung, Sept. 3 at 7:30pm and Sept. 4 at 2:30pm in Taipei

Where: In Kaohsiung at the Gangshan Cultural Center, 42 Gangshan Rd, Gangshan, Kaohsiung County (高雄縣文化局岡山演藝廳, 高雄縣岡山鎮岡山南路42號) and in Taipei at the The Metropolitan Hall (台北城市 舞台), at 25, Bade Rd, Sec 3, Taipei (台北市八德路三段25號)

Tickets: NT$800 to NT$200 available through Artsticket outlets: Kaohsiung, (07) 226 5998, Taipei, (02) 3393 9888, or www.artsticket.com.tw
Comments will be moderated. Keep comments relevant to the article. Remarks containing abusive and obscene language, personal attacks of any kind or promotion will be removed and the user banned. Final decision will be at the discretion of the Taipei Times.