Works and saucepans at the ready for food festival
Taipei Season for Chefs,'' will serve as the starter for the fourth annual Taiwan Food Festival on Monday. The major tourist event aims to introduce the quality food and service of local hotels and restaurants.
The featured meal in this year's month-long festival showcases four different areas of cuisine: Thai, local, Shanghai food, and beef. The diversity of each course is the result of careful planning.
After deciding which part of the meal each type of cuisine would play "the chefs went to different kitchens and brainstormed," said the Westin Taipei's top chef Stephen Carter.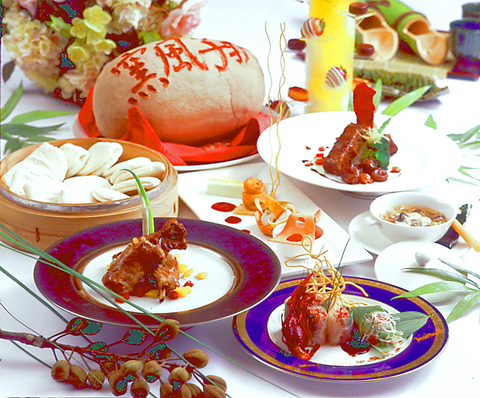 "The four desserts require 15 diffe-rent steps. It can't be done in one day,'' he said. ``It would take two days for 400 [diners].''
The Shanghainese main course of pork baked in clay made the cut, despite a cooking time of five hours. It will be served at the Westin Taipei's formal dinner next Saturday (Aug. 6), along with an appetizer of Thai green papaya salad and duck rolls, a thick seafood soup, an Italian-style beef filet wrapped in Parma ham, and assorted desserts with coffee and tea.
The chefs also play with opposites, especially with their steak dishes. Yam and scallion crisps garnish the tender meat, while sweet truffles challenge the sour caramelized onions. Rather than clash, the contrasting flavors mingle for a pleasant dining experience.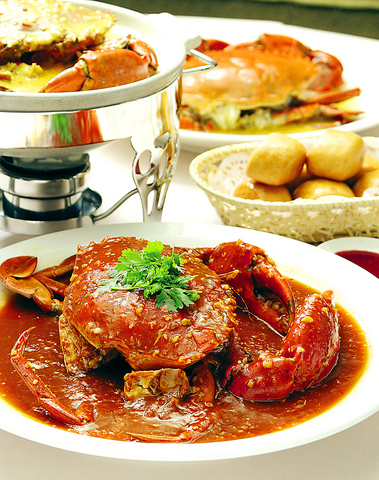 PHOTOS COURTESY OF TAIWAN FOOD FESTIVAL
Over 50 hotels and restaurants hope to attract foreign visitors during the festival by distributing coupons. Other events, such as the ``Cowboys from the West'' steak week will follow later in the month.
The Westin Taipei is located at 133 Nanking East Road, Sec. 3, Taipei (台北市南京東路三段號) and is a five-minute walk from the Nanjing East Road MRT station.
The Taipei Season for Chefs formal gala dinner will take place on Aug. 6. The cost is NT$1,800 per adult and NT$1,500 per child under 12 years of age. A 10 percent service charge per adult applies.
For reservations, call (02) 8770 5722 or visit http://www.westin.com.tw. Printable coupons are available at http://chefstp.com.tw/hotel.htm and are valid until Aug. 31.
Comments will be moderated. Keep comments relevant to the article. Remarks containing abusive and obscene language, personal attacks of any kind or promotion will be removed and the user banned. Final decision will be at the discretion of the Taipei Times.