POP STOP
As all savvy gossipers know so well, melodramatic love affairs are one of the staple foods showbiz generates and
feeds on. A beautiful celebrity's love life just seems so much more exciting than that of the ordinary person.
Big S is far from an ordinary person. After ending her long-standing relationship with actor Lan Zheng-long (藍正龍) just one month ago, the star has rebounded and reportedly coupled up with Tsai Tsai (仔仔) of F4. Their rumored romance should keep the celebrity shutterbugs happy.
Ren Da-hua puts in a lot of effort and throws a lot of cash around to make a comeback.
PHOTO: TAIPEI TIMES
After weeks of speculation, Big S broke the silence at an endorsement event last Saturday, explaining that she and Tsai Tsai are close friends who have been through a lot together. ``Our relationship is on a spiritual level, far beyond the romantic connection most couples have,'' she was quoted as saying in the Apple Daily (蘋果日報). The drama queen did, however, admit the necklace she was wearing was a gift from Tsai Tsai, who has also kept a identical necklace around his neck. Oddly, both parties denied the necklaces were love tokens.
Also being denied is the rumor about Tsai ditching his ex-girlfriend Xu Wei-lun (許瑋倫) in order to be with Big S. Xu was reportedly weepy over the whole situation, but is said to have dumped her ex, Lee Wei (李威), to be with Tsai Tsai a year ago. Lee is said to be interested in getting back with Xu again, but when asked if this was true, the actor told the Great Daily (大成報) ``There are too many people involved, and I really have nothing to do with the whole thing. I'd like to stay away from the whole ordeal as far away as possible.''
The big breakup news of this week is Vivian Hsu (徐若瑄) who has officially waved goodbye to her 12th rumored sweetheart Wu Jian-hao (吳建豪) of F4. Contrary to her normally elusive attitude towards her love life, the 30-year-old beauty blurted out the news at an endorsement event on Sunday. The key reason for the break-up is said to be their long-distance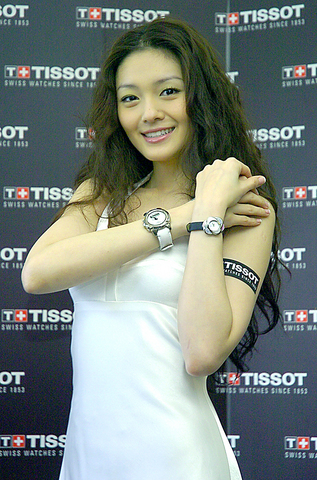 Big S has a new lover, while the ex-boyfriend Lan is reported to be suffering from depression.
PHOTO: TAIPEI TIMES
relationship.
Experiencing the influx of stars from Hong Kong, local TV stations have called for support from Hong Kong actors to star in a new generation of soap operas. Once hailed as one of the sexiest men in Asia, Ren Da-hua (任達華) is one of the latest imports. He grabbed the media attention upon arrival by showcasing a line of expensive footwear and outfits fitted to his well-maintained body. Ren said he spent a fortune on clothing and accessories for the role of a fashion designer he will play in the show and ``even declined an invitation to play a part in the new movie from the director of Trainspotting, Danny Boyle who plans to shoot it in September,'' he was quoted as saying in the Great Daily.
Pop diva Faye Wang (王菲) was spotted having dinner with a group of friends in Beijing without having a cigarette the whole night, and the Chinese media quickly came to the conclusion that she has quit her bad habit due to her pregnancy. Faye Wang's agent simply replied to the Apple Daily,``Wang has tried to kick the nasty habit quite a few times without any real success. This is just her latest attempt.''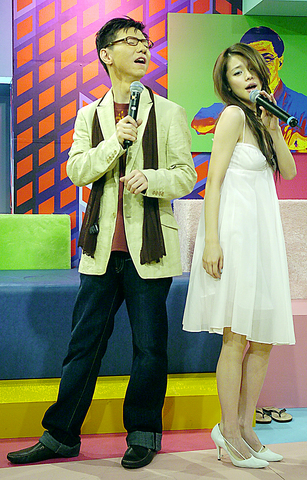 Great news for eligible gentlemen: Vivian Hsu is back in the market.
PHOTO: TAIPEI TIMES
Comments will be moderated. Keep comments relevant to the article. Remarks containing abusive and obscene language, personal attacks of any kind or promotion will be removed and the user banned. Final decision will be at the discretion of the Taipei Times.