Restaurant: Le ble d'or
Address: 100, Dunhua N Rd, at AsiaWorld, Taipei (環亞店北市敦化北路100號)
Telephone: (02) 8712 8512
Open: Open daily, 5pm to 2am. Sunday to 1am
Average meal: NT$500 per person
Details: Credit cards accepted. Menu in both Chinese and English
Now that the government isn't the only one allowed to brew beer, there are several local startup breweries worth giving a try and others that are worth giving several tries. In the latter group is Le ble d'or, the beer garden located in the courtyard area of the Asia World shopping center.
Of course, Le ble d'or's main selling point is the three beers the company brews itself in Hshichih (汐止), Taipei County, and ships daily to its beer gardens at both AsiaWorld and beneath the Ferris wheel at Miramar. "You don't have to be in Europe to enjoy our fine freshly brewed beer," is their motto. But unlike many of the 20 or so microbrewers that have set up shop since deregulation, Le ble d'or is also a restaurant.
While few diners seemed interested in enjoying a meal outdoors after Le ble d'or opened last August, the place has seen a steadily increasing number of patrons willing to sample their menu of European cuisine and local favorites.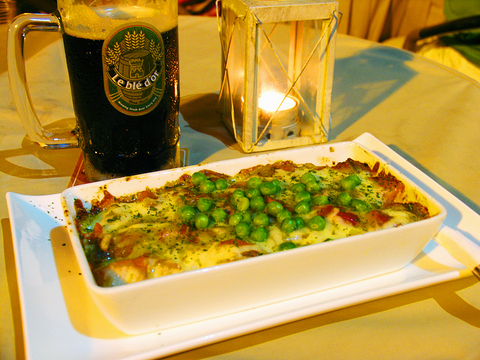 Hungarian beef stew with rice goes well with stout.
PHOTO: DAVID MOMPHARD, TAIPEI TIMES
Hungarian beef stew with rice shares the menu with a host of seafood dishes; spicy cuttlefish, seafood pizza, seafood chowder and baked mussels, to name a few. But the majority of the menu is given over to what would otherwise be considered pub grub: deep-fried chicken nuggets, nachos and the like. These are served in generous portions (and should be given the prices they carry at NT$280 for a basket of chicken nuggets or NT$250 for nachos) and help the beers go down better.
On my last visit, I had the baked Hungarian beef stew with rice. The beef was of a good quality, but there could have been more of it and the dish would have sat better atop a long-grain rice instead of the local variety. The compromise here is that the rice is prepared loose, not sticky, and soaks up more of the dish's flavor.
And if nothing on the menu tempts your taste buds, there is always the beer. Since it's prepared fresh and not pasteurized it retains more nutritional value than the regular bottled beer. Of the three varieties available, the stout is most like a meal in itself (though it's not as bitter as many European stouts). The Weissen is a personal favorite. With the sediments filtered out, it retains a cloudiness that goes quickly to your head upon drinking the 500cc-sized serving. The most popular is Le ble d'or's lager. It's the most like Taiwan Beer, but a refreshing change from the nation's flagship brew.
Comments will be moderated. Keep comments relevant to the article. Remarks containing abusive and obscene language, personal attacks of any kind or promotion will be removed and the user banned. Final decision will be at the discretion of the Taipei Times.