Exotic detail maps the Silk Road of today
Oxford professor, travel writer and TV personality Nick Middleton chronicles the challenges and hardships he faced in the Silk Road regions as they are now
"Coming from a world clogged with congestion," writes Nick Middleton, "I'd found it refreshing to traverse such vast tracts of physical geography, expanses of the natural world that remain largely untamed." Elsewhere he reasons: "Given we live in an age still obsessed with communications and the exchange of ideas ... the world's oldest superhighway might make a good theme for a journey of discovery."
Middleton is a geography professor at Oxford but is also an experienced travel writer and TV personality. Titles such as The Last Disco in Outer Mongolia and Ice Tea and Elvis: A Saunter through the Southern States suggest his enthusiasm for giving the flavor of geography as it manifests itself in the comic and the bizarre.
Extremes Along the Silk Road also aims to display its rather self-consciously doughty author caught up in what are frequently absurd situations.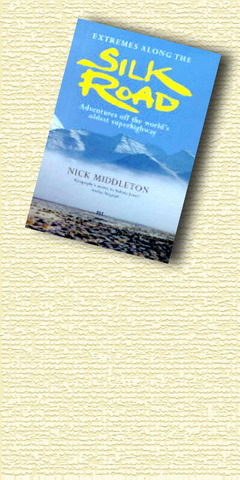 Extremes Along the Silk Road By Nick Middleton 289 pages John Murray
As a trade route, the Silk Road has been less a single highway and more a network of overland routes linking Europe with Asia, making trade possible between those with a passion for silk, horses and exotic fauna and flora. Just about every transaction imaginable has occurred along its many trails over the centuries.
Middleton's particular passion consists of exposing himself to nature's vicissitudes -- getting sand-blasted among the giant dunes of the Gobi Desert, sleeping on hot rocks to counteract extremes of temperature, facing oxygen starvation in Tibet as he climbs towards the "navel of the universe," and finally risking contamination from anthrax spores on what has been ironically named "Rebirth Island," a place devoted by the Soviets to designer diseases such as the plague and small-pox, but also Q-fever, botulineum Venezuelan equine encephalitis, "to complete a lethal bill of fare."
Hence the emphasis never strays from what is arduous about the journey. He's an adventurer, but at heart more a meticulous academic than a daredevil. Ever cautious in his research, he sometimes gives the impression of being an irritable hedgehog (notably in photos in his fur-trimmed Mongolian hat), complaining about the litter, and muttering and fretting as he moves towards his next destination.
Researching the different forms of altitude sickness he is alarmed to discover it can lead to swelling of the brain or to the lungs slowly filling with fluid. He nonetheless decides to embark on the "kora," or ciricumambulation of the base of the holy Mount Kailas. He's impressed by the profusion of Buddhist prayer-flags everywhere strung in the trees, and by the willingness of the pilgrims to prostrate themselves up to 1,000 times a day.
Having no religious inclinations himself, he begins to speculate on Tibetan Buddhism as a prerequisite for survival at such an altitude, yet makes the classic Western error of putting bodily discipline before mental striving. Later on, almost defeated by exhaustion, he is told by a fellow-traveler, Norbu, "Nobody can help you. You are on your own. You must believe inside." For his pains he's given a pebble, its dark color intended to reflect his less-than-spotless karma.
His pilgrimages now complete, he's attracted to Kazakhstan, partly for its fabled "heavenly horses" but more importantly for its vanished Aral Sea, now thought of as a scene of ecological catastrophe. The sea "has been gradually disappearing since the mid-twentieth century as thirsty Central Asian irrigation schemes, established during Soviet times, have resulted in a dramatic decline in the volume of water entering from its two tributaries." An addict of the bleak scenario, his account of the defunct harbor, with its rotting ships nestling in silt, is nonetheless unanswerable testimony to Soviet profligacy.
For light relief, he spends some time with the Khazak nomads and their celestial steeds, and is inveigled into a game of kokpar, played on horseback with a decapitated goat as prize. This game can at times be so frenzied that it's essential to keep your distance in order to avoid being wounded in the crush, but Middleton nevertheless sees it as reflecting the nature of the nomads, who have long aspired to live independently, and pays tribute to them for giving him the "primeval thrill" of life on the steppe.
Approaching his date with destiny at Rebirth Island, Middleton has serious misgivings about exposing himself to the horrors that await him -- chiefly anthrax spores -- and doubts the efficacy of the equipment he's brought along. Before approaching the "laboratories," however, he notes the absence of any sounds whatever. "No birds, just an eerie silence. It was truly a deathly hush."
On an island dedicated to the development of lethal biological warfare, this is his personal journey into the heart of darkness, and he emerges in somber mood.
"Of all the sagas of survival in extreme environments that I'd come across in my travels," he writes, the plight of anyone coming into contact with these evils "had to be placed at the lowest point on the scale. To brave the dangers of Rebirth Island took a very special blend of courage and desperation."
This account of the Silk Road, with its contrasts and exotic detail, certainly chronicles the challenges and hardships Middleton faced. But if he'd sacrificed some of the sense of his own heroism, and introduced instead more of a sense of wonder or of the absurd, the book would have proved a more entertaining read.
As it is, it constitutes at best a stop-gap for those who can't get enough of Asian travel narratives. It has little of the equanimity of Peter Fleming's classic News from Tartary (which covered some of the same territory and was also not without its comic episodes), none of the farcical brilliance of Eric Newby's A Short Walk in the Hindu Kush, and absolutely none of the personal elan and lightly-worn scholarship of Redmond O'Hanlon, these days the man to beat in the arduous-yet-hilarious travel genre.
Comments will be moderated. Keep comments relevant to the article. Remarks containing abusive and obscene language, personal attacks of any kind or promotion will be removed and the user banned. Final decision will be at the discretion of the Taipei Times.