Tombstone witnesses another showdown
Near the Arizona town made famous by Wyatt Earp and the OK Corral, thousands of Mexican would-be immigrants meet head-to-head with US volunteers who are guarding the border to keep them out
Until recently, the parched, dusty town of Tombstone, Arizona, was best known for the brief but savage mayhem portrayed in the classic 1957 Western Gunfight at the OK Corral.
But these days, visitors to Tombstone are not much interested in its tacky tourist attractions like "Helldorado" or plastic figures of heroic sheriff Wyatt Earp, who is credited with bringing law and order to the Wild West.
Tombstone is now the site of a new showdown -- between thousands of undocumented immigrants and hundreds of volunteer Americans from all walks of life who have gathered there to patrol the border with Mexico for a month.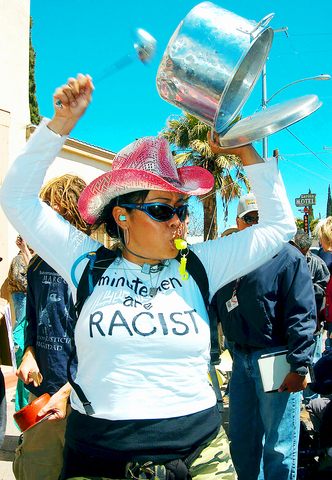 "Jane" protests the Minuteman Project in Tombstone, Arizona. The Minuteman Project will patrol the international border throughout April for illegal immigrants crossing over into the US from Mexico.
PHOTO: EPA
Suddenly, the Sonoran Desert backwater has become a flashpoint for one of the most complicated issues facing America and many other Western countries where economic and social opportunities are attracting an unrelenting tide of undocumented newcomers.
Activists on both sides acknowledged that there are no easy answers. With dwindling populations unwilling to perform many menial tasks for low wages, industrialized countries need immigrants from poorer countries, who have become a vital part of their labor forces.
In the US, the population of illegal immigrants surged to more than 10 million last year, according to a new study from the Pew Hispanic Center. These undocumented workers represented about one-third of the foreign-born population in the US. Nearly 6 million of them are from Mexico.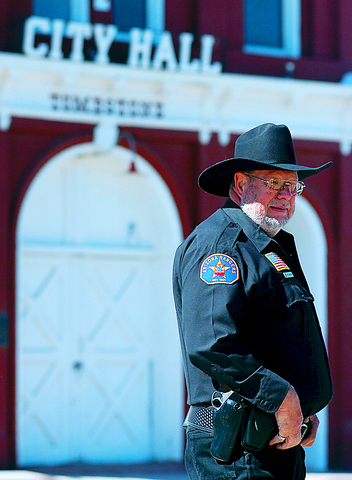 An Arizona ranger checks crowds at a Minuteman Project rally.
PHOTO: EPA
Last year, authorities arrested about 1.2 million Mexicans trying to cross the border without permits. About half of those arrests came in the 60km stretch of the 2,000km US-Mexico border around Tombstone known as the San Pedro River Valley.
That's why hundreds of the controversial volunteers have now converged there. Calling themselves the Minutemen, after the militia that helped repel the British during the American Revolution, many are armed with shotguns and pistols and are equipped with night-vision goggles, coolers of beer and lounge chairs that they set up beginning this past week at lookout points over some of the most popular smuggling routes.
Most of the time, there is little to do but drink the beer and complain about how immigrants are ruining the country.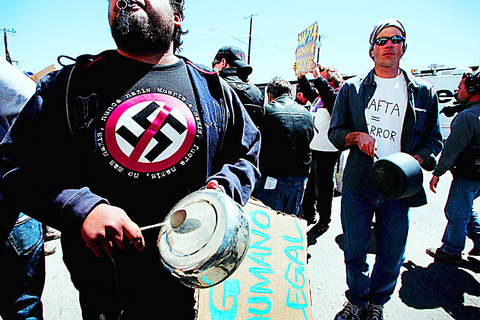 Demonstrators protest against the involvement of Minuteman volunteers searching for illegal aliens.
PHOTO: AFP
"They're costing us billions [of dollars] in health care," said Ted, a stout 64-year-old contractor who was wearing a cowboy hat and had a shotgun propped up against his lawn chair "just in case."
"I'm not racist, but the situation can't go on," added Chip Johnson, who had made the trip to the border from Utah. "We need order at the border."
The immigrants themselves were few and far between. Reports from Mexico said smugglers who are paid an average of US$1,500 dollars per head to sneak people across the border are steering clear of San Pedro and using other routes.
The Minutemen are under strict orders not to use violence and not even to approach anyone they believe to be an "illegal," as they call the immigrants. They are to simply alert the Border Patrol. So far, no violence has been reported, but there have also been few apprehensions.
Nevertheless, the Minutemen claimed that merely by focusing attention on the problem, their mobilization had succeeded. They even claimed credit for a government decision to position 500 new agents on the Arizona border.
"We know we are not a panacea, that we are not going to change all this in 30 days," says Minuteman founder James Gilchrist, "but we have already accomplished our goal 100-fold by getting the media out here and getting out the message."
Their critics, however, maintained that the move is counterproductive.
"They have a lynch-mob mentality," said Ray Borane, mayor of the border town of Douglas, whose population is mostly Latino. "They have no training and no sensitivity."
President George W. Bush has called them "vigilantes," and the Border Patrol also views the volunteers as a menace and is concerned that they could set off ground sensors, complicate video surveillance and create security problems.
"Having a large number of people walking about the migrant trails is not beneficial," spokesman Rob Griffin said.
In Mexico, where the local media portrayed the Minutemen as trigger-happy "migrant hunters," reports said Mexican authorities have beefed up patrols on their side of the border and have posted flyers at migrant hotels instructing immigrants to go to other places.
Meanwhile, on the other side of the border, Los Angeles Times columnist Steve Harvey insisted that the Minutemen are focusing on the wrong target.
"The posse went the wrong way," he wrote. "It should ride to Wal-Mart, which hired illegal immigrants to clean the floors ... to the farms that have hired illegals to cut costs. It should ride to Washington, where Congress sees a few thousand dead border crossers as a small price to pay for an endless supply of cheap labor."
Ultimately, people on both sides of the argument agreed that the only solution can come from legislation that would legalize the flow across the border. Bush has talked often about a temporary migrant-worker scheme but has so far been blocked by more conservative members of his own center-right Republican Party who fear that the measure and the workers it would legalize would eventually become permanent residents of the country.
The more immediate danger, however, is that some of the Minutemen would clash with a band of well-armed smugglers and set off a bloody battle. Luckily, that has not yet happened.
The worst case so far has been when three Minuteman, including a man named Bryan Barton, forced a 26-year-old migrant to pose for a picture with a T-shirt that read, "Bryan Barton caught an illegal alien and all I got was this T-shirt."
Comments will be moderated. Keep comments relevant to the article. Remarks containing abusive and obscene language, personal attacks of any kind or promotion will be removed and the user banned. Final decision will be at the discretion of the Taipei Times.