A kingdom of orchids sprouts up
Can Taiwan transform itself into an orchid kingdom in the near future? The floriculture community in Taiwan has had this ambitious dream for many years and a positive turn toward such a possibility has just taken place this week.
About two years ago, a plan was launched by the government to build a permanent exhibition site and trading center for local orchid growers. The plan has come to fruition and is about to put to be put to the test, starting from tomorrow.
If it proves successful and the large-scale international orchid exhibition is a success, then Taiwan, the world's leading exporter country of orchids, might be viewed as the natural home of the magnificent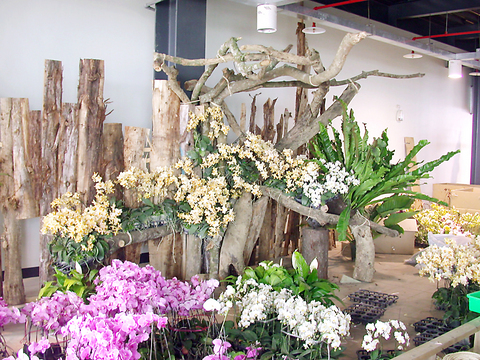 Taiwan's in bloom for the fourth international orchid show, in Tainan County.
PHOTO COURTESY OF TAIWAN INTERNATIONAL ORCHID SHOW 2005
phalaenopsis.
The government has poured billions of NT dollars into developing the Taiwan Orchid Plantation (TOP) project in Hobi (後壁), Tainan County, to provide easy access to government resources and the latest technology for orchid growers.
The plantation has an area of 200 hectares and is scheduled to be completed in 2008.
Beginning tomorrow, the fourth international orchid show -- the largest annual orchid exhibit in Taiwan -- will be held at the plantation.
With 15 participating countries, this multi-national floral exhibit will showcase more than a thousand orchids to the public, until April 10.
Cosponsored by the Tainan County Government and Council of Agriculture, this 14-day event expects to attract approximately half a million flower lovers from all over Taiwan and abroad.
Three major areas will feature different varieties of orchids, flower arrangements and landscape design. Handicrafts with orchids, the chance to experience the fragrance of the flowers and other attractions will be enjoyed by visitors. There will even be a section devoted to orchid stamps from around the world.
The award-winning Orchid Exhibition Hall (千蘭競豔館) shows off those orchids that participated in this year's international competition. Competing countries include the US, Japan, Australia, South Korea, the Philippines, Singapore, Thailand, Malaysia, Indonesia, Hong Kong, South Africa, Holland and France. If you are wondering about how well other countries are doing with their orchid planting industry, this exhibition will tell you.
The Sales Booth Hall (蘭姿風華館) provides 98 stalls to cater to visitors' different needs. One may purchase orchids and related products here. Food stands and other entertainment facilities are also available for both adults and children.
According to Su Mao-shiang (蘇茂祥), an official from the Agriculture and Food Agency, at the Council of Agriculture, Taiwan is the world's largest exporting country of orchids, with Japan, North America, Europe and Hong Kong as its major markets. The flowers bring in an annual income of around US$60 millions for the country.
Stiff competition is coming but Su says Taiwan maintained a comfortable lead in the global orchid market and captured a 77 percent share last year.
Exhibition notes:

What: Taiwan International Orchid Show 2005

Where: Taiwan Orchid Plantation (台灣蘭花生物科技園區), Hobi (後壁), Tainan County

When: March 26 to April 10

Tickets: NT$150 per person

Telephone: (06) 6840 684
Comments will be moderated. Keep comments relevant to the article. Remarks containing abusive and obscene language, personal attacks of any kind or promotion will be removed and the user banned. Final decision will be at the discretion of the Taipei Times.