The Vinyl Word
We live in a society that values talent and appearance. Supermodels are judged on how they look, sports stars on how they perform. Their worth is calculated accordingly. And when their youth is spent, so is their value.
It's tough, but the rewards are so high that the downside is often forgotten. For every supermodel there are hundreds of wannabes that do anonymous catalogue shoots. For every NBA standout there are hundreds of thousands of kids who had promise but never went all the way.
The Vinyl Word subscribes to the being-in-the-right-place-at-the-right-time theory of fame. Therefore, we also subscribe to the idea that if the world's best DJ was Taiwanese, then, right now, like a star in Taipei's night sky, you wouldn't see it.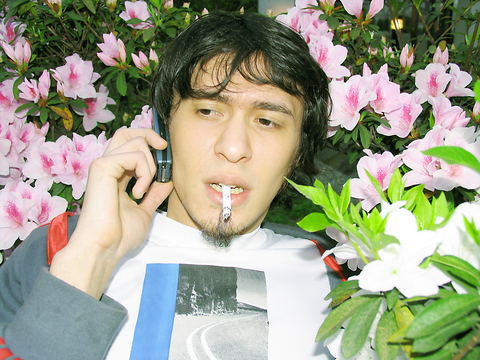 ?
So, what to make of Edmund (黃君豪)? If we were to combine talent, looks and youth, then compare across the range of DJs working in Taiwan, then he would probably come out on top in most polls. He has a deft touch on the decks, a strong knowledge of music and good taste. He's in touch with the times, looks like a model and is still in his early 20s.
He already has an impressive CV, having played at most of the big clubs and events that have gone down in Taiwan, including the World Trade Center mega parties. He's also been invited to play at promotional gigs for big-name brands in Singapore and Hong Kong.
Some time ago we wrote that Edmund was the next-in-line to the throne of Victor Cheng, who most people would agree has been consistently the best DJ on the scene since it began around the time of the Texound Yangmingshan parties, over six years ago.
"Victor inspired me," Edmund says at the start of what turned out to be a 10-hour-long interview that took in Warner Village, his latest tracks and a hotpot on Zhongxiao East Road. "He had long hair and was thin and tall. He influenced me and I admire him. My music style is different though, more breakbeats."
Now, Edmund plays every month at Eden with the former Texound (now AXD) promoter/DJ Jimmy Chen. These A-One parties are in addition to the AAAportIS events and Back-to-Back parties that first introduced Edmund as a top local DJ.
His mother is from the UK but Edmund's English is not fluent, as his Taiwanese father (who died tragically in a fire) insisted on Chinese at home. He says it was his mom who "encouraged me to be a DJ." Edmund used to be a promising basketball player (he's 1.93m), but gave it up after leaving school. His brother is the supermodel Norman Huang (黃南英).
Though Edmund says, "I don't want to be king," it's not hard to detect that he would like to be a big-name DJ. He admits to being sensitive or emotional and seems to fit the tortured artist mold. "I live to make music." He says he stays up for days and nights at a time, either spinning at clubs, listening to others or twiddling with his computer, software, synthesizer and decks, downloading his sets into mp3 format, working on album designs or planning the next CD.
His home is that of the classic bedroom DJ, full of audio equipment and computer screens dripping color. He burns us a CD from two years ago that was part collaboration and part homage to producer Lee Yu-huan (李雨寰), who worked with Faith Yang (楊乃文). It's a strong, beat-heavy collection of dance tracks mixed up with the best Taiwanese electro-pop sounds and the Pet Shop Boys. It's easy to imagine a remixed single doing well in the charts and production is something Edmund should do more of to register his name on the musical map. He has a feel for it.
Edmund is one of the brightest stars on the Taipei scene and he deserves to be seen and heard.
The Vinyl Word: Try something different this week and refresh the palate with free Mexican food and cheap Coronas at Marcus Aurelius' and Nancy Cheng's first-ever after-work hair salon party at EGO. Talk to a french hair stylist and listen to funky vibes. It's Tuesday, March 29, 8pm to 12pm on Renai Road. Check www.urbanpeople.net for details and map.
Finally, for a complete break from house, tomorrow, check out two punked-out bands for the price of one, with The Deported and DGS, at Vortex, on Zhonghe Road. DJs will be shot on sight, we have been informed.
Tomorrow, @llen and Taipei Times top DJ Nina at Eden, still free; and Roxy 88 is celebrating 23 years of rock 'n' roll. @llen will be showing off his roots, along with Randy and Alex36.
Send comments and listings to vinylword@taipeitimes.com.
Comments will be moderated. Keep comments relevant to the article. Remarks containing abusive and obscene language, personal attacks of any kind or promotion will be removed and the user banned. Final decision will be at the discretion of the Taipei Times.