Reataurant: Grace 葛莉蕬
Address: 13, Zhinan Rd, Sec 2, Taipei (台北市指南路二段13號)
Telephone: (02) 2939 3055
Open: weekdays, 11am to 9pm; weekends, 11am to 5pm
Average meal: NT$200
Details: No English menu. Credit cards not accepted.
I told the staff of Grace, a favorite restaurant by NCCU, that I was going to write them a glowing review, but I don't have the feeling that this is going to end up taped to their window. What makes Grace so special is the impression it gives you of being a space where the pragmatic nastiness of the outside world -- work, dirty dishes, congested traffic, restaurant reviews -- doesn't matter even a bit.
Grace calls itself a "boutique" as well as a restaurant -- although I've never seen anyone shopping there -- and the tiny first floor of is occupied by racks of winter clothes. The one symbol of restauranthood is a stained-wood counter (everything in Grace is pleasantly wooden) with a coffee syphon and a smiling employee who will invite you to go on up to the second floor.
The eating area is bigger, but has the same feel -- like the home of a wonderful grandmother who's forever baking things. Like the view out the windows, the interior is nice but by no means uncomfortably beautiful or gaudy.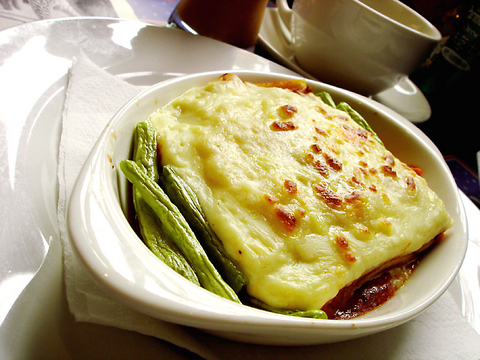 Grace's lasagna is authentic.
PHOTO CREDIT: CHRIS PECHSTEDT, TAIPEI TIMES
Grace's menu is made up mostly of Italian food, including the best spaghetti you can find in the area and real lasagna.
You should probably get the lasagna, but if you don't there's a collection of excellent cheese-topped baked meals in which you have a choice of noodles, rice, penne, or a rice ball with a weird scrambled egg. Sauces include meat sauce, cream sauce, curry, and something that translates loosely as "country vegetable." I can vouch for the first three, but you're on your own as far as the country vegetable goes. There's also Vienna sausage, but to me it tastes suspiciously like hot dogs.
Grace is kind of expensive for the area -- you can easily find a pretty decent meal around NCCU for NT$70 -- but the meals are sets, so before the main course comes a cup of good egg-flower soup and after the meal you get a drink: coffee, kalpis drink (可爾必思) or tea. Get the milk tea unless that's something you absolutely loathe -- everyone I know agrees that Grace's milk tea is amazing.
A warning for the cartographically hopeless: Grace is difficult to find unless you've been there before. The simplest way to find it is to walk on the side of Zhinan Road opposite NCCU and head toward the river. Instead of climbing the stairs to cross the bridge, stay on the sidewalk and pass Revolution House (a coffee shop and bar that's also worth stopping by). Grace is under the beige awning with "Grace" written on it. It's harder to find than it sounds, but the bright side is that you probably won't need to wait for a table.
Comments will be moderated. Keep comments relevant to the article. Remarks containing abusive and obscene language, personal attacks of any kind or promotion will be removed and the user banned. Final decision will be at the discretion of the Taipei Times.