Restaurant: You Ji Chufang 有雞廚房
Address: 296 Jilin Rd, Taipei (south of the Minquan-Jilin intersection) (臺北市吉林路296號)
Telephone: (02) 2563 1277
Open: 5:30pm to 3am Sunday through Thursday, 5:30pm to 5am Friday and Saturday
Average meal: NT$350
Details: Chinese menu only. Credit cards accepted.
You Ji Chufang (有雞廚房), which opened just last December, has no English name yet, but a direct translation wouldn't really do because "Chicken Kitchen" is just too hard to say.
"We chose the name because it was catchy, not because it has any special meaning," said one of You Ji Chufang's owners Lee Che-ming (李哲明). He also said that this being the year of the chicken hasn't had any effect on business, but in fact it's going so well that two more branches will pop up this year, one in Taichung and another in Taipei.
You ji sounds like the Chinese for "organic" and literally means "has chicken," but the restaurant's menu is built around neither organic food nor chicken (though the most popular dish is indeed a chicken dish). You Ji Chufang specializes in Cantonese cuisine -- the kind you don't find much in Taipei.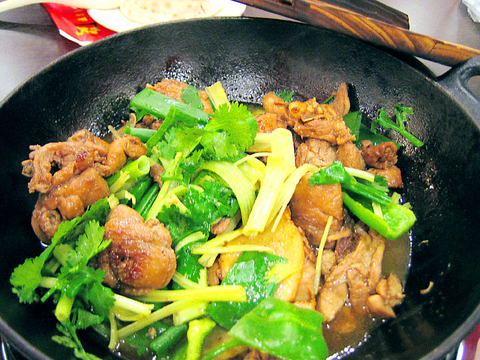 The Cantonese cuisine at You Ji Chufang is spicy and fragrant.
PHOTO: MERDITH DODGE, TAIPEI TIMES
Lee, whose day job is managing the sales department at a local newspaper, took a trip with two other investors and some chefs to Guangdong in search of cuisine that would be a hit back home. What they came up with was a menu of about 10 dishes. The number-one seller is the hua diao chicken (花調雞). The chicken is marinated in special spices for a couple hours and then stir-fried in hua diao jiu -- a yellow wine made from rice and wheat that evolved from a tradition in Zhejiang province of burying wine in the earth when a daughter was born and digging it up for her wedding banquet.
Placed on a burner at the center of the table, the chicken continued to stew as I ate it. Steeped in the hua diao sauce with tomatos and green peppers, the chicken is juicy and fragrant.
Also juicy are the garlic squid rolls (香蒜中卷), battered and deep fried, then stir fried with garlic and spices.
The most interesting and surprisingly good dish was pi pi cuo (皮皮挫) -- thousand-year eggs (皮蛋) fried with kung pao peppers and ground pork. Those bluish-green eggs that often end up too rich or too salty were the perfect replacement for chunks of chicken in this dish. An order of pi pi cuo for NT$99 will disappear quickly at your table. Be careful, though -- as the dish's name suggests it's spicy enough to peel your skin.
This place is open into the wee hours, perfect for a group of four to eight people famished from pub-hopping. If the food isn't spicy enough, you can always clear your palate with the restaurant's even spicier Kinmen sorghum wine.
Comments will be moderated. Keep comments relevant to the article. Remarks containing abusive and obscene language, personal attacks of any kind or promotion will be removed and the user banned. Final decision will be at the discretion of the Taipei Times.