`Three People and Two Lamps' illuminate tragic love in the palace
In celebration of its 10-year Anniversary, Taiwan's National Guoguang Opera Company (國立國光劇團) is launching a series of new productions commencing with its spring performance at the Novel Hall tonight. A new script penned by Chao Shui-jun (趙雪君) and Wang An-chi (王安祈), Three People and Two Lamps explores the melodramatic love lives of the imperial palace maidservants.
Peking Opera can be separated into two styles, one characterized by singing and the other by acrobatic and martial art movements, while some operas combine aspects of both.
Three People and Two Lamps will be a demonstration of the first style concentrating more heavily on the singing. Although Chinese operas often take a historical event or male figure as the basis for its plot line, the Guoguang's latest production focuses on the fictional events of its female lead characters.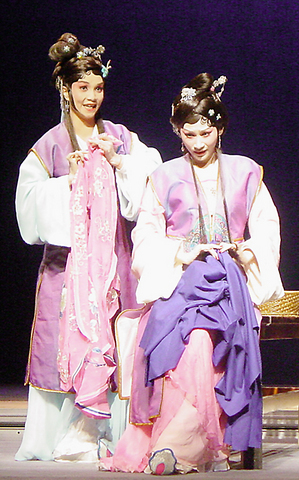 Taiwan's National Guoguang Opera Company celebrates its 10-year anniversary with a new spring production this weekend at the Novel Hall in Taipei.
PHOTO COURTESY OF NATIONAL GUOGUANG OPERA COMPANY
Set in the Tang Dynasty (618 AD to 906), the play centers on the tragic lives of three female maids, each of whom is pining for the emperor's love. Absorbed in the memory of one passionate night, Shiangchi, spends her days wondering in a trance through the garden, while Shuangyui takes refuge from her pain in the arms of another man. Realizing the futility of her love, Kuangji channels her attention to the other two women, one of which will meet with a tragic fate.
Shanghai's Gu Theater paved the way for Taiwan's Peking Opera movement in the 1950s. Invited to play for the Chinese Nationalist (KMT) troops in 1948, the theater helped to establish additional performance groups with financial support from the Ministry of National Defense. In 1995 sponsorship was transferred to the Ministry of Education and the troupes merged to form the National Guoguang Opera Company.
Shows are tonight and tomorrow at 7:30pm and Sunday at 2:30pm, Novel Hall (新舞台) at 3 Sungshou Road, Taipei (北市松壽路 三號). Tickets are available online at www.ticket.com.tw.
Comments will be moderated. Keep comments relevant to the article. Remarks containing abusive and obscene language, personal attacks of any kind or promotion will be removed and the user banned. Final decision will be at the discretion of the Taipei Times.