The best of British is now showing at Taipei Fine Arts
The British Council is behind this fine collection of prints, many from well-known contemporary artists
Contemporary Art in Print
features prints by 24 well-known British artists currently on view at the Taipei Fine Arts Museum until May 22 and is co-sponsored by the British Council.
The prints run the gamut from small delicate fine arts-type etchings, woodcuts, linocuts to the more commercial processes of silkscreen and digital photo techniques. What unites these sculptors, painters and video and digital artists is that they were invited by publisher Charles Booth-Clibborn to create prints for his art printmaking house Paragon Press.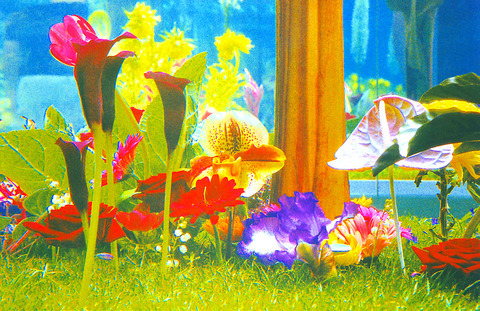 The star of the Taipei Fine Arts Museum show is Damien Hirst, above, with Salad. Below, Marc Quinn's Garden.
PHOTO COURTESY OF TFAM
Overall, the exhibition appears like most exhibitions of traditional printmaking, with framed paper works on walls, but when you look closer and try to discern a work's meaning, you realize that the work is not only about its technical artistry, but that it has a very contemporary conceptual bent to it as it contains a specific cultural reading.
Additionally, newer technological means were applied to the printmaking process and are most evident in Adam Lowe's Emulsion, a set of six orange-tinted ethereal images made with photogravure plates. The images were taken from on a video recorder with an electron microscope that recorded the movement of a cosmic ray in a nuclear emulsion.
The oldest artist in the group, Terry Frost (born 1915) shows that art is ageless as his work seamlessly fits in with artists 50 years his junior. Frost takes the idea of woodcuts literally with his series of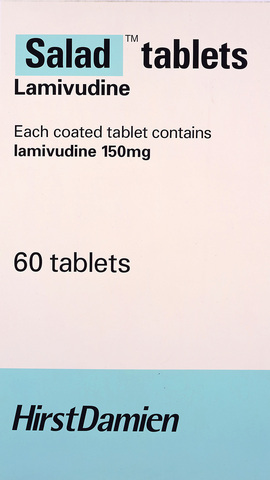 The star of the Taipei Fine Arts Museum show is Damien Hirst, above, with Salad. Below, Marc Quinn's Garden.
PHOTOS COURTESY OF TFAM
vertical colored bands such as black, red and cream and shows the striations made by the wooden board. In a deconstructionist sense, instead of using the white of the paper as many artists do, he chose to cover the blank areas of paper with printed bands of white ink.
Making something look different than the means in which it was executed shows up in Patrick Herron's The Brushwork Series, three etchings that look like quickly brushed gouache paintings. As the etching process is laborious and takes many steps, it is not as direct as sticking a brush into a pot of paint and drawing a circle.
Anish Kapoor, who is known for sculptures of mounds of powdered pigments, has a 9-piece set of silkscreens of a primordial round shape in a square. As there is no clear border, the image disappears up close and appears 3D from a distance as in an optical illusion where the figure becomes part of the background and vice versa. The image comes from a work commissioned for television where he experimented with electronic matting devices to produce pulsating images.
Richard Deacon's Show and Tell screenprint series are black-and-white photographic images of objects -- such as religious statues, trees, flocks of geese (with a small inlaid white panel of a simple line drawing) -- compelling the viewer to come up with a narrative to link these disparate images together.
The Chapman brothers have been criticized over the years for their gratuitous sexual imagery. Here they channel the ghost of Goya in their etchings named after his famed series The Disasters of War.
These controversial artists show they are master traditionalists at heart with their finely drawn lines that pay homage to the Spanish artist.
Marc Quinn's pigment prints of dead flowers are elegiac. In 2000, he created a huge garden of flowers and plants frozen in liquid silicone for the Prada Foundation in Milan. Although dead, the treated plants become glasslike with their intensified color making the flowers look intensely vibrant and bursting with life. Before the installation, he shot a roll of 35mm film, and chose 8 images for this series of prints.
Of course the indisputable star of the show is Damian Hirst. In The Last Supper
series of 13 silkprints, Hirst prints out pharmaceutical labels that he wryly renamed as British pub fare such as corned beef, steak and kidney. Linking antiretrovirals with food may seem morbid, yet Hirst is critically pointing out how heavily-marketed prescription drugs are part of our steady diet.
Another project of the Paragon Press was the publication in 1992 of a group portfolio of silkscreens titled London to showcase young emerging artists such as Gillian Wearing, Anya Gallacio, Matt Collishaw, Cerith Wyn Evans and Darren Almond.
This fine collection of prints, with its UK conceptual base, deals with contemporary issues.
Taipei Fine Arts Museum
181, Zhongshan North Road, Section 3, Taipei (台北市中山北路3段181號)
Telephone: (02) 2595 7656
When: To May 22, Tuesday to Sunday,
9:30am to 5:30pm
Details: http://www.tfam.gov.tw
Comments will be moderated. Keep comments relevant to the article. Remarks containing abusive and obscene language, personal attacks of any kind or promotion will be removed and the user banned. Final decision will be at the discretion of the Taipei Times.