Author records the several pasts that she might have lived
Ruth Prawer Jhabvala's short stories are less than gripping in themselves but interesting in the implications they hold
The premise on which this book is constructed is curious and interesting, but the tales themselves have a glumness that makes them rather depressing.
Ruth Prawer Jhabvala will probably be known to most people these days as the screenwriter for films of classic novels by E.M.Forster such as Howards End and A Room With a View. But she's also a prolific novelist and short-story writer, and won the UK's Booker Prize in 1975 with her novel Heat and Dust.
My Nine Lives, rather than attributing to the narrator any cat-like persona, instead tells the story of a girl's childhood and adolescence nine times. All the stories are different -- different narrators, different cities, different situations. Yet in a preface the author tells us that they are all in some sense autobiographical. How can this be?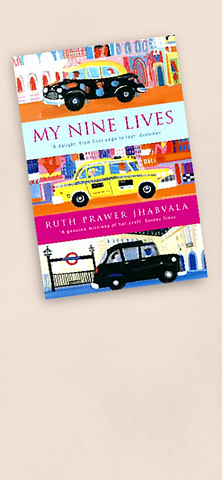 My Nine Lives By Ruth Prawer Jhabvala and John Muray 277 pages
She is "trying out fictional destinies," Ruth Prawer Jhabvala writes, not, as novelists usually do, using fictional characters, but this time constructing unlived destinies for herself. These, then, are youthful lives the author feels she might have lived, or, in the words of the subtitle, "Chapters of a Possible Past."
The real Ruth Prawer Jhabvala was born in Germany of Polish parents in 1927. Presumably because of their Jewish ancestry, the family fled to England in 1939. After studying at London University, the author married an Indian architect by the name of C.S.H. Jhabvala. From 1951 to 1975 -- in other words from the age of 24 to 48 -- she lived in Delhi. Nowadays she and her husband divide their time between London, Delhi and New York.
So the real autobiography of the author shows a childhood spent in Germany, an adolescence spent in London, and an early married life in India. New York is added to the brew later and provides an American dimension.
These nine stories, however, tell of young girls being brought up in India, in London or in New York. The three territories are not rigidly demarked, however -- there are people of Indian ancestry in the American narratives, and non-Indians in the Indian ones, for example. But if the author is to be believed, there is a sense in which the young girls at the center of all nine tales are in each case, and in some way, Ruth Prawer Jhabvala.
There are certain similarities, to be sure. None of the girls are pretty, for example. All of them are interested in art, and are more thoughtful and observant than their parents and siblings. Even so, all are separate creations, with different names, different kinds of parents, and different social backgrounds. These, then, are fantasy autobiographies, fictional dreams of how things might have been.
India is a constant presence. In the opening tale, Life, a retired woman has moved back there from America. In another, Gopis, where the female narrator is a middle-aged New York executive, the focus of interest a young girl, Lucia, who is trying to learn Indian dance and longs to travel in the subcontinent -- an ambition she succeeds in, with less than happy consequences. And in the final story, Pilgrimage, a young girl who has moved to London from Austria teams up with a charismatic lodger in her mother's house, named only C, and with him travels overland to India in search of a guru. By the time the tale ends she is visiting C in a Texas jail.
The penultimate story, Refuge in London, also tells of a refugee child whose mother, having managed to buy a house with money brought into the UK from Germany, lets out rooms to other refugees, people of distinction and even wealth in pre-Nazi Germany who are now experiencing relative poverty in their new circumstances.
The child becomes close to a painter, Kohl, who occupies an attic room. He paints and draws portraits of her, and of anyone else in the house who will sit for him. He has an unsympathetic wife, Marta, and an enemy, Mann, who dislikes his pictures. Things come to a head in a birthday party in the artist's studio, and the story ends with Kohl's paintings becoming famous and filling an entire room in a New York art gallery.
These two final stories, one judges, must surely come closer than most of the others to the real-life experience of the author, in their general situations if not in the details that later emerge.
Two observations can be made about this book. First, it could well be the case that writers become more autobiographical as time goes on. Shakespeare appears to have become so, with situations involving parents and children occurring over and over again in the later plays, memory (perhaps) mixing with dream. If this is true, then Ruth Prawer Jhabvala is merely running true to form in constructing this book of childhoods she both lived and might have lived.
Secondly, refugees and migrants are characteristically insecure about their social position. They want above all else to be fully accepted in their abode of choice, but this is frequently a satisfaction only their children are fated to enjoy. Seeing that Ruth Prawer Jhabvala has been uprooted several times -- born in one country, raised in another, married into a third, and residing later in a fourth -- it's understandable that the desire to nail down a past becomes something of an obsession. "Who am I?" quickly becomes "Who was I?" In these circumstances, the repeated re-working of the past that these stories display becomes more understandable.
All in all, these tales, frequently sad, are less than gripping in themselves. Their interest only grows only when the implications of the author having written such a bizarre collection are fully
considered.
Comments will be moderated. Keep comments relevant to the article. Remarks containing abusive and obscene language, personal attacks of any kind or promotion will be removed and the user banned. Final decision will be at the discretion of the Taipei Times.