In search of news
As vice president of EETV's cable television news department Alice Kao is in a position to influence coverage of events
Channel surf through the nation's half dozen cable television news networks on any given day at any given time and the chances of catching a news item concerning events outside of Taiwan's borders is very slim.
In an average week the only international items that local cable networks often consider worthy of airtime are those that feature brutally bloody footage of war, terrorism, natural disasters or that old favorite the construction worker who inadvertently got shot in the head with a nail gun. And even then very few, if any, of these items offer any in-depth analysis or insight into the reasons behind the events they portray.
As vice president of ETTV's (東森電視) cable television news department, Alice Kao (高惠宇) is one of the few vocal critics of this format and has long advocated that Taiwan's cable news networks step up to the plate and give viewers the chance not only to see what is happening thousands of miles away, but also to learn why and how these events have unfolded.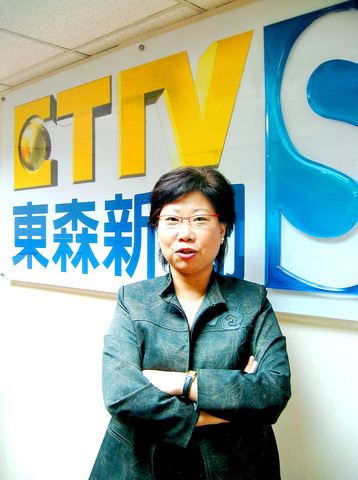 Alice Kao, a veteran foreign correspondent, calls for a more global outlook.
PHOTO COURTESY OF ETA
"Taiwan is so small, has such little international visibility and no influence, yet is so insular that we often forget that there are things of importance happening in the [outside] world," she said. "But if it does not involve prying into somebody's private life, nobody seems to be that interested."
Kao's rise to prominence as one of Taiwan's most trusted and well-known foreign correspondents began by accident in the wake of the death of Generalissimo Chiang Kai-shek in April of 1975. As a young and unknown rookie newsapaper reporter, Kao may have seemed an odd choice to cover the visit to Taiwan by then-US Vice President Nelson Rockefeller, who flew in to attend Chiang's funeral.
Instead of shying away and simply relying on the press releases issued by the Government Information Office (新聞局), Kao embraced the challenge and set about following the US Vice President's every move. In town for only 24 hours and with no plans to meet with the local press corps, Rockefeller's itinerary was a closely guarded secret, yet Kao thought outside of the box and managed to get an interview, albeit a very brief one.
"He was staying at the Grand Hotel and you couldn't get near him because of the bodyguards. I figured that because of his family's interest in art he would visit the National Palace Museum," Kao said. "So after the funeral I went there and waited."
Kao's shrewd thinking paid dividends and the US Vice President did indeed visit the museum. Moments before Rockefeller stepped into his limousine to return to the airport Kao made her move and managed to ask him a couple questions. The answers to Kao's inquiries may not have been earth-shaking, but they were enough for her newspaper to boast an exclusive interview with the visiting dignitary.
"I'll admit it was a very brief encounter and that all he said were few protocol words before he got into the car," said Kao. "But the newspaper took it as a scoop. I wrote the story and I got my first byline."
Following Kao's brief yet all-important meeting with Rockefeller, she found herself promoted to the position of foreign correspondent-at-large. Kao began to hang out at US-forces officers' clubs and hotel lobbies looking for stories, was a regular face at embassy receptions and became one of the first local reporters to take an interest in and write about Taiwan's foreign community.
While her close ties to the foreign community and its diplomatic corps gave Kao a rare insight into how the world viewed Taiwan in the mid to late 1970s, they by no means prepared her for the events of December 15, 1978 -- the day US President Jimmy Carter announced that the US would cut diplomatic ties with Taipei in favor of Beijing.
"We knew it was going to take place but didn't know the formula, and there had been no official response to any questions we asked," she said. "It was obviously inevitable, but the timing was a surprise to everyone."
The nation may have been politically neglected by the US and dwarfed by China from that day forth, but Kao believes that Taiwan's long-running outsider status shouldn't be mirrored by the mass media. The insular manner in which the nation's cable television news networks handle news is, according to Kao, harmful to both Taiwan's populace as well as to the nation's standing on the global stage.
"People in Taiwan talk about internationalization and globalization, but they certainly don't feel connected to these statements," she said. "The lack of coverage of and information about global events has meant that [Taiwan] is very inward-looking. The furthest people will look is China."
According Kao, when there are no hugely popular look-who's-sleeping-with-who stories topping the hourly news bulletins, Taiwanese news viewers' second choice is to tune into news about China, followed by Japan. US news comes in a distant third and if you're wondering about Europe or the Middle East, well, you'd best forget about it as Kao says neither is considered very newsworthy.
"So many Taiwanese tourists travel to Italy, but if you asked them who the prime minister is they wouldn't know, and the number of those who know who Yasser Arafat was, well, I'd have to say that probably 99.9 percent of people you asked on the street wouldn't know who he was," said Kao.
Since taking up her position at ETTV Kao has attempted to alter the news format by including more international news in bulletins. She will readily admit, however, that such a move could be considered somewhat of a mission impossible.
In the ongoing cable TV news wars, altering current formats to suit Taiwan's minority of more globally minded viewers is tantamount to committing suicide. Ratings rule and global news, it appears, just doesn't cut it with local viewers.
"We do minute-by-minute analysis of our news broadcasts, and at 1:15pm recently we noted that our ratings went down compared to other channels simply because we were broadcasting a speech by US President George W. Bush. People turned away and changed channel," said Kao. "International news is a killer for ratings."
While critical of cable television news networks, including her own, for their lack of coverage of international news, Kao has great admiration for CTi (中天新聞). The cable news network is one of the only stations that broadcasts in-depth international news stores on a regular basis. She is quick to point out that while ratings dropped off after the station adopted its international-news policy, viewers initially turned off by such coverage have since returned.
"CTi has been much bolder than other networks in the way it has chosen to adopt international news. Sure, ratings dropped for the first six months, but they have bounced back," she said. "This is something that I'm always trying to tell my [boss]."
Comments will be moderated. Keep comments relevant to the article. Remarks containing abusive and obscene language, personal attacks of any kind or promotion will be removed and the user banned. Final decision will be at the discretion of the Taipei Times.