Taiwan through Canadian eyes
Award-winning photojournalist David Smith captures those moments that might pass most people unnoticed
David Smith has seen his photos in the newspapers and magazines, and chances are you have too. The Canadian expatriate has more than 15 years of experience working as a photojournalist for various publications in North America and Asia and now the Taipei-based foreign correspondent is giving the public a chance to view Taiwan through his lens in an exhibition at the SPOT Taipei Film House.
With a joint degree in photojournalism and anthropology from Western Kentucky University, Smith moved to Asia and covered the Hong Kong handover to China before relocating to Taiwan. A member of AsiaWorks photo agency, he divides his time between Laos, Thailand and Taiwan where he works as a freelancer for various international publications.
The 25 black-and-white photos on display at the SPOT are a small sample of what Smith has shot while living in Taiwan for the past eight years. His personal collection exceeds thousands of rolls of film. To narrow it down into a reasonable exhibition size, he focused on the theme of urban landscapes, particularly people interacting in their immediate environment.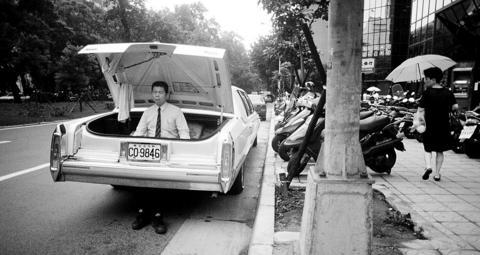 A limo driver takes time to meditate in the trunk of his car.
As a photojournalist, the bulk of his assignments are the result of news events taking place around the nation. Typhoons, presidential elections and the 921 earthquake are examples of events he has documented, the last of which won him an award in the World Press Photo competition.
His personal collection reflects more human-interest feature photography, which is well illustrated by the images on display. There are no gloomy news reports yet there are layers of meaning that can be read into these photos.
One example is the photograph of two men practicing kendo in a park with the Grand Hotel and a scooter in the background. The traditional Japanese sport, traditional Chinese architecture, and the scooter capture the hybrid of cultural influences that have played some role in the make up Taiwanese identity.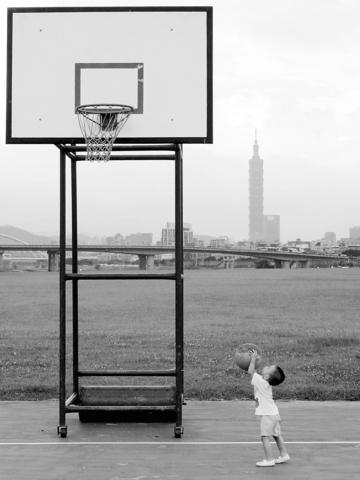 with the world's tallest building in the distance, a Taipei tot attempts the near impossible.
Another picture captures a young child attempting the impossible: to sink a basketball into a basket that is three times his height. In the background looms Taipei 101, mirroring the boy's vertical struggle.
Smith says he tries to bring into focus situations that are interesting and often amusing. In a way, Smith's show provides us with a tourist's eye. From couples ballroom dancing in a public park to a man meditating inside the trunk of his car, the photos remind us of those everyday and sometimes rare scenarios that pass by, often unnoticed.
The photo exhibition is running in connection with the Canadian Film Festival also held at SPOT. The festival showcases a selection of new and classic Canadian documentaries and feature films from March 25 to April 3. Additional information on the festival or exhibition can be obtained on the Canadian Trade Office in Taipei's Web site at www.canada.org.tw. A glimpse of David W. Smith's ongoing projects are available on his Web site at http://www.dwsphoto.com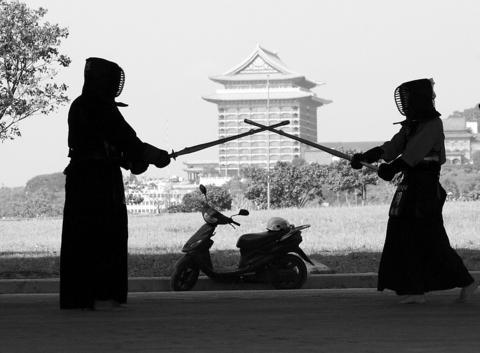 In the shade of a bridge and with the Grand Hotel in the background, a pair of Kendo practitioners practice their moves.
Exhibition notes:
What: Taiwan Impressions: Taipei Through Canadian Eyes
Where: 2nd floor of the SPOT Taipei Film House located at 18 Zhongshan N Rd, Sec 2, Taipei (臺北市中山北路二段18號)
When: Until April 3. Open Tuesday to Sunday from 11am to 10pm.
Tel: (02) 2511-7786
Comments will be moderated. Keep comments relevant to the article. Remarks containing abusive and obscene language, personal attacks of any kind or promotion will be removed and the user banned. Final decision will be at the discretion of the Taipei Times.