Restaurant: Saveurs!
Address: 14, Ln 219, Fuxing S Rd, Sec 1, Taipei (台北市復興南路一段219巷14號)
Telephone: (02) 2751 0185
Open: Mondays through Saturdays; lunch 11:30am to 2pm, dinner 6pm to 9pm. Closed Sundays.
Average meal: NT$750 per person
Details: English menu
Saveurs, the brainchild of jocular French chef Patrick Cabirol, is one of only a handful of French restaurants in Taipei that serves genuine French fare that is both prepared and cooked by a genuine Frenchman. It also boasts a hard core of French and Francophile patrons, which is a pretty good indicator as to just how genuinely French Cabirol's culinary creations are. \nSaveurs' minimalist design blends the ambience of fine dining with the coziness of a small family-run restaurant. But while the joint's homeliness is one of its charms, it is, of course, only a minor consideration. It is the quality of the food that has made the restaurant such a hit with both lunch and dinner diners since its opening last June. \nThe menu is small but solid and offers diners the chance to enjoy a selection of home-style cooking from the Perigueux region of France, an area renowned for its truffles, duck, goose and cepes mushrooms. \nEntrees include cheese or seafood crepes (NT$180) and the delicious and varied Landaise salad (NT$350), which incorporates confit of duck, goose liver mousse, duck breast and duck gizzard. Those looking to splurge on a more luxuriant entree should go for the fois gras. Priced at NT$900, it might seem expensive, but if one is searching for the real Perigueux experience it is not to be missed. \nThe main courses include the rich and flavorful lamb shank served with tomato and carrot sauce (NT350), confit of duck leg (NT$350), duck with honey (NT$350), veal (NT$500), fillet mignon with cepes mushroom sauce (NT$650) and the special fillet mignon with pan-fried duck liver and truffles (NT$900). \nIn addition to the a la carte menu, diners can also opt for one of three set meals priced from NT$550 to NT$1,250. Popular with those looking to save a dollar or two, the set menus offer the chance to savor some of Cabirol's mouthwatering combinations. \nFor those looking for an economical yet satisfying luncheon, Saveurs is probably one of the most gratifying places to be found in Taiwan. For a mere NT$300, diners get soup, an entree, a choice of at least three main courses, dessert and tea or coffee. The lunch special has become such a hit that it has made Saveurs one of the very few diners in Taipei where advance booking on any given weekday is a must. \nBe it an economical lunch or a fulfilling dinner, no meal at Saveurs should be considered complete without sampling Cabirol's outstanding chocolate moelleux (NT$180). The moelleux, with its souffle-like chocolate sponginess and soft runny-chocolate-sauce-filled center is served on a bed of rich vanilla cream, which has become its trademark.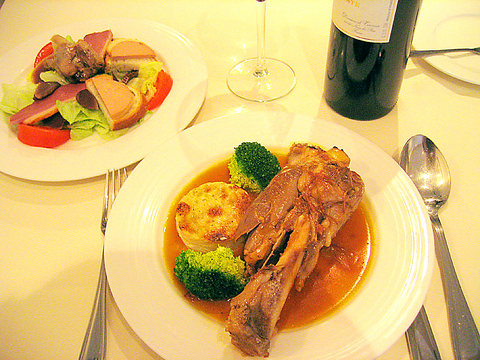 Savor authentic regional French fare at Saveurs!
PHOTO: GAVIN PHIPPS, TAIPEI TIMES
Comments will be moderated. Keep comments relevant to the article. Remarks containing abusive and obscene language, personal attacks of any kind or promotion will be removed and the user banned. Final decision will be at the discretion of the Taipei Times.