The Vinyl Word
A vaguely experimental session from the enigmatic trip-hop DJ Krush at Luxy last weekend felt a bit like a masterclass, though 15 minutes into the set at least two people had already written him off by saying,"It's not as good as when he played at Room 18" a couple of years ago. Give us a break. \nKrush was as good as ever but possibly pandered less, meaning he can afford to please himself these days. He played his records like a musician. His decks were his instrument. He cut and pasted, layered and faded to create new sounds and textures. \nNeedless to say, it made a refreshing change from the cheese-spread approach of many DJs, who are paid to lay down hit records manufactured by others. \nThe audience duly paid homage. It felt like a jazz concert, with earnest guys in black intently studying his every move. Around the 45-minute mark our ears were attuned and we were enjoying the unusual beats and getting into a groove, helped along by a little feller. \nThen, 20 minutes later, it was all over. \nKrush bowed out and DJ Reason was introduced. He put on a Michael Jackson record and the room cleared. Admittedly, Krush is a hard act to follow, but what was he thinking? \nWe went up to the second floor to continue the party, where a solid Saucey set in the cigar room kept the vibe bubbling along. \nWe were later told Krush never plays much longer than an hour, which was just enough time to cover his latest album, released in November and called Jaku. It was a jagged re-interpretation of the record, but Krush did not disappoint. He just left you feeling teased and wanting more. \nEarlier, The Vinyl Word had got up close with Japan's turntable master for a group interview with the local media, tortuously converted from Japanese to Chinese and back again. We were all lost in translation. \nKrush chain-smoked Marlboros and chugged Asahi beer as he admitted that DJing had taken its toll on his health. When asked how much longer he could carry on like this, the 42-year-old said this was his life and if he needed a nurse to look after him on stage, then he would hire one. The press pack suggested she should have a great figure and enormous breasts, but Krush answered, he didn't want the audience to be diverted from his music. \nA journalist asked him whether he had any hobbies other than playing computer games. Krush said he was bored of them these days and preferred getting his rod and tackle out by the side of a big lake and fishing. "So, do you play fishing games on computers?" the journalist interjected. Krush neatly sidestepped. "When I was a kid I used to play with worms, now they are part of the challenge of finding fish." \nThe Vinyl Word thought this was probably a good time to get a question in, so we asked about the tattoo on his hand. He said he scratched it in himself, age 16, after a love affair. He also revealed that he has a dragon and a fish on his upper body. \nJust as The Vinyl Word was going to ask him to strip, the journalist with a computer fixation asked him whether he used the machines to make his music. Fortunately, everybody had enough at this point and the interview ended on an appropriately zen-like note, with a question hanging in the air. \nLuxy is cooking at the moment with its uplifting mix of local and overseas talent. Ferry Corsten is on the decks of steel tomorrow. MoS has snagged nu-break, rock 'n' roll supremo Adam Freeland for the last Saturday of every month, beginning tomorrow and for the next three months. \nLiquid Lifestyle and Lava Bar have a Tsunami relief fundraiser tomorrow at Lava Bar (in Warner Village's Neo 19). The cover charge of NT$500 and a portion of alcohol profits will go to the charity World Vision. Analogue, Wayne, Noodle and Lucky are giving their time free. \nAlicia is getting rave reviews in Taichung after her set at Bobos last week. Tomorrow it's "Northern Exposure" with four of Taipei's finest: The hard-working Saucey, Marcus Aurelius, Trix and Nancy. Tonight Chi Funk is holding a birthday party -- his wife's -- and there will be the usual funky breaks, along with Alex D's koncrete jungle breaks, plus MCs, flamenco and blues guitar, and plenty of sax. \nDJ @llen has a new gig starting tomorrow, at Eden, featuring Pierre. He says it's "funky flavas and twisted disco" from London, New York and LA. This monthly event is in addition to the Love Groove parties he runs on the second Saturday of each month. And finally, as if SL needs an excuse to have a party, he is holding one tonight as his friend Krystiana is leaving. You can't get too much of a good thing like Eden.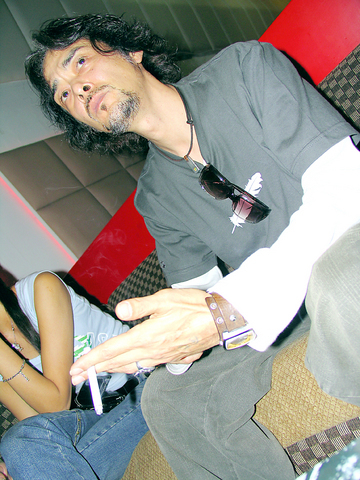 DJ Krush is lost in translation.
PHOTO: JULES QUARTLY, TAIPEI TIMES
Comments will be moderated. Keep comments relevant to the article. Remarks containing abusive and obscene language, personal attacks of any kind or promotion will be removed and the user banned. Final decision will be at the discretion of the Taipei Times.